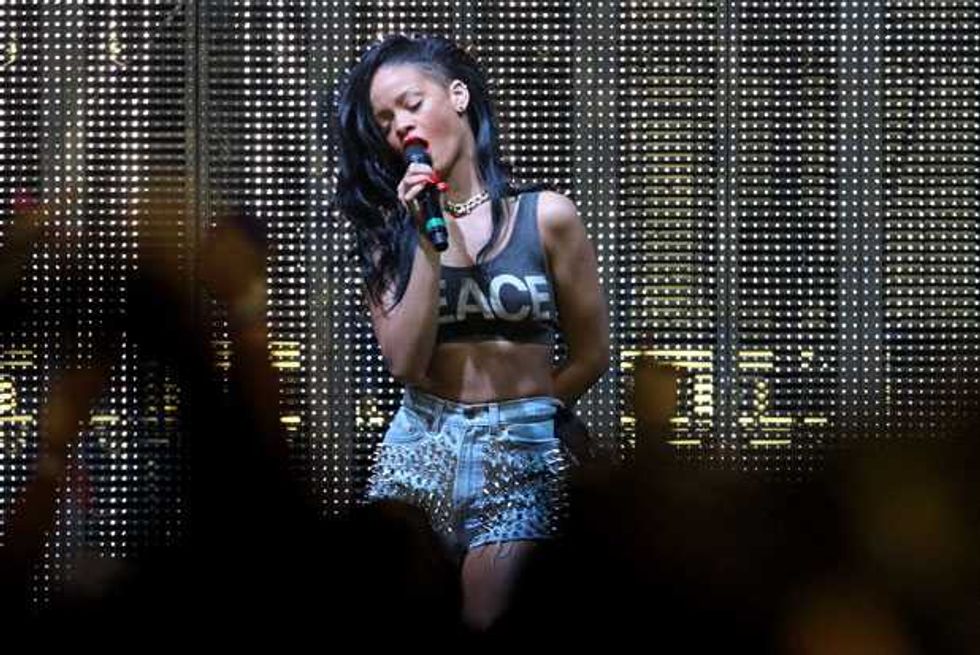 The Great Festival of the West, Coachella serves as an accessible jaunt from Los Angeles for all live music-loving celebrities who like to flock to the Palm Springs-adjacent desert or dress like Pocahontas for the weekend. Now with even more opportunities to rock face paint and run around like the common folk, half the fun of the weekend is noting all the random personalities on hand to hang out and get weird. As if you needed more proof that Rihanna is an awesome performer-partier-partner in crime, our vote for the most desirable pop star BFF made the most of her Coachella experience on Sunday, partaking in pretty much everything the festival is about. To all those following along at home, Ri's consistent live-tweeting helped alert us to what the must-see sets were among music insiders in attendance. On her agenda: A$AP Rocky and the headlining combo of Dr. Dre and Snoop Dogg, which she ferociously hashtagged about when she wasn't busy Instagramming the impromptu fashion shows she found time to host in between performances, as well as her prime seating location:
This turned out to be one of the best nights of my life #BuffaloSoldier #ThugLife #EPIC

— Rihanna (@rihanna) April 16, 2012
#TupacBACK #unbelievable #IWASTHERE #STORY4myGrandKidz

— Rihanna (@rihanna)

April 16, 2012
Here's my party spot!!! yfrog.com/hsugsckj

— Rihanna (@rihanna) April 16, 2012
But it was her surprise appearance on stage during the Calvin Harris set that had festival goers and EDM enthusiasts most excited. In weather appropriate tank and short shorts, with "Thug Life" written across her stomach—a Hologram Tupac foreshadowing—Rihanna performed the Harris-produced "Where Have You Been," turning her casual weekend with friends into an even more casual professional appearance. "Katy Perry! Make some noise for my main bitch in the house tonight," she told the audience before launching into "We Found Love," the euphoric track we haven't stopped raving to since last fall. And then she jumped into a crowd of glow sticks and sweat puddles. Watch below.
Will she be back next weekend? We can only hope.
@CalvinHarris I had so much fun with your fucking fanz tonight! Diz hoodrat $kabii @katyperry also crowd surft n ATE my A$$ during my show

— Rihanna (@rihanna) April 16, 2012