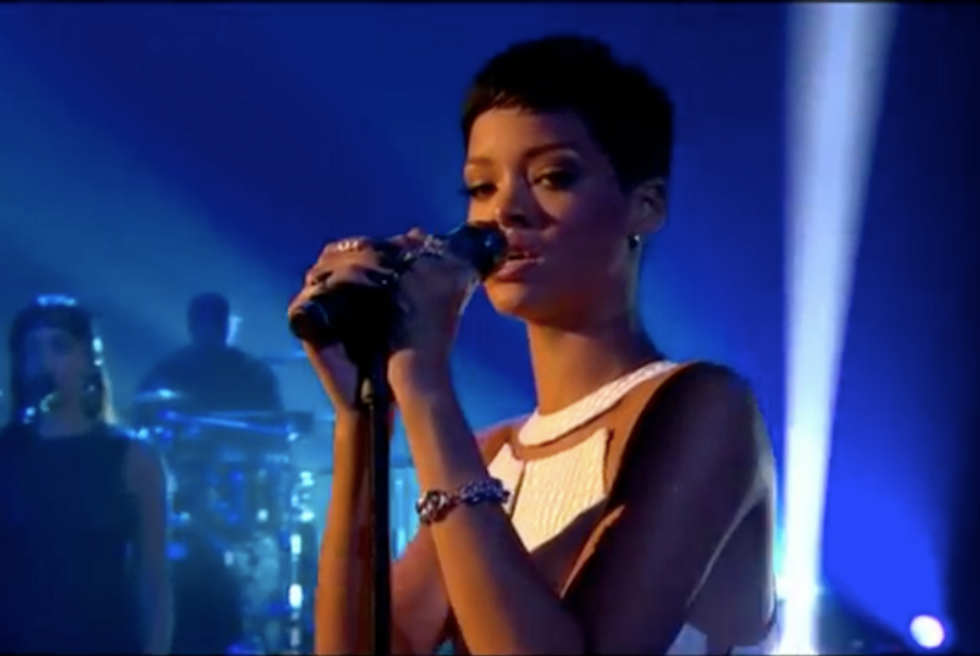 The mess of the 777 Tour is far enough behind us now that Rihanna can safely travel Europe again without being accused of returning to a crime scene. And, wouldn't you know it, it turns out playing shows is a lot more fun when you don't have to drag 150 journalists around with you.
That's the lesson from two of Rihanna's TV appearances this weekend, in which the pop star backtracked her way across the countries she so memorably visited on that misbegotten, whirlwind tour and put all that talk of her being a robotic, listless live act to rest (at least for now; those are the Rihanna critiques that will never quite die).
RihRih first showed up on Germany's Wetten Das...? to perform a breathy, futuristic version of "Diamonds." She sang it in English, but something about that song we think would be well-suited for a German translation. "Glanz so leuchtend wie einem Diamant!"
After that, Rihanna braved the Northern Europeans skies again, jaunting over the England to perform "Stay" on the British X-Factor. We're pumped she chose it as Unapologetic's second single, and even more so if it means we get performances like this. Rihanna's got more of a diva in her than we realized!
It wasn't all sunshine and roses, though. "I'm sad she didn't bring on Mikky Ekko," said someone, somewhere, surely.
[Idolator]