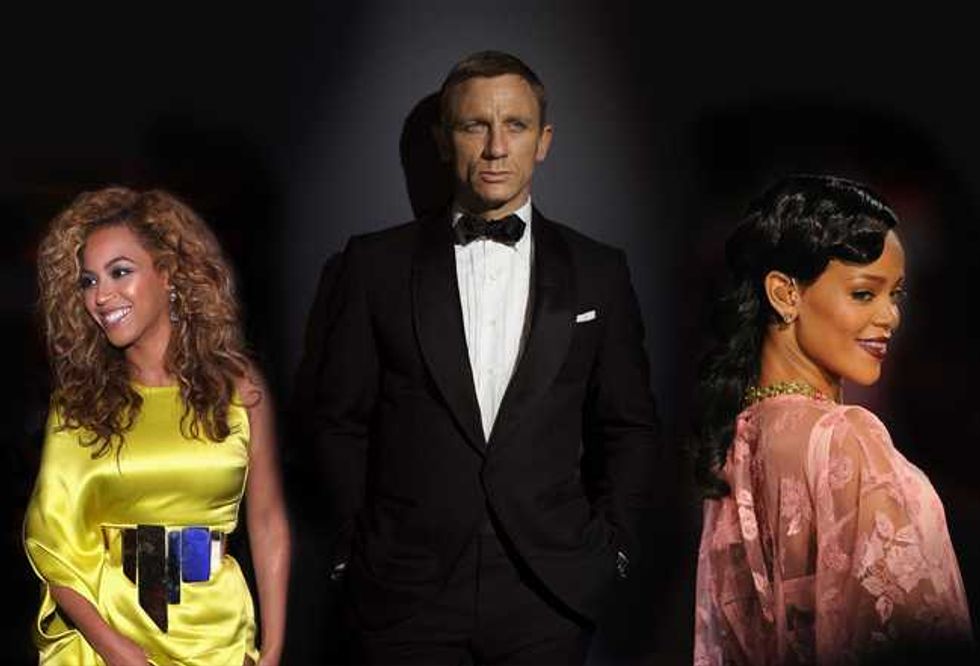 Rihanna vs. Beyoncé has been a question of general interest for several years now—we'd say roughly since "Umbrella," when Rihanna proved herself one of the rarefied few in the pop world worthy of being mentioned in the same sentence as the Queen. The question was recently posed to actor Daniel Craig with a rather specific framing, for which he was uniquely qualified to answer: Who would make the better Bond girl? Craig's answer was simple: Rihanna, because "she's dirtier."
Fair point, and we don't mean to question the authority of James Bond himself on the matter, but we feel dirtiness is but one of the necessary qualifiers for a Bond girl. Let's break them down one at a time, and see if we can't make a more scientific conclusion about which of the two pop legends would make the better Bond girl.
Acting Experience: Boring, but necessary—as important as sexiness and other factors may be, if the girl can't act all that well, she's unlikely to make the pantheon, which is why you never hear Denise Richards mentioned among the Bond Girl greats despite arguably being the hottest of the bunch from the last 20 years. And though Rihanna now has one feature film appearance to her credit with the much-maligned Battleship, she's no match for Beyoncé in this regard, as Bey has delivered acclaimed performances in the likes of Dreamgirls and Cadillac Records, as well as appearing in pulpier fare like Obsessed and The Pink Panther. No real contest here.
Winner: Beyoncé
Familiarity with Double Entendres: An important key to any Bond Girl appearance is the ability to banter with Bond about sex, while on the surface actually talking about jewels or helicopters or missile silos or something. Beyoncé has some familiarity with this—"Ego" most immediately jumps to mind with its "It's too big, it's too wide, it won't fit"-type ego descriptions—but obviously Rihanna is the current reigning queen of the double entendre, with "Cockiness (Love It)" in particular containing more thinly (and we mean thinly) veiled sexual allusions than Beyoncé's discography entire.
Winner: Rihanna
Willingness to Get Almost Naked: The Bond franchise remains a predominantly PG-13 proposition, which means that actual showings of naughty bits will generally be left to the cutting room floor. However, implied nudity is consistently at a premium in the Bond films, meaning that a willingness to show as much skin as possible without actually showing anything scandalous is a definite asset in Bond Girldom. Again, there is no competing with Rihanna in this category, who has gotten Almost Naked in magazine spreads, in music videos and on album covers, and has about a 65% chance of being Almost Naked right now as you read this.
Winner: Rihanna
"Met His Match"ness: A critical part of the Bond Girl experience, especially in the 21st century, is for the Bond Girl to be able to go head-to-head with Bond himself in intelligence, toughness and general competence—though she might still need his help on occasion when it comes to the gun stuff. Basically, she can't be a lightweight. Of course, neither Rihanna or Beyoncé have been anything resembling a lightweight for some time now, but perhaps simply due to her having a couple years (and a tad more emotional maturity) on Ri, we think Beyoncé is the one Bond wouldn't ever dare condescend to.
Winner: Beyoncé
Looking Good in a Black Dress and Heels: Not always a pre-requisite, but it's something that every Bond Girl should have in their arsenal, just in case. Again, both ladies undoubtedly pass with flying colors on this one, but we keep coming back to Rihanna at the 2012 Grammys when deliberating this one. Hard to beat that.
Winner: Rihanna
Ability to Handle Action Scenes: Rihanna certainly got her sea legs on this one—no pun intended—while filming Battleship, and there was a fair bit of action-y action in the "Man Down" and "We Found Love" videos as well. Still, only one of these two ladies ever spend ten-and-a-half minutes brawling with Ali Larter in defense of their man—winning an MTV Movie Award in the process—thus making this category a total no-brainer.
Winner: Beyoncé
Fit as Bond Theme Singer: This is really what it comes down to, isn't it? All other qualifications aside, if you're a female singer starring in a Bond movie and you can't hack it as a theme songstress, then that doesn't say a lot for you, does it? Anyway, we'd obviously be titillated at the prospect of getting a Bond theme from either singer, but if we absolutely had to choose one...there's a certain mystery and intrigue to Rihanna and her voice that you need as a Bond singer, which is why the likes of Sheryl Crow and Madonna have underwhelmed as Bond singers over the years. Beyoncé is a little too upfront a singer and personality to pack that little something extra under the surface, so we gotta give the edge to Ri here.
Winner: Rihanna
Overall Winner: By a score of 4-3, we gotta concur with 007: Rihanna is our Bond Girl of choosing. Make it happen, MGM.