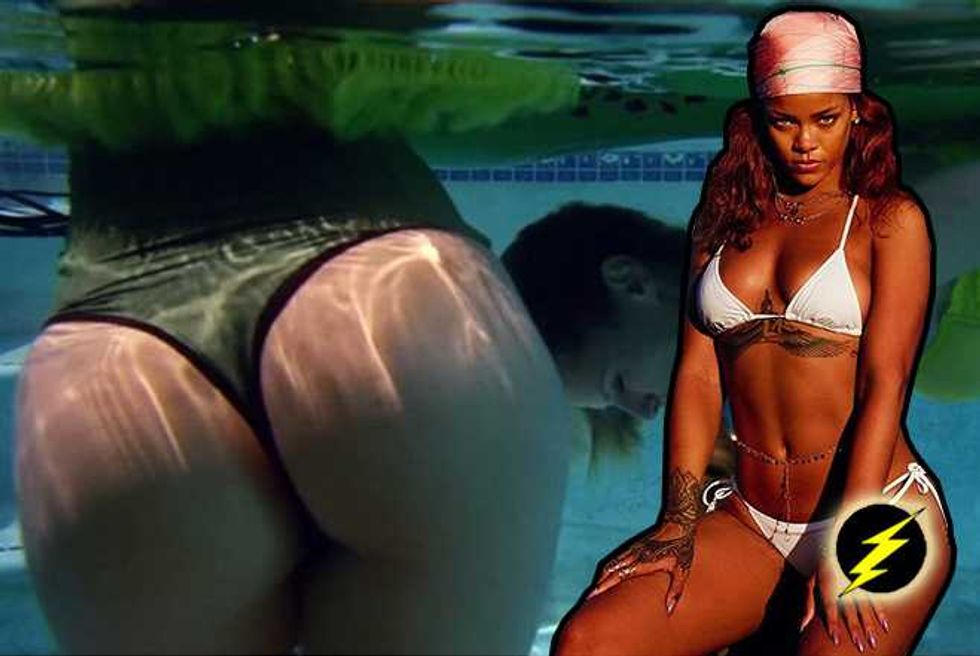 All hail Queen RiRi—the ultimate diva goddess of all goddesses when it comes to getting y'all thirsty with the sexiest, steamiest, naked and nearly nude social media pics.
Rihanna puts selfie-obsessed Kim Kardashian firmly in the shade when it comes to stripping down and bearing all—mainly because, unlike the tacky KK, Queen RiRi manages to still look jaw droppingly gorgeous AND classy in even the most salacious of snaps.
Rihanna Laid Bare—RiRi's Very Best Butt Naked, Topless, Crazy Sexy, Nude Photos
Whereas, poor KK ends up usually looking like a tragic 1970s era Readers Wives grubby mag reject—case in point right here.
Whether it's partying hard during carnival in her homeland of Barbados, posing seductively in a super skimpy bikini on a yacht somewhere in the tropics, chillin' poolside with her girls, paddle boarding in the sea topless, or getting down and dirty on the dance floor, Rihanna slays it when it comes to sexing up social media.
Rihanna Creates Some Serious Thirst With Super Sexy Barbados Carnival Photos
But, don't just take our word for it—check out Popdust's gallery of RiRi's sexiest social media pics, courtesy her insta, snapchat and twitter—you can thank us later.