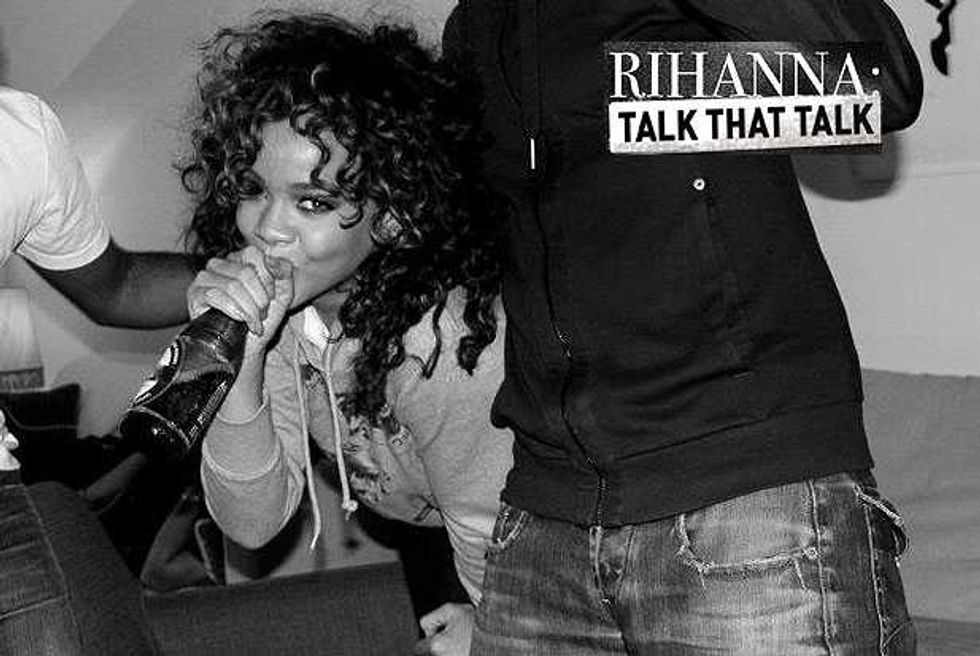 Track 5: "Cockiness (Love It)"
Sounds Like: A Bangladesh production a la "6 Foot 7 Foot" and "A Milli," with an endlessly repeating vocal sample in the background. This one takes an even more minimal approach than ol' Banger usually does, though—it's almost Diplo-esque in its austerity and incredibly subtle hook construction. Most notably, the song pauses from its beat (constructed out of a booming low-end and an unintelligible rhythmic vocal sample) a couple times, for Rihanna to belt out "No one can do you the way that I do / Boy I wa-a-a-ant...," at which point the voice from the repeating sample re-enters to scream "YOUUUUUUUUUU!!!!!!!" It's striking, to say the least.
Pros: Your opinion of the song will likely be perfectly encapsulated by your feelings on the "Boy I want / YOUUUUU!!!" sections. For us, we absolutely adore them, as well as the beat in general, and Rihanna's double-tracked vocals on the chorus, and the way the verses basically feature her singing a call-and-response hook with herself as her own backing vocalist. The thing clocks in at a scant 2:58, but we could probably go for another five minutes on this thing, easy. It should make as a great backing track for some rap freestyles in the last two months of 2011.
Cons: The other immediately striking thing about "Cockiness" beyond the beat would have to be the song's eye-opening chorus ("Suck my cockiness, Lick my persuasion") and similarly less-than-subtle refrain of "I love it, I love it, I love it when you eat it." Not necessarily a bad thing—you certainly couldn't say that Rihanna didn't go hard over this wacky-ass beat—but it can be, uh, a little distracting.
Hard "R" Lyric: Take your pick, really, but we're quite fond of "She may be the queen of hearts / But I'm gonna be the queen of your body parts."
Single-Worthy?: A conundrum for sure. Like "Countdown" off Beyoncé's 4, it might be a song that's too good not to release as a single, but too crazy to get ever much traction once promoted. (And even "Countdown" didn't have the added hindrance of a chorus and refrain that are going to call for a whole lot of creative censoring.)
Previous Reviews: "You Da One," "Where Have You Been," "We Found Love," "Talk That Talk"
POPDUST SAYS: