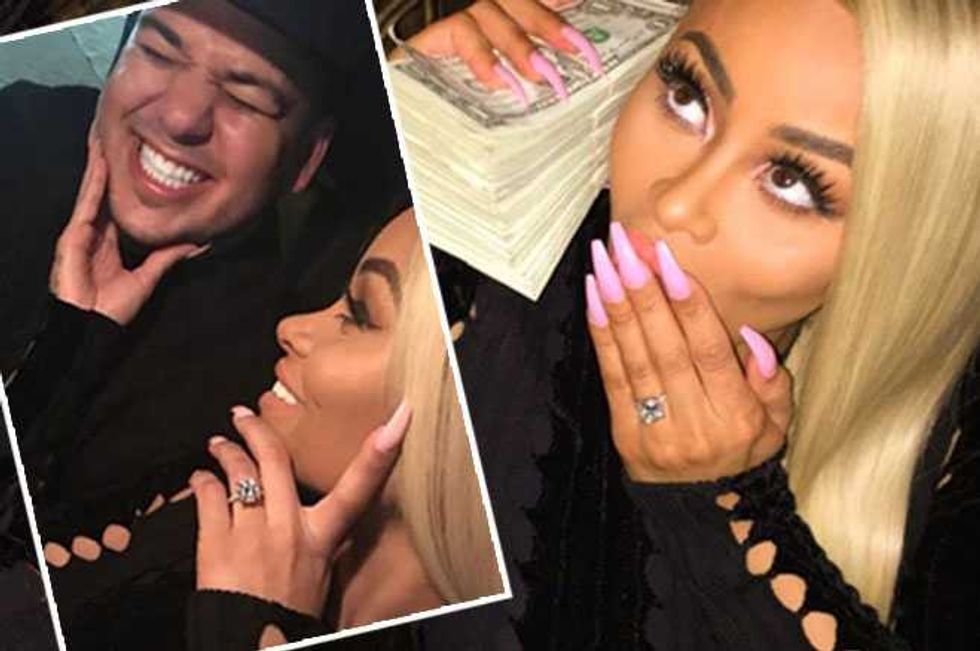 rob kardashian blac chyna engaged
In news that must be the worst thing to happen to the Kardashians since OJ threatened to shoot himself in Kimmy's bedroom, TMZ are confirming that Rob Kardashian popped the question to Blac Chyna last night and the pair are now engaged.
Blac Chyna more than hinted at the news by posting a picture on her Instagram of herself and a grinning Rob with a huge rock on her all important finger with the caption "YES!!"
rob kardashian blac chyna engaged
A photo posted by www.Lashedbar.co (@blacchyna) on
rob kardashian blac chyna engaged
The Kardashian Klan have remained silent so far, although they were all pictured leaving town on a private jet for some sort of aviation scavenger hunt (they are no friend to the environment). We reckon their hasty retreat is because Rob shared his happy news with them!
The bootylicious Blac has been dating the only Kardashian boy for around four months now, much to the consternation of the rest of the family. Let's not forget that this girl used to be a friend of Kim's when she was engaged to Tyga and Kylie was just the babysitter.  There's been bad blood ever since Tyga ditched Chyna, the mother of his three year old son for Kylie, who was just 17 at the time.
However no-one can argue that the relationship has done wonders for Rob.  He seems to have shaken off the deep depression that has dogged him for years making him a recluse.  He also appears to be making inroads into ditching the 100lb weight gain that went hand in hand with his issues and has been out and about, happy and smiling with his girlfriend. Oh and there's an added bonus in that it drives his controlling, self-involved family NUTS!
The ring is a massive diamond (Kim will have had the tape measure out to make sure it's not bigger than hers) and Chyna was flashing it about when she and Rob went out last night with her mom to the Ace of Diamonds strip club to celebrate.  (Where did you go with your parents to celebrate your engagement? Pretty sure it wasn't a strip club.)
We can't wait for the wedding!  Imagine! Amber Rose will be Maid of Honor and will no doubt manage to wiggle a little finger in Kanye's direction. Blac's son King Cairo will be the cute ring bearer and will hopefully have understood how his new step-daddy could end up being a step-uncle too. Kris will need sedating to get through the ceremony, Kylie will boycott the nuptials, Khloe will leap in between the happy couple when the question "does anyone here present...." is asked, Scott will be in trouble for taking Rob on the kind of stag weekend legends are made of and Lamar will be Rob's best man which will prove to be the final nail in his koffin.
We can only dream.
Stand by for a plethora of gushing platitudes on social media when the PR machine that is Kris Jenner starts rolling....
rob kardashian blac chyna engaged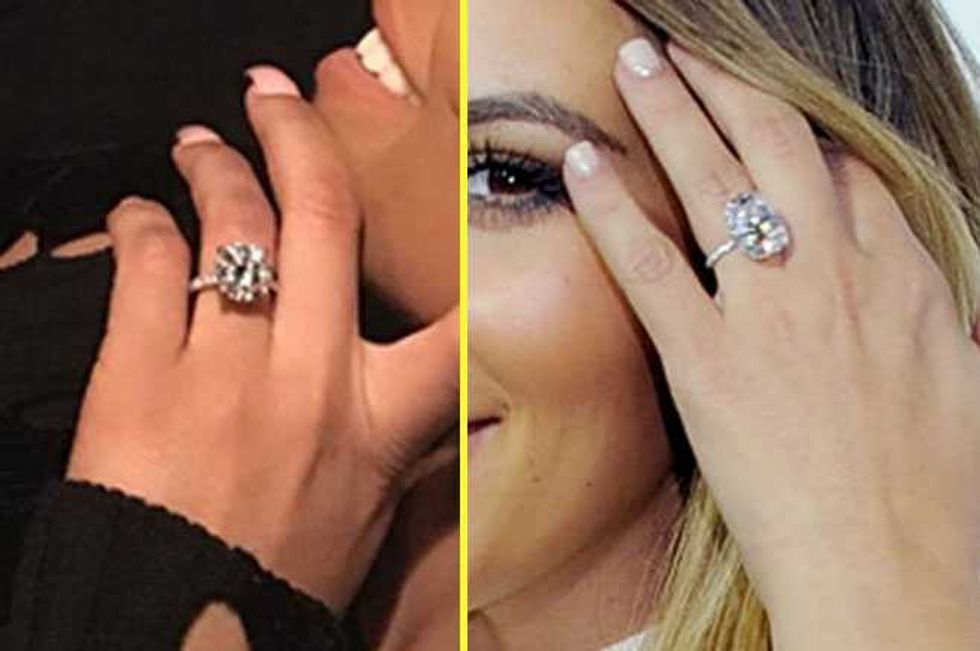 Whose is bigger?
rob kardashian blac chyna engaged