Rob Kardashian Moved In With Blac Chyna
Rob Kardashian is doing a great job of distancing himself from the K-Klan.
As Popdust previously reported, the troubled Kardashian brother has aligned himself with Blac Chyna, who together with Amber Rose, has stepped up her campaign to get under the skin of the famous sisters.
Amber Rose Strips Naked—Bares All About Kardashians Feud, Being Kanye's Ex
Rob, 28, was spotted at Blac Chyna's LA pad earlier this week and a source told People that he has pretty much moved in with the 27 year old mother of one.
The source says;
"The drama continues.  Rob still has some of this things at Khloe's house.  He hasn't arranged to pick it up.  Khloe knows that he is living with Blac Chyna.  Khloe feels very betrayed.  She always stood up for Rob and defended him.  She has gone out of her way a million times to help him.  She is very frustrated at the lack of respect for this family."
She has a point.  Rob has lived off with Khloe for years and she has been stuck between a rock and a hard place with his depression and subsequent weight gain.  She's been torn between the tough love approach and her need to care and nurture him.
What A Bitch! Kim Kardashian Mocks Brother Rob Kardashian's Weight Gain
Clearly the family pressure had all gotten way too much for Rob though, and boy has he kicked back in spectacular fashion!
The source continues;
"[He] has found an escape from his family nagging him about his health...Rob has been lonley for so long so, of course it's great for him to spend time with someone other than his sisters....They have both had a lot of drama with Kim.  Rob really seems to get a kick out of all the drama that he is causing."
Drama indeed.  Rob threw a little more fuel on the fire when he followed up Monday's social media attack by Team Chyna/Rose with a clear show of support, posting a hilarious meme of Blac Chyna.
Rob Kardashian Moved In With Blac Chyna
It has today transpired that he (allegedly) didn't entirely leave Khloe's house voluntarily.
According to TMZ, Khloe actually threw him out after finding Blac Chyna brazening it out in her kitchen!
Kris Jenner TMZ's source claims that Khloe returned home early from a trip last week and walked into the kitchen and found Rob and Chyna there.  They were surrounded by trash and liquor bottles and it seemed like they had been there a few days.
Khloe raged;
"What the fuck are you doing in my house?"
The guilty pair quickly retreated to Rob's wing and locked themselves in—Khloe followed and told them both to "get the hell out".  She made it very clear to Rob that he was no longer welcome in her home.
The source continues that aside from the Klan thinking that Rob has fallen off the wagon aided by Chyna, and that she is preying on his vulnerability—what has really pissed them off is that Rob has bought his new roomie some expensive stuff—and he just doesn't have that kinda cash to burn.
Rob Kardashian Compares Kim To A Homicidal Psychopath!
Blac Chyna is most definitely not afraid of The Family.  Apparently the reason they hate her so much is that she harassed and sent 'threatening' messages to Kylie Jenner after the 17 year old hooked up with Tyga, 26 (Chyna's baby daddy and former fiance).  Some might say that Kylie (who apparently used to babysit Tyga/Chyna's son) deserved what she got.
All this outrage and the attack on Chyna's parenting (by implying she's been holed up with Rob drinking) just stinks of the family trying to spin their way out of Rob's rejection of them and a desperate attempt to save face.
Rob has made his feelings crystal clear—posting a pic of a make up free Blac Chyna on his Instagram with just a symbol of a key.
Rob Kardashian Moved In With Blac Chyna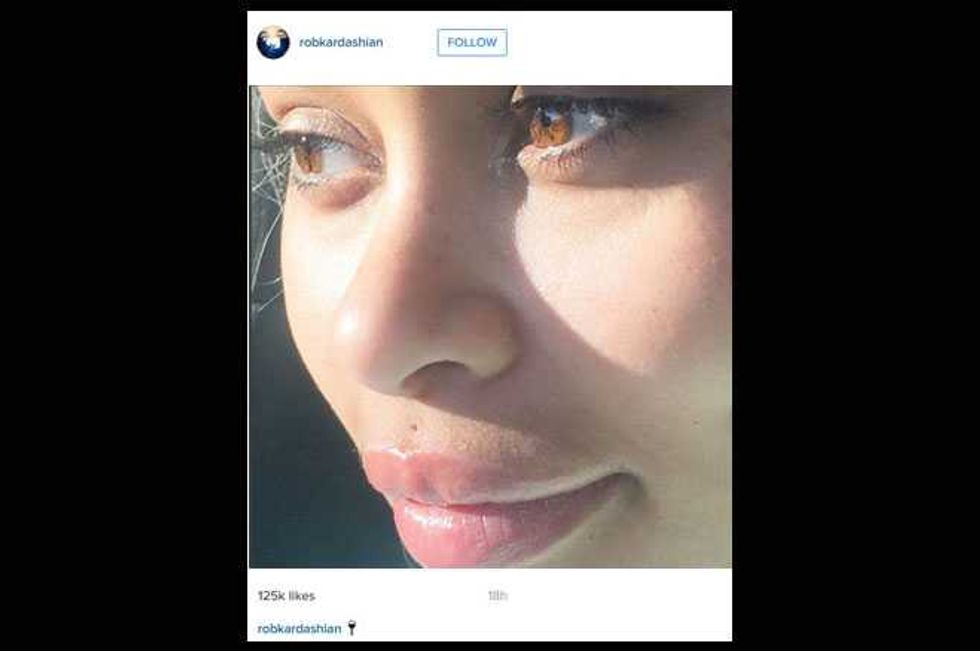 Rob makes his feelings very clear.
Ding ding ding!  Round 3 to Team Chyna/Rose!
Rob Kardashian Moved In With Blac Chyna