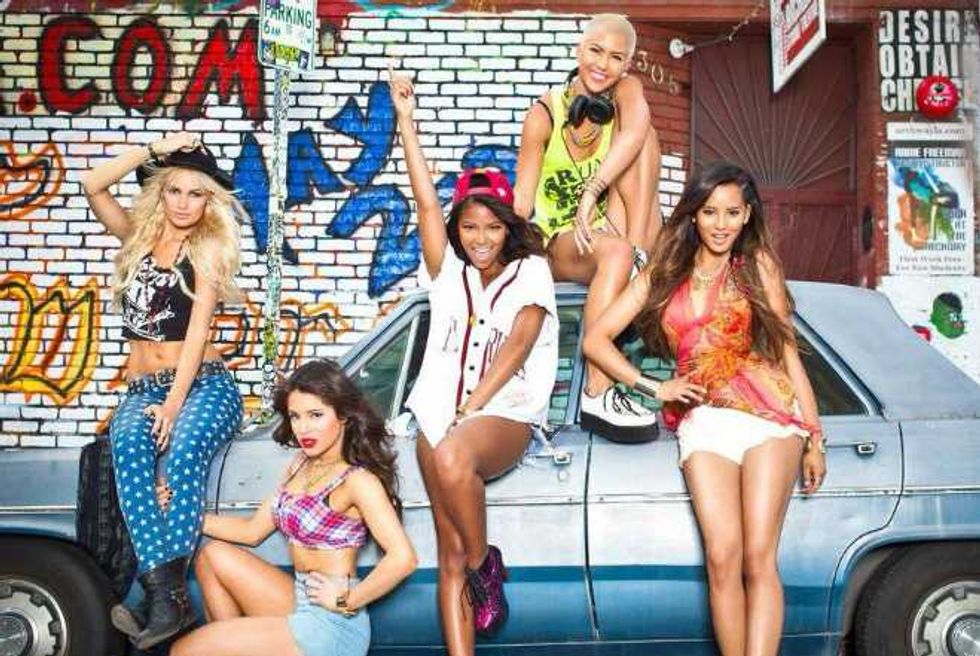 Remember how Robin Antin was planning to reform The Pussycat Dolls with a bunch of new girls? No? Well, she was, but for some reason it didn't end up happening. It's okay though, because the would-be Dolls have now been put into a new girl group called G.R.L. You might recognize a few of the members, like X Factor reject, Simone Battle, and Lauren Bennett of "Party Rock Anthem" fame (and former member of Robin Antin's last failed girl group, the Paradiso Girls).
G.R.L.'s first single is a radio-friendly pop confection from The Smurfs 2 soundtrack titled "Vacation." It was crafted by the top forty dream team of Dr. Luke, Max Martin, Cirkut, and Bonnie McKee, so technically it should be a total knockout, but it's not. While Bonnie and Luke gifted Britney with the delightfully addictive "Ooh La La," G.R.L.'s "Vacation" is insipid and forgettable -- much like a bad Saturdays single.
However, if you only judge "Vacation" as simple soundtrack filler and not the lead single of a girl group that's following in the footsteps of the almighty Pussycat Dolls and the underrated Paradiso Girls, then it's really not so bad.
"Vacation" is currently available as a bonus track when you buy Britney's "Ooh La La" on iTunes. If you're wondering why the pop legend's doing a "buy one get one free" deal, it's because G.R.L.'s managed by her puppet master, Larry Rudolph, who has already forced her into plugging the girl group on Youtube and Twitter.
Let us know what you think of Robin Antin's PCD follow up, below!