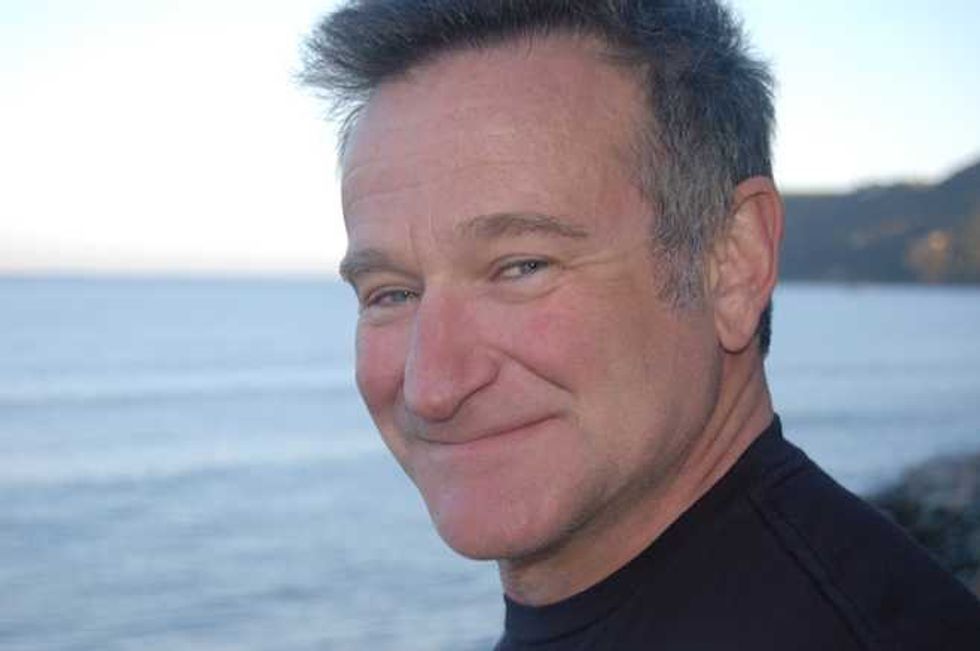 Actor Robin Williams has died at age 63 from a suspected suicide.
The Mork & Mindy star was found unresponsive at 11. 55 a.m. on Monday in Marin County, California, by police, according to The Hollywood Reporter.
Authorities released the following statement:
"On August 11, 2014, at approximately 11:55 a.m, Marin County Communications received a 9-1-1 telephone call reporting a male adult had been located unconscious and not breathing inside his residence in unincorporated Tiburon, CA.

The victim was later identified as "Robin McLaurin Williams, a 63 year old resident of unincorporated Tiburon, CA. An investigation into the cause, manner, and circumstances of the death is currently underway by the Investigations and Coroner Divisions of the Sheriff's Office.

"Preliminary information developed during the investigation indicates Mr. Williams was last seen alive at his residence, where he resides with his wife, at approximately 10:00 pm on August 10, 2014."
Asphyxia is the suspected cause of death, according to the Sheriff's Office Coroner Division, and forensic examination is currently scheduled for August 12 with toxicology testing to follow.
The comedian's publicist confirmed the sad news, saying, "Robin Williams passed away this morning. He has been battling severe depression of late. This is a tragic and sudden loss. The family respectfully asks for their privacy as they grieve during this very difficult time."
Meanwhile, his wife Susan Schneider, said, "This morning, I lost my husband and my best friend, while the world lost one of its most beloved artists and beautiful human beings. I am utterly heartbroken. On behalf of Robin's family, we are asking for privacy during our time of profound grief. As he is remembered, it is our hope the focus will not be on Robin's death, but on the countless moments of joy and laughter he gave to millions."
On July 1 it was announced that Williams had voluntarily checked himself into a "renewal center" to focus on his sobriety and "emotional well-being."
"He has been working hard and now has a break in his schedule, so wants to come back and be the best that he can be," his rep told The Hollywood Reporter at the time, adding, "This is his version of a retreat."
The 12-step inspired program at Hazelden's Dan Anderson Renewal Center in Center City, Minnesota, aimed to help former addicts and alcoholics on the road to long-term recovery.
The Mrs. Doubtfire star had a high profile battle with drugs in the 1980s when he admitted to being addicted to cocaine, and checked in to rehab in 2006 for alcohol abuse.
His most recent role was in the CBS comedy, The Crazy Ones, opposite Sarah Michelle Gellar, which was cancelled after just one season.
If you, or anyone you know is struggling with thoughts of suicide please contact the National Suicide Prevention Lifeline at 1-800-273-8255 or visit their website