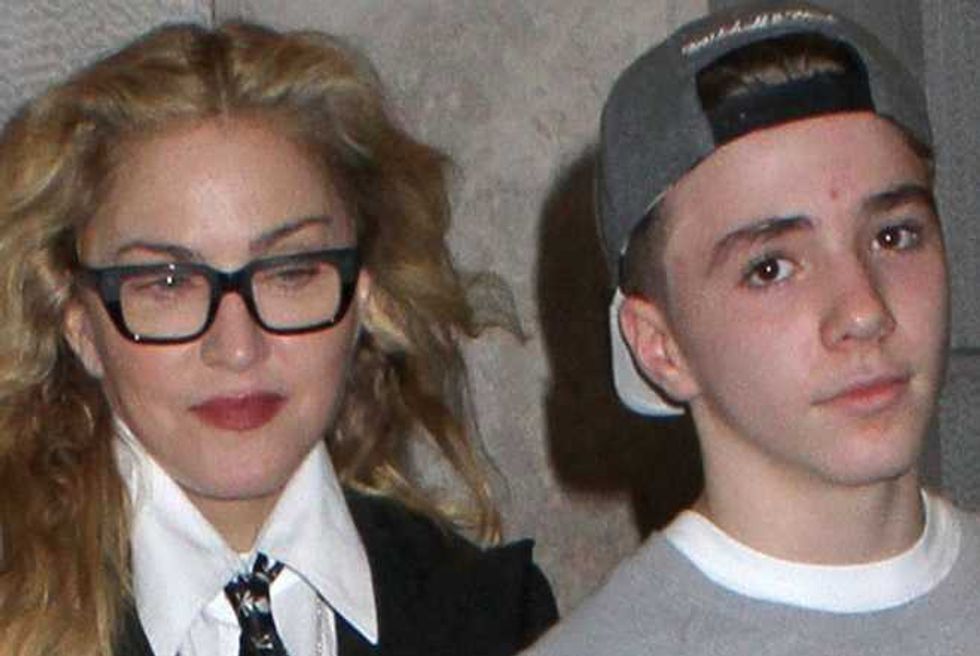 rocco ritchie madonna rebel mom
It's tough being a hugely successful international superstar and mom….As Madonna knows only too well.
The single mom-of-four is getting ready to head off on Rebel Heart, her latest sell-out world tour, which kicks off in Montreal, Canada, on September 9—but, not all her fans are thrilled at the prospect.
Madonna Is Determined To Force Son Rocco To Live With Her Against His Will
Madge's second oldest child, teen son Rocco, wishes his mom would be, well…. just more of a mom, rather than Madonna the performer, jetting around the globe, flashing her tits and bringing in the big bucks.
Bless……has he no idea who his mother actually is by this time in his life?!!!!
"My 14-year-old son is absolutely not satisfied with all my accomplishments," Madonna tells Andy Cohen in a new interview with Entertainment Weekly.
"He just wants me to cook for him. I'm like, 'Okay, I'll get to that. I promise you, when this tour's over with, I'm gonna cook for you.' "
Cringe! Madonna Eats Drake's face At Coachella—Watch His Hilarious Reaction
Just 14-years old, and already a full grown man it appears.
Meanwhile, Madge is showing no sign of slowing down yet....the 56-year-old admits that she's been keeping teenage years recently—well, that should keep Rocco happy at least—working into the wee hours of the morning and sleeping into the afternoon, as she preps for the grueling world tour.
Watch Madonna And Ellen's Hilarious Dress You Up Performance
And, you can expect the usual old Madonna schtick on tour, with dancing nuns on stripper poles as part of her inevitable sexual boundary pushing.
"I just like the juxtaposition," Madge explains. "I'm very immersed in deconstructing the concept of sexuality and religion and how it's not supposed to go together, but in my world it goes together."
Madonna Opens Up About Terrifying Teenage Rape Ordeal
Ever the innovator though, Madonna promises to mix the new with the old, busting out with some deeper, more nuanced material in addition to her regular pop bubblegum fare.
"When I first started writing music, I was a young girl, and I didn't write about very deep things," she says. "Now I do. That's why a lot of times I have to take the songs and turn them inside out and make them more ironic than straightforward, so that they work for me."
Madonna Says She Felt 'Incarcerated' During Marriage To Guy Ritchie
What she has discovered doesn't work for her however, is attempting to sing with her beloved grillz in her mouth.
"It's really hard to sing with a grill in your mouth," she says. "You end up lisping, and putting your teeth together is actually essential to singing well. So as much as I love a grill, it probably won't be in my mouth when I'm singing."
Madonna Says Gay African Americans Have More Rights Than Women
Yeah, sorry Rocco, looks like your mom won't be tackling any other kind of grill for some time yet mate—better bust out the Ramen.
For more entertainment, world, music and pop culture updates and news, follow Max Page on Twitter