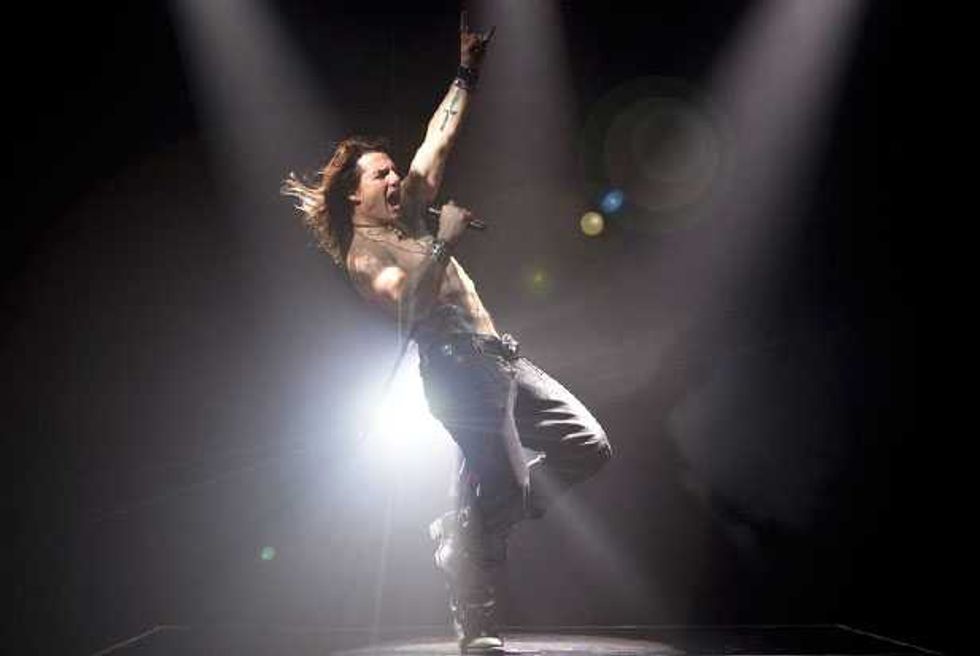 Much has been written about Adam Shankman's film adaptation of Broadway musical Rock of Ages, with a cast that threatens to rival that of Garry Marshall's highly anticipated The Apocalypse. The Tony nominated show premiered on Broadway in 2009 and deserves a share of the credit often given to Glee for bringing Journey's "Don't Stop Believin'" back into the public consciousness, thanks to its exaggerated performances of '80s favorites from Def Leppard, Foreigner, Poison, Bon Jovi and Twisted Sister. Confirmations that Alec Baldwin, Tom Cruise and Paul Giamatti had signed on to the film had us nervous—why sully your resume, PG?—and now the first official look at the film has us fairly certain that the world is coming to an end earlier than even Harold Camping had expected. Shock aside, the trailer is notable for multiple reasons:
1. Another strong effort to make Julianne Hough happen. This is Hough's second big movie remake, after this fall's Footloose, and the thus another attempt to get potential audience members to identify her as a singer and an actress first, rather than just a Dancing With the Stars pro and Proactiv commercial star.
2. Tom Cruise's reasserting himself as a sexual icon. As Stacee Jaxx, he may be averse to wearing shirts and command condoms to fall from the sky, but that doesn't stop us from thinking about this. Any semblance of attraction has been long gone.
3. Alec Baldwin playing a parody of himself. It's as if Jack Donaghy became a Democrat, traveled to France with his assistant Jonathan and opened up a bed and breakfast by the sea in a strange homage to Le Cage Aux Folles—or probably what Baldwin looked like during 30 Rock's lengthy hiatus this year, in between yoga sessions with his talented girlfriend.
Also, Catherine Zeta-Jones has aged 20 years and resigned herself to ill-fitting business suits, Malin Akerman shows up in her underwear and Mary J. Blige struggles with believable delivery. Shankman's adaptation boasts a collection of Oscar nominees, pop stars and talented newcomers, but while Chris D'Arienzo succeeded in creating a campy escape of a jukebox musical, this film looks like a situation where notable actors are just trying to perform poorly, save for Giamatti who delivers his beloved brand of strange and diabolical with just the right amount of snark, and Russell Brand who looks, well, like Russell Brand. Cruise and Baldwin have been subject to parody over the years—and even joined in on it themselves—so this could succeed if you decide to separate their once Serious Actor pasts and view their attempts at the utterly ridiculous as one lucrative vacation. We have until June 1 to make up our minds. At least the music's good!
[Apple]