FILM
Nickelodeon, Netflix, and Joe Murray create a reboot featuring LGBTQ+ identity, technology, and identity crisis to show your inner child that '90s cartoons are the answer to all your problems.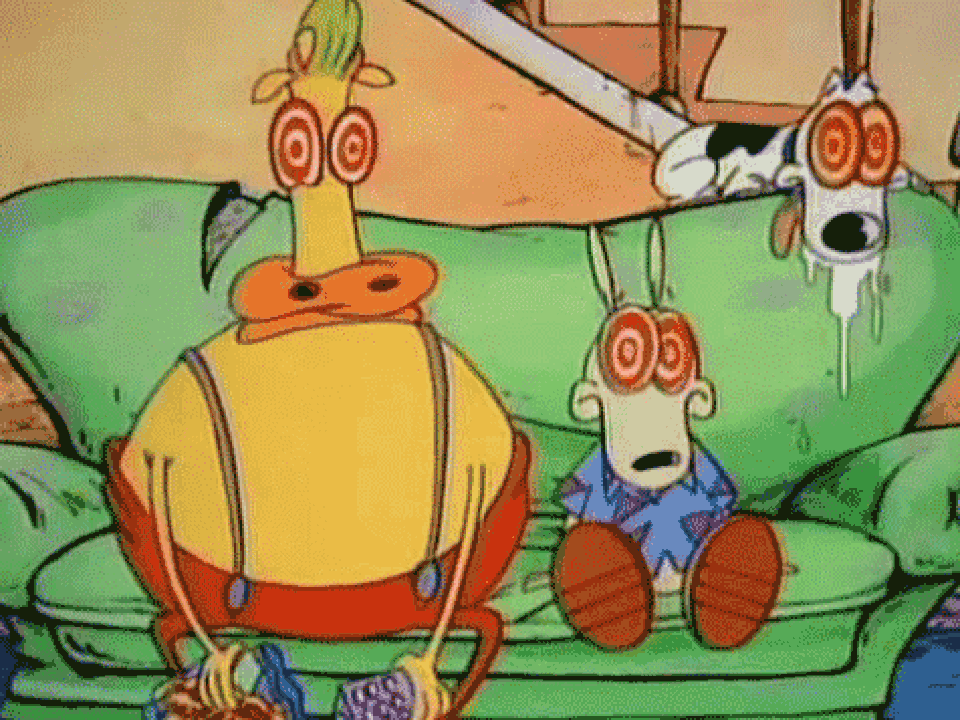 Obviously, '90s cartoons were insane.
From the mind-boggling anatomy of CatDog and a conspicuous number of red demon-like characters to someone being allowed to title a children's show "The Angry Beavers," it's no wonder that being a millennial these days is practically a pathologized disorder. With the highest rates of mental disorders, '90s kids have also been dubbed "the brokest generation," and, worst of all, they have far less sex than prior generations. So, to sate our constant nostalgia for simpler times (before we realized the planet was doomed by 2050), Nickelodeon, Netflix, and Rocko's Modern Life creator Joe Murray made a 45-minute special with all the chaotic energy of the original series but applied to modern day crises.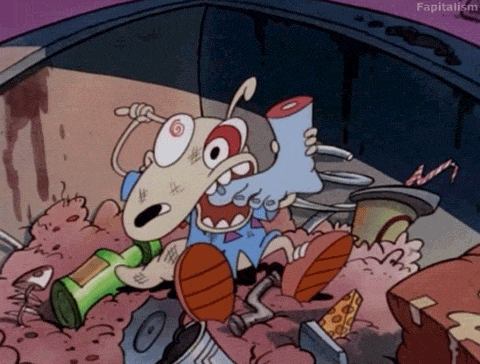 Giphy
"The 21st century is a very dangerous century." Rocko, the neurotic wallaby who taught '90s kids what a terrible Australian accent sounds like, breaks the fourth wall only once in Netflix's reboot, Rocko's Modern Life: Static Cling. Rocko's lament comes after he and his best friends, Heffer and Filburt, have just returned to O-Town after spending 20 years suspended in space. When they return home, they're assailed by smartphone technology, social media craze, cancel culture, and the corporatization of everything they love. But the only change Rocko can't accept is that his favorite show, The Fatheads, has gone off the air (he's spent 20 years obsessively watching the VHS, after all). So Netflix's rebooted special of a '90s cartoon centers around Rocko's quest to create a rebooted special of a '90s cartoons. Why? As the O-Town news reports, this "90s cartoon solves problem$."
Rocko's Modern Life: Static Cling Trailer | Netflix youtu.be
As heavy-handed and clumsy as the meta-commentary often is, the series' original creator, Joe Murray, chose to stream the Nickelodeon cartoon in order to maintain more creative freedom. "I wanted it to be as strong as the show and as much satire and as much social commentary as we could do in the times that we live in now," he told CBR. Indeed, Rocko returns to a world "where coffee shops are on every corner, food trucks offer multi-layered tacos, touch-screen O-Phones are being upgraded on a near-constant basis, an instant-print kiosk has replaced Rocko's old job at Kind-of-a-Lot-O-Comics, and radioactive energy drinks turn their consumers into mutants," as per Netflix's description.
Aside from pointed jokes about how the business behind computer animation is as soulless and robotic as its sub-par creations, the special's most overt social commentary is on its first trans character. "I wanted the story to be about change, how we deal with it and how it affects us," said Murray, who voiced the Bigheads' daughter Rachel (Ralph in the original series). Murray added, "I couldn't think of a more positive change in one's life than to make the decision to transition and embrace who you really are."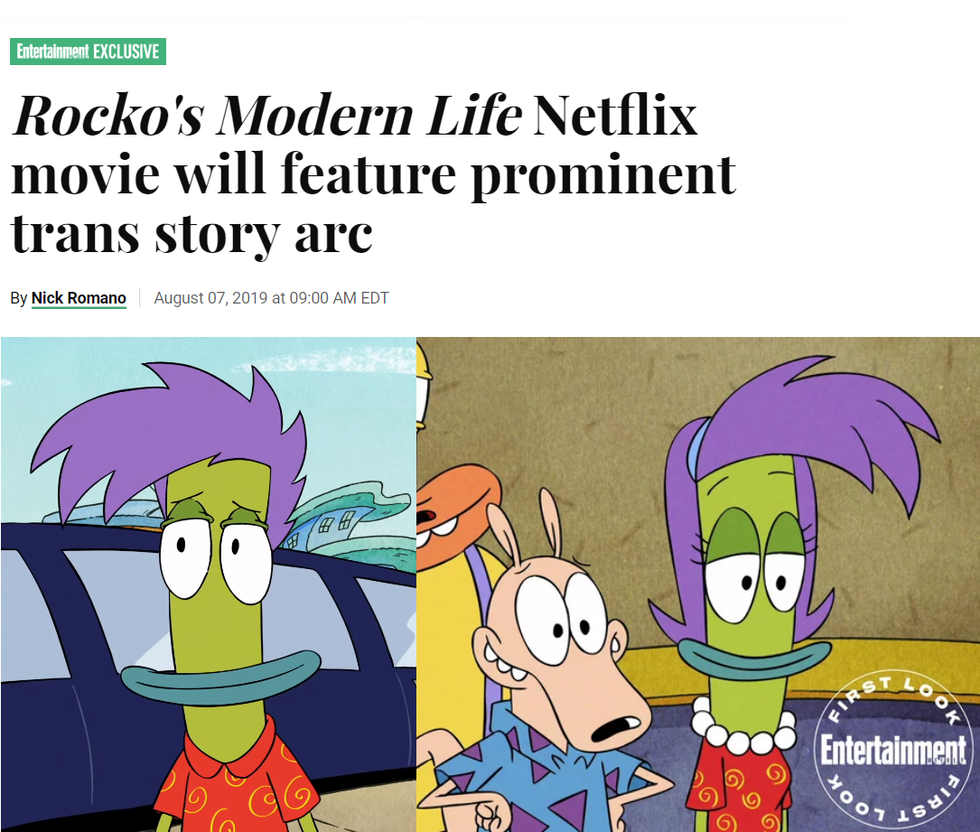 EW
Rachel's character is easily the special's best achievement, with her storyline delivered simply and to-the-point, without fanfare that usually problematizes trans identity more than normalizes it. In fact, Nickelodeon developed the character by consulting with GLAAD. Nick Adams, GLAAD's director of transgender representation, praised the creative team. "When I read the story outline, I was happy to see that Rachel's gender was treated as a non-issue by Rocko and his friends, and that Rachel's father finally realized that he loves and supports his daughter," Adams wrote. "I worked with the show's creators to ensure that Rachel was drawn in a respectful way, so that her femininity wasn't a joke. We also talked about how to portray the moment Rachel reveals her transition to the boys so that it wasn't sensationalistic."

Static Cling adds much-needed LGBTQ+ representation to the G-rated sphere of entertainment. Murray seamlessly embeds Rachel's storyline into a larger narrative about how we cope with both the perks and the ravages of the 21st century, which touts the fastest rate of technological and societal change since the Industrial Revolution—or maybe ever. "It felt natural," Murray said, "because it was not only about change, about somebody finding who they are and making that courageous choice to go through that change."
The special also features returning cast members Carlos Alazraqui as Rocko, Tom Kenny as Heffer, Mr. Lawrence as Filburt, and Charlie Adler as Mr. Bighead. As Nick Adams wrote, "Rocko's Modern Life: Static Cling tells a beautiful—and hilarious—story about accepting change. The younger characters accept Rachel immediately; recognizing she's still their friend. And while Rachel's father is slow to accept change within his own family, even he realizes that loving your child should be unconditional. This story of inclusion and acceptance is so needed in our current climate."
Ultimately, it's Static Cling's distinct '90's style of after-school-specials and fable-like morals that make its over-arching message palatable rather than self-righteous. Even if the world turns sideways and you're left feeling alienated from "too much change!" as Rocko screams at the bustling town that's left him behind, "We can't live in the past," as Mr. Bighead says. "We can be grateful for it, but life isn't permanent, and if we don't embrace what's now, we miss out on a lot of the important stuff."