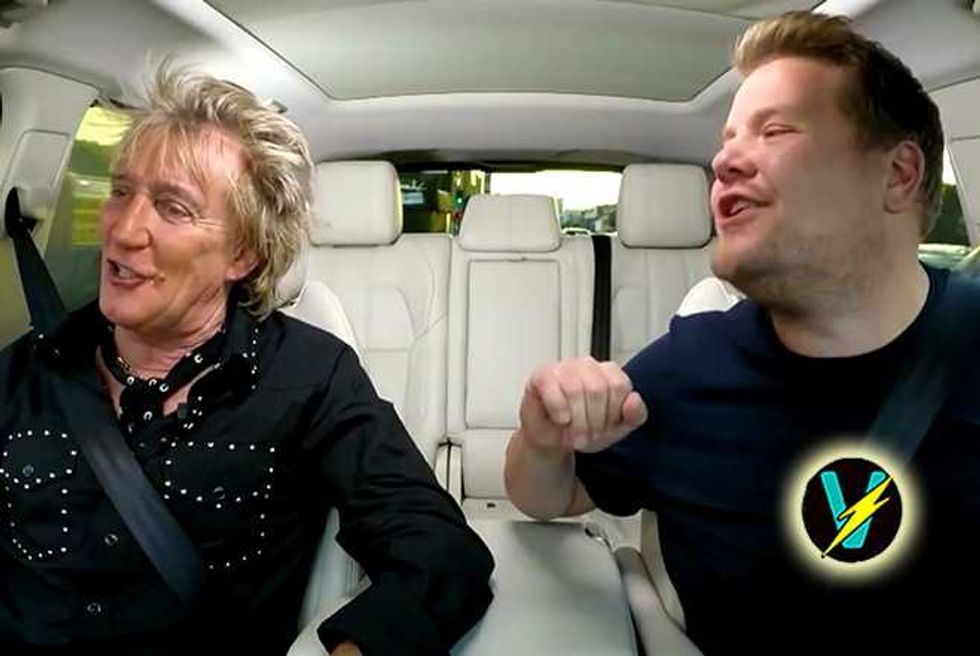 If you watch just one thing today—make it this, as it's guaranteed to make you smile… and want to sing.
James Corden is carrying on his awesome Late Late Show Carpool Karaoke sessions, this time with Scottish rock legend, Rod Stewart—and you can watch the video right here on Popdust.
Rod Stewart is one of those musicians who you often forget, but, when one of his classics come on, you just can't help but belt it out.
Mariah Carey And James Corden Carpool Karaoke Is Absolutely Fabulous (DUH!)
Which is why he's the perfect Karaoke carpooler—not to mention, he's got some great and salty old tales from his life on the road to share.
Corden kicks off the session with Stewart's sublime cover of Cat Stevens' 1967 hit, The First Cut Is The Deepest… complete with air guitar solo from old Rod.
Tom Hanks And James Corden Reenact Every Hanks Movie In Just 7 Minutes
Then we get down to the real rock n' roll nitty gritty as Corden quizzes the 70-year-old about his most debaucherous moment.
When it comes to the defining the most rock 'n roll experience of his life, Rod's hard pushed to pick one, admitting, "I don't know mate, there's been so many….I mean, we were outrageous with The Faces, just a'drinkin' and a'shaggin' and a'drinkin' and a'shaggin'….that's what we did. And smashing up hotel rooms."
Ten Greatest False Rumors In Music History—Rod Stewart Gets His Stomach Pumped
"Did you do that?" Corden asks. "Did you go proper TV out the window? Now what is it with that? What is it with bands in hotels that you go 'let's throw the TV out the window?'"
"Well, in those days, usually the only bands that were doing it were The Faces and The Who," Rod explains. "And mostly it came around because we weren't getting the respect we deserved…we paid for hotel rooms, we never got room service, or anything, and we just didn't get any respect."
So, Corden asks, "what's the most people you've ever had in a hotel room, roughly? To the nearest 20…"
"The best place we used to party was Detroit," Rod shares. "As The Faces, as a band, we were actually banned from all Holiday Inns, so we used to check in as Fleetwood Mac, before Fleetwood Mac were particularly famous, we would announce we were having a party back at the Holiday Inn, on stage, and everybody would flock back, we let most of the girls in… not all the men…but most of the girls we'd let in… there'd be hundreds and hundreds.."
You've gotta give the dude props…. he's worked HARD to earn that rock legend tag…
Kanye West's Best Worst, Most Kanye-Esque Moments Ranked By Greatness
Onto another Karaoke opp… this time, Everyday—Rod's collaboration with A$AP Rocky… complete with a surprise appearance from the 26-year-old American rapper himself, who pops up from the back seat for a sing along—prompting Corden to comment on how this is probably the coolest he has ever felt in his life.
And, yep, we totally believe him.
Next up, Rod's 1978 smash hit, Do You Think I'm Sexy? Which leads, appropriately to the subject of sex once again, this time, specifically when Stewart lost his virginity.
Popdust 40 Ranks The Greatest, Biggest Artists—And Fame Whores—Of Today
"When I was about 15," he admits. "It didn't last very long.. it was all over in a split second… she was a big girl… she looked like she was in her 30s and that's what spurned the song Maggie May."
Cue joke from Corden about how that was probably the last older woman Stewart slept with then into a rousing Maggie May singalong....
Saving the very best for last though, Corden rounds off the drive with the 1973 Faces classic, Ooh La La.
I wish that I knew what I know now
When I was younger
I wish that I knew what I know now
When I was stronger
Amazing… just… amazing…..