On Monday, Roger Stone, former Trump campaign adviser, settled a suit seeking $100 million in damages for publishing misinformation on InfoWars.com about Guo Wengui, a Chinese businessman. InfoWars is a far-right website known for perpetuating conspiracy theories and spreading propaganda.
Guo Wengui fled China after posting about the corruption of the Chinese government on social media and is now seeking asylum in the US. He filed the suit against Stone in March, arguing that Stone had made false statements about him from around September 2017 to January 2018. The suit cited Stone calling Guo a "turncoat criminal who is convicted of crimes here and in China." Stone also accused him of making political donations to Hillary Clinton, which is illegal for foreign nationals, and funding a presidential run by former White House adviser Steve Bannon.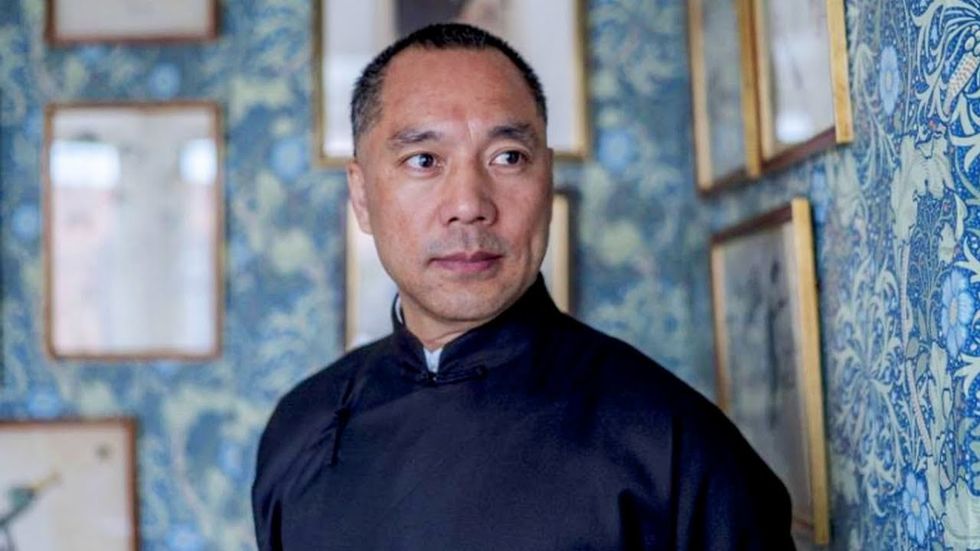 Guo WenguiYouTube
Instead of paying the $100 million, Stone is required to run ads in national outlets, such as the Wall Street Journal, apologizing for making false, defamatory statements about Guo Wengui. Stone must also retract his statements on social media. According to CNN, "He will also send his statement to Infowars, which, along with its founder Alex Jones, has faced several defamation lawsuits, including one brought by families of Sandy Hook victims."

Stone reportedly said in a text message that his actions were, "irresponsible" and that "I am solely responsible for fulfilling the terms of the settlement." In the settlement, Stone said, "All of these statements are not true," adding that he "failed to do proper research before making those statements."
While Stone has settled this suit, it's likely he'll soon return to court as a part of Robert Mueller's investigation of the 2016 election. There is mounting suspicion in Washington that Stone helped orchestrate various misinformation campaigns during Trump's run for office was.


According to the Wall Street Journal, "Adam Schiff (D., Calif.), who is expected to take control of the House Intelligence Committee, said on Sunday of Mr. Stone's testimony last year: 'I believe there's ample reason to be concerned about his truthfulness.' For his part, Mr. Stone has accused Mr. Schiff of 'smear tactics' and said he stands by his testimony."
A long time Trump supporter, Stone reportedly said earlier in 2018 that he would never testify against Trump. Trump tweeted in response:
---
Brooke IveyJohnson is a Brooklyn based writer, playwright, and human woman. To read more of her work visit her blog or follow her twitter @BrookeIJohnson.
---
POP⚡DUST | Read More...
Everything Mike Pence Reminded Us of During that Oval Office Meeting
Brexit Derails: Vote Postponed, U.K. Has Power to Cancel Altogether