Culture News
The former co-stars find themselves on opposite sides of a controversial sexual assault allegation.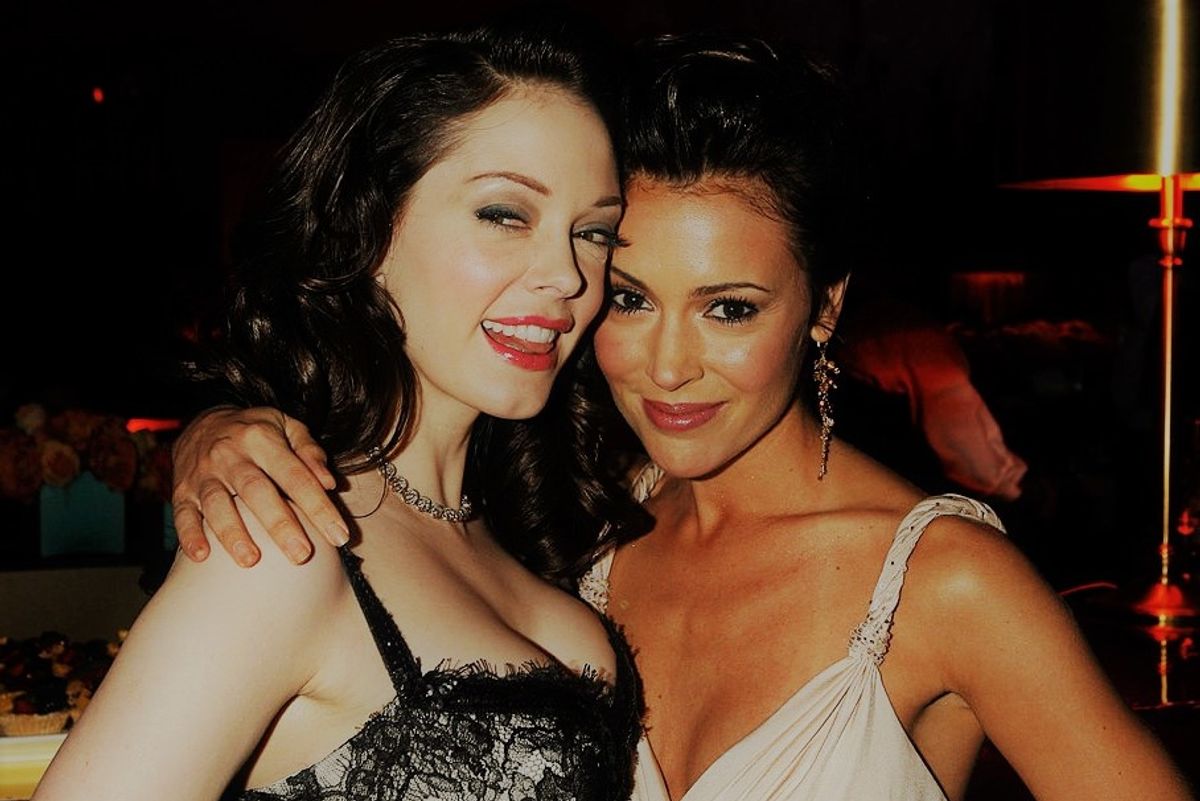 Rose McGowan has a history of calling other activists in the #MeToo movement frauds.
Her personal experience as a survivor of sexual assault makes her passionate about these issues, and sometimes that may lead her to make some rash judgments. That is not what happened in the case of Alyssa Milano.
On Monday, reacting to Milano's recent endorsement of Joe Biden, McGowan tweeted at her former Charmed co-star, "You are a fraud ... You go after Trump & Kavanaugh saying Believe Victims, you are a lie. You have always been a lie." What McGowan is referring to is the fact that Biden was recently accused of sexual assault by a former employee named Tara Reade. Reade has given a vivid description of her 1993 encounter with then-Senator Biden when she was working in his offices and has corroboration from multiple people whom she told of the incident at the time.
You are a fraud. This is about holding the media accountable. You go after Trump & Kavanaugh saying Believe Victims… https://t.co/ENVCdZDABQ

— Rose McGowan (@Rose McGowan) 1586203129.0
While this isn't the kind of evidence that could be expected to secure a conviction for the perpetrator, it is the same standard of evidence that Dr. Christine Blasey Ford had against Brett Kavanaugh—which Milano and much of the country felt was enough to disqualify him from serving on the Supreme Court.

At the time, Milano said of Blasey Ford's testimony, "It made me so proud ... especially remembering Anita Hill in 1991," referring to the sad state of affairs that took place when Anita Hill testified in the Senate to the sexually harassment she had experienced while working for then-Supreme-Court-Nominee Clarence Thomas. Hill was berated and attacked by Senators on both sides of the aisle while a young Senator Joe Biden oversaw the hearing and abdicated his responsibility to maintain order and decorum and provide Hill with a fair hearing.
While some have criticized the timing of Reade's accusation—just as people did with Dr. Christine Blasey Ford's accusations against Brett Kavanaugh—it's worth noting that Reade made a sexual harassment complaint at the time and attempted to come forward with the story of her sexual assault last fall—long before Biden's surprise Super Tuesday resurgence. She was stymied in that attempt by the directors of the Time's Up Legal Defense Fund, whom she approached at the time for help. Initially told to wait, Time's Up took months to tell her that they wouldn't represent her, citing a dubious claim that targeting a candidate for federal office would compromise their status as a non-profit organization.
I explained my silence on the allegations against Joe Biden in this clip. I am still endorsing @JoeBiden. Listen t… https://t.co/M7Kr2BOjzM

— Alyssa Milano (@Alyssa Milano) 1586194756.0
While Alyssa Milano apparently thinks that Time's Up's refusal to represent Reade is a refutation of her claim, others have pointed out that Joe Biden has given generously to the organization and that Anita Dunn—the managing director of Time's Up, who also helped Harvey Weinstein prepare before the infamous New York Times exposé broke—was recently made one of Biden's top advisers. The organization never disclosed these ties to Reade while they held her accusation in limbo. In other words, while Time's Up was started as an offshoot of the #MeToo movement to support women standing up to powerful sexual predators, it seems increasingly likely that it has became compromised by established interests that seek to quash stories like Reade's with the same sort of "catch and kill" system that people like Weinstein and Trump have used to great effect.

If Alyssa Milano refuses to see that or to hold Joe Biden—the man responsible for the whole Anita Hill debacle—to the same standard she used for Brett Kavanaugh to, then Rose McGowan is right: Alyssa Milano is a fraud.