Top Stories
TOP 5 | Most trending stories from the week of July 3rd to July 10th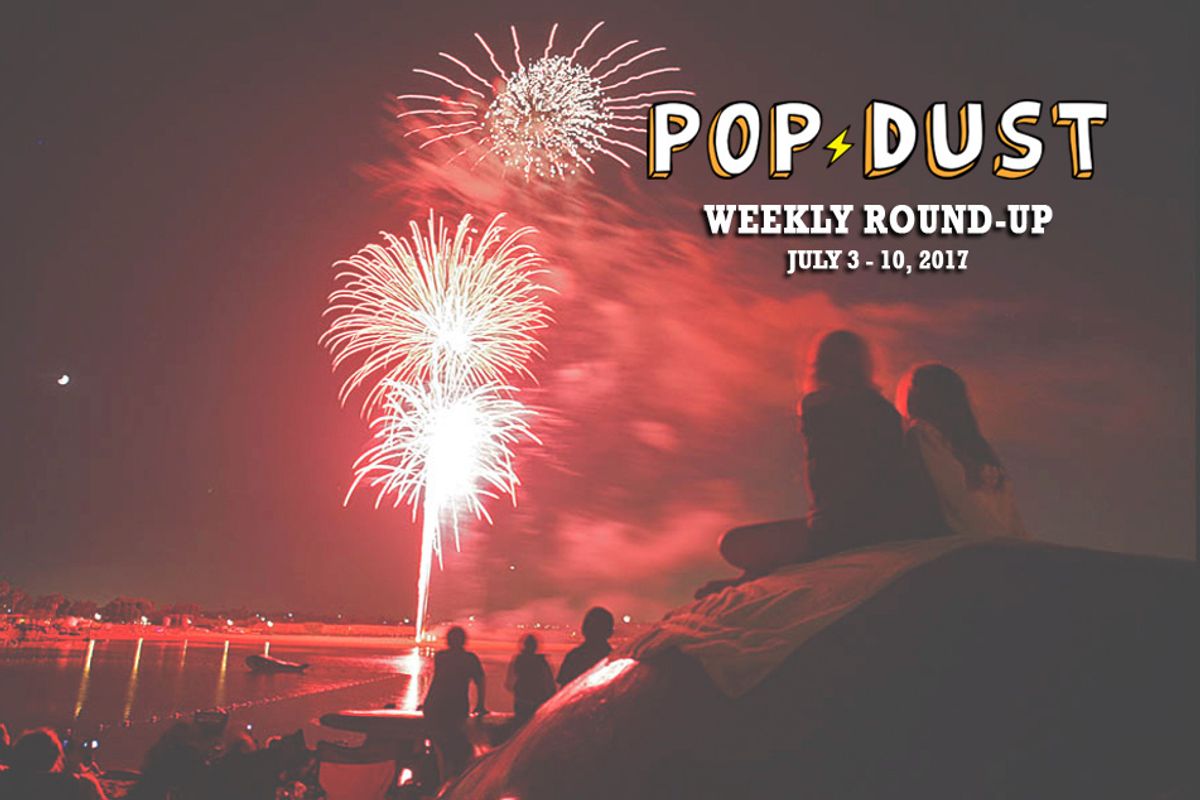 The most Trending articles on Popdust from the week of Independence Day festivities!!!
We had a great national holiday last week and enjoyed such great weather (at least in New York City). July 4th, Independence day, gave us a short week, but there was still so much going on. There were fireworks, music video releases, food on the grill, some movies that are really hot... or not. I have central air and I will never go back. It is worth every penny and I will sacrifice any luxury just to afford the constant state of chill in the rooms. Catch up on what you missed when you were playing in the sun and staring at a sky full of lights.
---
#1 : LISTEN | Adam Lambert doesn't give "Two Fux" with new single
His work with Queen is rubbing off on his solo work, there's no mistake about that. Adam Lambert, who has dazzled fans all over the world as frontman to the legendary rock band, has dropped a guitar-heavy romper called "Two Fux," in which he forgets "his inner peace, in leather." The new mid-tempo track is, presumably, the first taste of his long-awaited new record, the follow-up to 2015's invigorating The Original High. Last week, the rock star debuted the song on Jimmy Kimmel Live! with band mates Brian May and Roger Taylor in tow.

From the syncopated vocal to the bouncy arrangement, ripped directly from Queen's heyday, and eerily so, "Two Fux" is Lambert at his best. He blasts the roof off with his brazen personality, calling all outcasts to carry the torch alongside him. There is a timeless feeling to the melody, too, solidifying him as an undeniably player in major pop music, regardless if radio plays him or not--which is a another discussion altogether. But the thing about Lambert is, he doesn't care, and that's why he has millions of fans all over the world. Consumers will, generally, support his work, no matter what. Thank you, streaming!
by Jason Scott
---
#2 : FILM | 'Wonder Woman', 'Beauty and the Beast' and outrage film marketing
"Should we be encouraging outrage culture in film marketing?" In the era of Lahren, O'Reilly, Maher and Yiannopoulos, outrage is all the rage. Outrage culture pulls in massive internet traffic, and gets people talking loudly on both sides of the issue. But we've seen it more and more in the world of film marketing in recent times. Just this year we have had the debacle of women-only Wonder Woman screenings, and Beauty and the Beast's "gay moment", resulting in bans and calls for boycotts on both. Because of their sudden divisiveness, everyone was talking about these films, and the idea that going to see them was going to help shut down bigotry was a real, tangible thing. Both of them went on to see huge box office revenue. It's hard to say whether the surge in interest caused the subsequent ticket sales, but it certainly didn't hurt. The question is, though: should we be encouraging outrage culture in film marketing?
[rebelmouse-proxy-image https://media.rbl.ms/image?u=%2Fwp-content%2Fthemes%2Fmain%2Fthumbs%2F2017%2F05%2FWonder-Woman-Gal-2.jpg&ho=http%3A%2F%2Fwww.gadgety.co.il&s=628&h=8c9beb11172c727f00dd8d91577f980f624c69724fa97bac71e8589c9277afb0&size=980x&c=508349796 crop_info="%7B%22image%22%3A%20%22https%3A//media.rbl.ms/image%3Fu%3D%252Fwp-content%252Fthemes%252Fmain%252Fthumbs%252F2017%252F05%252FWonder-Woman-Gal-2.jpg%26ho%3Dhttp%253A%252F%252Fwww.gadgety.co.il%26s%3D628%26h%3D8c9beb11172c727f00dd8d91577f980f624c69724fa97bac71e8589c9277afb0%26size%3D980x%26c%3D508349796%22%7D" caption="" pin_description="" image-library="0" expand=1 photo_credit=""]
It's not like outrage marketing is a new thing. The Moon is Blue, Monty Python's Life of Brian, Ecstasy (which was denounced by no less than the Pope), and The Last Temptation of Christ, all traded on their salacious reputations. The key difference between film marketing then and now is, as you've probably guessed, the internet. Social media virality enables ideas to spread like wildfire, even if they start on the micro scale.
---
#3 : PREVIEW | 5 things you need to know about 'Top Gun 2'
According to Variety, Paramount Studios has been given the go ahead to make a sequel to the 1986 Blockbuster Top Gun. For those of you who live under rocks and are unfamiliar with the film, it was an action epic set to a rocking Kenny Loggins soundtrack and featuring shot after shot of planes, the beach, and attractive men playing volleyball. The film was hugely successful on its release, not only garnering massive box office, but also helping to spur one of the largest surges in armed forces recruitments in history. It is a staple of Tom Cruise's early career, and helped cement him as the star we know him to be. With the recent announcement of the film's prospective release date, we're going to run down what we know so far, and see if we can't get you excited about taking another trip into the danger zone.
1. Save the date!
July 12, 2019. Mark it on your calendars people, the powers that be have set the time (albeit tentatively) for us to return to the Top Gun Academy. This is subject to change, naturally, but we have a time scale, and given the massive box office draw this film is likely to be, the studio is going to be working hard to keep to that. The date is thirty-three years after the first Top Gun premiered.
2. We have a title!
Tom Cruise has announced publicly what the picture will be called… ready for it? Top Gun: Maverick. Yes, Paramount and Bruckheimer have decided to go all AVP: Requiem on us, and rather than going for the generic Top Gun 2 they have opted to subtitle the film with the name of Tom Cruise's character from the first film. "I didn't want a number," Tom explained. "You don't need a number." This title implies that Cruise will be taking on a large role in the movie (rather than just a quick cameo), possibly as a kind of mentor figure having to take a young pilot under his wing. Potentially guiding them through his same character arc from the first film. I'm going to put my money on them casting Liam Hemsworth if they go that route. It's about time someone found a use for him…
---
#4 : MUSIC NEWS | Adele cancels tail-end of world tour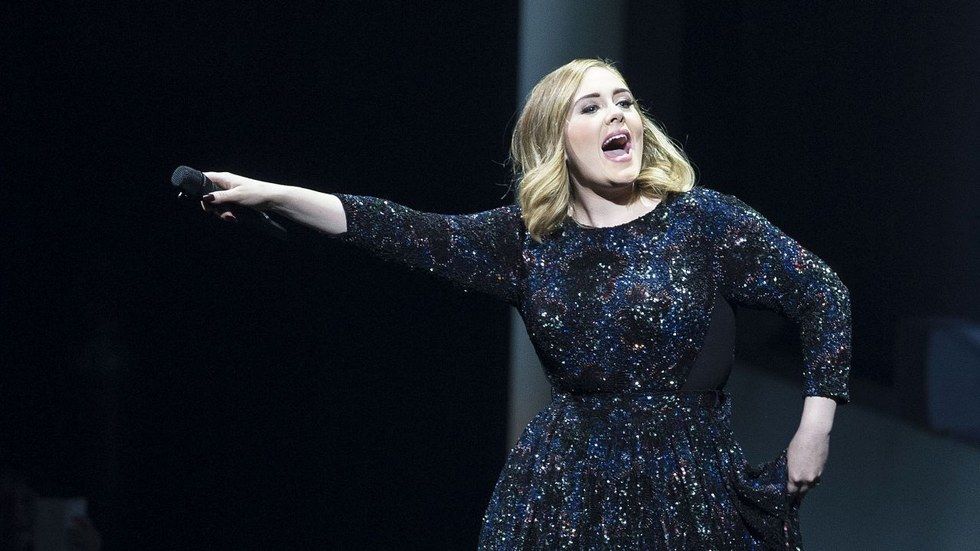 "I simply can't crumble in front of you all and walk out on you in that way"
Popular British pop-star Adele has had to cancel the last two shows of her world tour. This new comes in the wake of news that she has damaged her vocal chords to such a point that "on medical advice [she is] simply… unable to perform over the weekend."

The news was broken via an open letter sent out to fans (Included in full below). She had apparently been having difficulty in her last two shows (sold out concert at London's Wembley Stadium), and went to see a doctor who recommended vocal rest. After an incredible run of 121 shows she, regretfully, called off her final two scheduled appearances at Wembley.
---
#5 : WATCH | Superfruit get fresh with "Imaginary Parties" video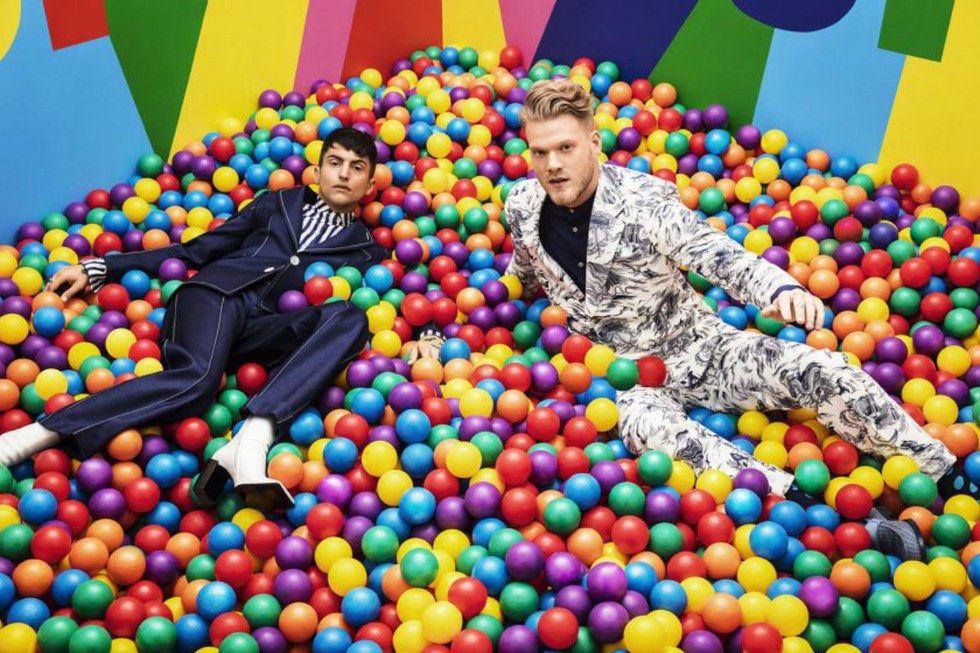 The pop duo go for offbeat and weird for their brand new visual.
Don't know about you, but Superfruit's brand new EP is gonna be the soundtrack of our summer. Featuring hot-to-the-touch beats, as found on their opening track "Imaginary Parties," Scotty Hoying and Mitch Grassi are no imitators. They mix their natural R&B roots with the same kind of raw intensity with has endeared Pentatonix to millions of fans (and the Grammy voters on three separate occasions). In the "Imaginary Parties" video, they enlist four stunning women of color to interpret the provocative nature of the song--"Take me for a ride around if that's what you like, but if you're driving I'm down," the duo sing--and the clip is funky, flirty and fun.
"We can make a movie, baby. You can be Gable and I can be West," they profess later on the first verse. "Call me Tarantino, because you and me know that it's what I do best."
The clip (below) is helmed by director Alon Isocianu, who has worked with such pop stars as Kelly Clarkson ("Piece by Piece," "Invincible"), Maren Morris ("80s Mercedes"), Finger Eleven ("Wolves and Doors") and Lights ("Up We Go"), among others.

"If it's all we ever wanted than baby play along--'cause it makes me feel alive," they coo on the freshly-pressed hook. "Go to imaginary parties in our make believe Ferrari. Baby, let's get fresh, it's like we just met. If you wanna catch fire, we'll get a little hotter--wanna keep you satisfied. Just you and me together read our imitation letters. Baby, let's get fresh I know we know how."
Watch now:
by Jason Scott
---
Dan Victor is editor in chief of Popdust and producer of Popdust Presents. He is also a music producer, bassist for Low Profile (live hip hop) & The Coldpress (indie rap) and front-man for Ductape Halo (indie rock). Follow on Youtube.
---
READ MORE ABOUT MUSIC...
---