MUSIC
This Dominican stunner is rocking our worlds, both with her music and her efforts for social justice
"I'm deeply affected by injustice, so my gut reaction is to do something about it."
Women are killing it in the music industry, and the world of song lovers couldn't be happier! In our new column, #WomenCrushWednesday, we'll feature an awesome lady whose tunes are blowing up our playlists and ask them about their musical journey.
In our latest feature, we spoke with Roxiny, a singer/songwriter who is also using her voice to speak out loudly for women's rights. She's powerful, she's unique, and she's creating a sound and a standard for female musicians that will hopefully be continued for many generations to come. Read about the work Roxiny is doing to support ladies in all they pursue and what she's got coming up next in her music career.
---
How did you get interested in music?
I don't remember my interest in music being a conscious decision. I think music was something that was always a part of me. It was something I couldn't tame or control. One of my earliest memories was living in Andalusia, I must have been 4 or 5 when I first experienced "cantao flamenco." It was all feeling. I remember being in the middle of this circle of women singing, clapping, and teaching me by encouraging me to feel first. That was powerful, and it stayed with me. Around that time I also told my mom I wanted to be a rock star. I have no recollection of that, she does. I started to learn the violin with the Suzuki method a few years later. Again with an emphasis on feeling first. That was my foundation. I wasn't built for the rules and structure that came with theory. I just wanted to stay with that feeling of freedom that music gave me.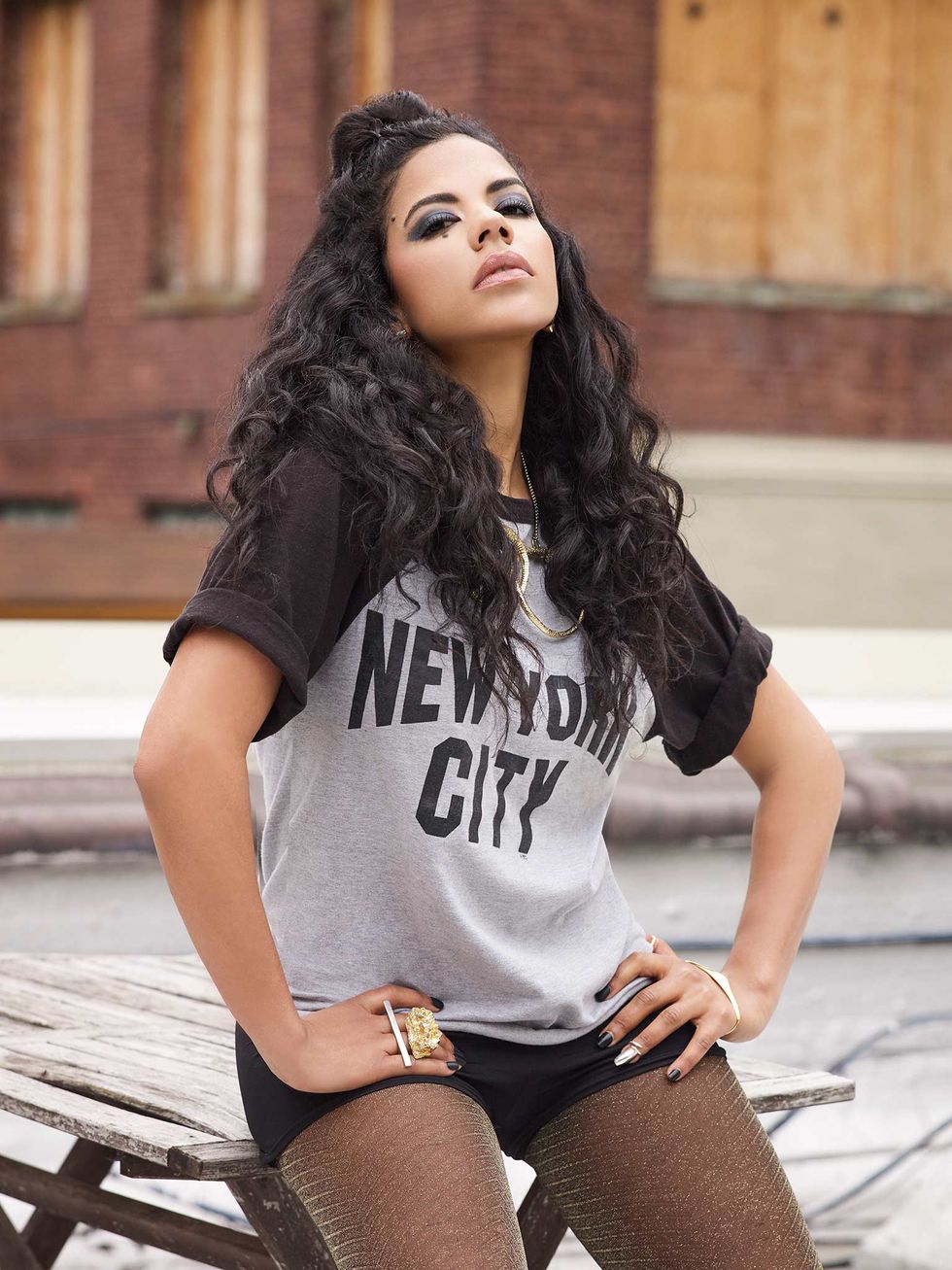 You're of a Dominican background. Do you think that influenced your musical style in any ways?

Absolutely. Particularly my obsession with drums. Afro-Dominican palo and salve is drum heavy and in my opinion the most beautiful, transcendent folkloric music of the Dominican Republic.

How would you describe your musical sound?
Howling to wailing guitars and primitive drum machines.
You do a lot of work in regards to social justice causes. Why is that important to you?

At the core of it all, I'm deeply affected by injustice, so my gut reaction is to do something about it. I was also raised by parents who taught me to treat people with respect regardless of culture, race, sexual orientation, so on. Hate is easy. It stems from fear and insecurity. Love on the other hand requires so much more strength and self-mastery. Many times it means putting ego aside for the greater good.
You're involved in a really cool program called GEMS where you teach music workshops. What does that organization do and how did you get involved in working with them?
I love GEMS. The work they do is so important. It's an organization that empowers, mentors and serves girls/young women who have experienced commercial sexual exploitation and domestic trafficking. Sexual exploitation has always been something important to me as a survivor of childhood sexual abuse. I know how long it took me to deal with that experience in my life....the shame, anger, instability, lack of trust and internal violence that came with it. It takes time to heal. Some of us never do. I was lucky that I had music. I channeled my energy into it, and slowly began to heal, but I know girls and young women who have been destroyed by it. Once I was able to confront my own experience, I felt this need to contribute to the healing process of other girls. That's what brought me to GEMS. Rachel Lloyd, the founder, was a survivor. She created a space where young women can feel safe, empowered, and loved. She and her team fight for these girls every day. What I do so small in comparison, but I'm just happy to have the opportunity to share the tools that helped me with my process.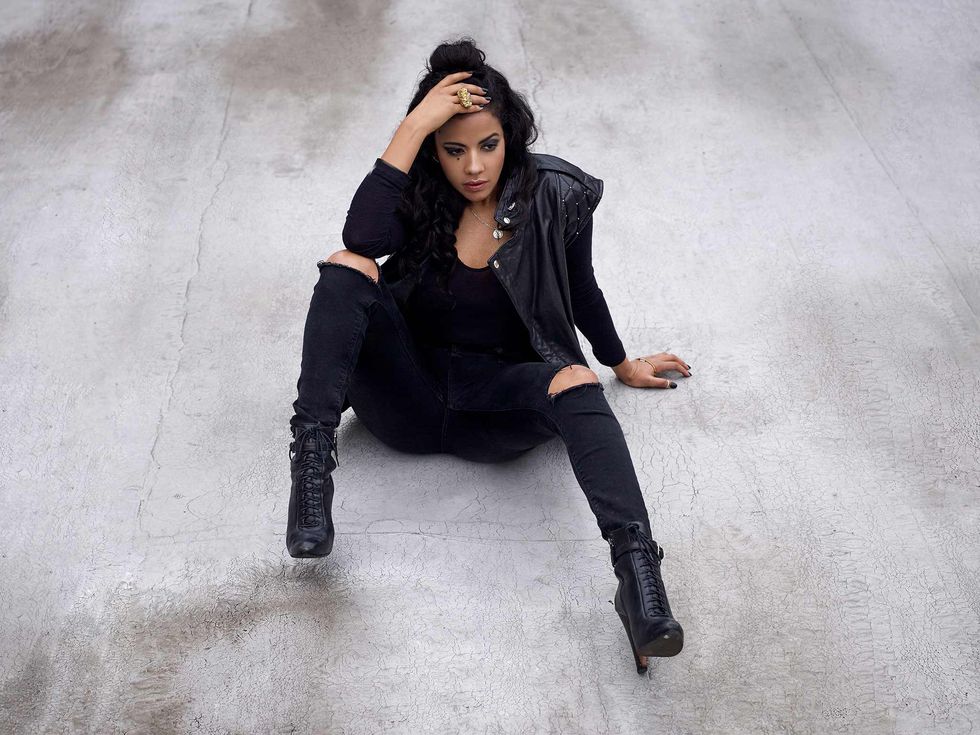 What do you think about the role that women have in the music industry today and what has been your experience?

I can only speak from my own experience. In my first incarnation there were many times I felt powerless- never a comfortable place for me. I found myself having pow wows with friends who had similar experiences, and realized there were so many of us, so many stories, so many #metoo moments. My spirit was feeling crushed. I couldn't stand it. In my second incarnation, I took my power back. I decided to only make music I could stand by, build my own team, and do it my way. It hasn't been an easy journey, but it's mine, and I own it. Today I'm running my own indie label (Revoluna), self-managed, writing, distributing my own music, and recently even directed my first video for "The Lights." I've surrounded myself with talented people I respect and who respect me. Honestly, I think as women in the industry we don't have to play by anyone's rules anymore. We can carve our own path, and keep supporting one another.
You recently released a new single called, "The Lights." What inspired this track and why did you decide it would be your next release?
I wrote this song right after the bombs went off on 23rd street last year. The song speaks to the energy of these crazy times we're living in. It's part ode to NYC, part lullaby, part hope and consolation. I decided to make it my next single because what I felt then, I feel even more so now.
You also have an upcoming EP, "Rituals." What can you tell us about the writing and recording process for this project so far?

This process has been really cathartic for me, and I'm just super grateful that my creative team: Chris Coady, Brandon Sheare, and producer Jonathan Kreinik. They were all so supportive of my process. There were a lot of things I wrote about this time around that I'd suppressed for so long. Something about the energy of these sessions, the timing, the space was just the right environment for me to release these experiences and honor them finally. Including being vulnerable enough to write my first love song, "Goliath."
What's coming up next for you in 2018?
I'm closing 2017 with the release of the video for "The Lights" which I directed with my girl, cinematographer Rebeca Diaz. I'm looking forward to releasing my EP "Rituals" in 2018, coupled with writing more, sharing more music, and doing many more shows.
---
---
Rachel A.G. Gilman is a writer, a radio producer, and probably the girl wearing the Kinks shirt. Visit her website for more. Have a female or femme-identifying artist we should profile? Send a pitch email to Rachel.
---
POP⚡ DUST | Read More About Music...
How Taylor Swift gained fame and why she is still a powerhouse!
#WomenCrushWednesday | Yasmine Hamdan Interview
RELEASE RADAR | Mental health advocate Daphne Willis is back