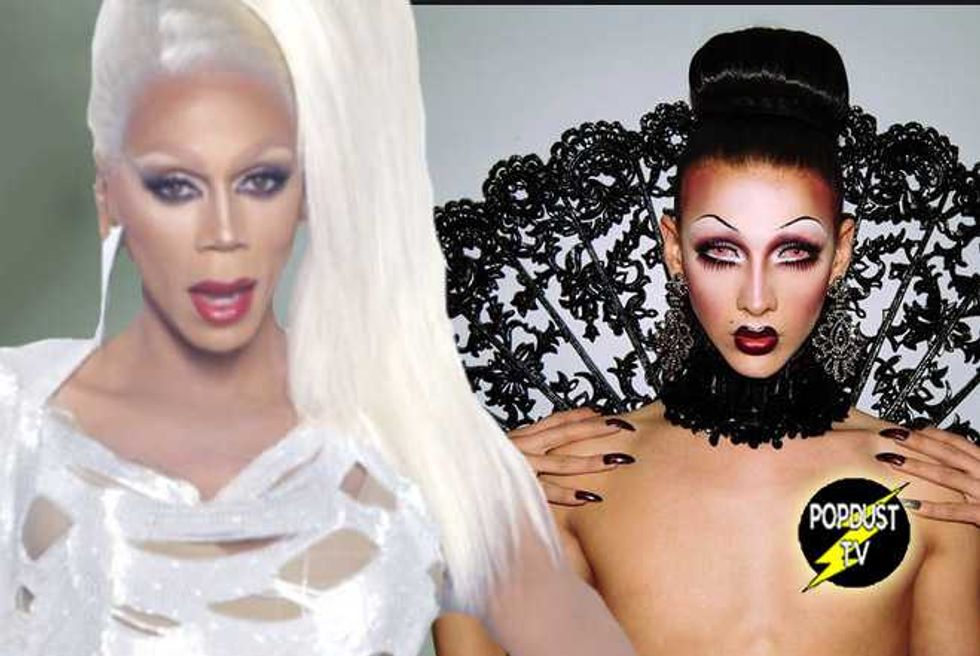 Ladies and ladyboys, the night has finally come. Season 7 of Rupaul's Drag Race is here and these queens are fierce!
The 14 contestants introduced themselves, and after an appropriate amount of shade had been thrown, RuPaul walked in the room to tell them about their first challenge.
Right off the bat, the girls had to get two looks together for a Fashion Week style runway show that showcased a spring and a fall look. Some queens definitely stood out, but that's not always a good thing.
Violet Chachki and Pearl turned it OUT, while Tempest DuJour and Jasmine Masters left us underwhelmed.
For the final main stage runway challenge, the girls had to create a resort wear garment with a "tear-away" to reveal a nude illusion, because as Ru says, "You're born naked and the rest is drag!"
That all may be true, but sometimes even drag queens get a little bashful.
"I'm terrified for this elimination," Katya confessed. "We have to be naked and  I have the body of a 55-year-old Irish rock climber! Give me a fucking break!"
While everyone was hard at work sewing their garments, Kandy Ho was just standing around playing with herself…because the bitch can't sew! How are you going to come on Drag Race and your ass can't sew?!? We don't really care though because no one likes her. She's a Ho f'sho.
Jasmine Masters is a little suspect too. She kept talking about making some cocoon with some butterfly emerging from it, but honestly we couldn't understand a damn thing she was trying to say. Just nod and smile.
The queens did their final runway show, and while most stuck with the nude "illusion," some of these tramps were just straight up NAKED. We're talking to you Violet Chachki!
Turns out some of the judges actually liked Jasmine's butterfly cocoon fiasco. "I loved your cirque-du-so-gay tube that you popped out of," Carson Kressley said.
Kandy Ho kind of escaped critique on her lack of sewing skills because there was something far worse wrong with her.
"You're a beautiful queen, you've got the body," Michelle Visage said. "Your contouring on the other hand…Girl this is not a nightclub, this is TV. It looks like you literally contoured on a beard."
That was enough to land her in the bottom two with Tempest DuJour, leaving them to lip sync for their liiiiife.
We wanted Tempest to beat that wretched Kandy Ho, but alas the Ho's twerking and contoured beard won the judges over.
Tempest DuJour…Sashay away.
What did you think of RuPaul's Drag Race? Sound off in the comments below!