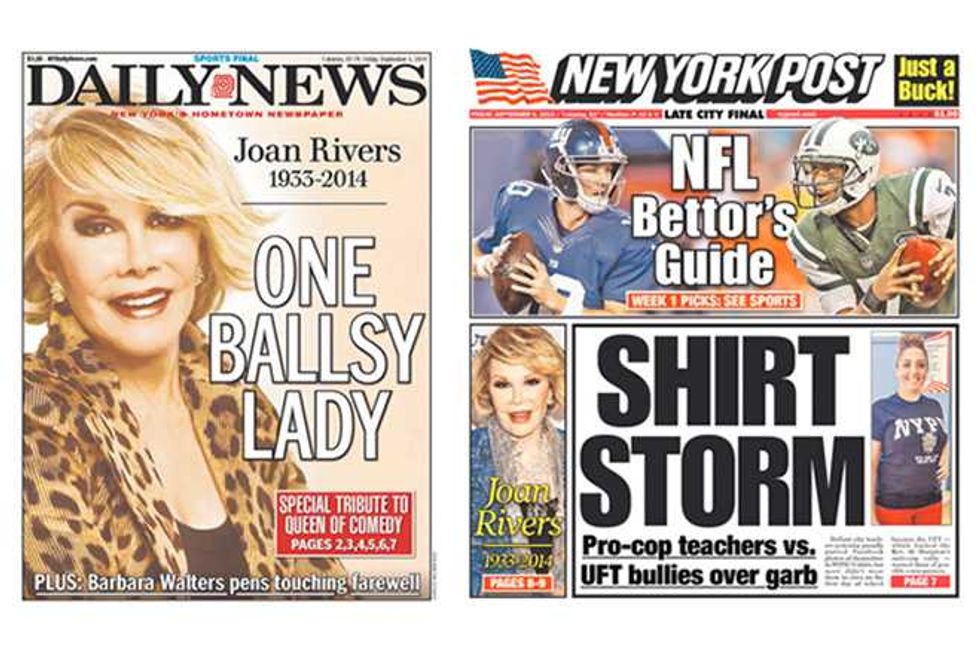 Joan Rivers' death on Thursday was a huge story, and tailor made for the tabloids. So why did the New York Post give Joan only a narrow little box on the bottom left side of the front page?
According to a source at the Post, reports journalist Joe Pompeo, editors there had planned a larger front page tribute with a four-page inside spread, until Rupert Murdoch himself walked through the newsroom.
Murdoch vetoed the mock-up, and the original format was scrapped.
Meanwhile,The Daily News devoted their front-page to Rivers, along with a special six-page tribute inside the paper along with a remembrance from Barbara Walters.
It turns out that Murdoch has a history with Joan Rivers. In 1986, he gave her a late night show to host at the fledgling Fox network. As Pompeo puts it:
The show bombed, and Rivers' husband, Edgar Rosenberg, who was its executive producer, clashed with company brass. The couple was swiftly canned, and Rosenberg killed himself soon thereafter.
Aha.
Would it be too much to expect a little class from Rupert Murdoch on the sad occasion of Joan Rivers' passing? Sadly, we know the answer.