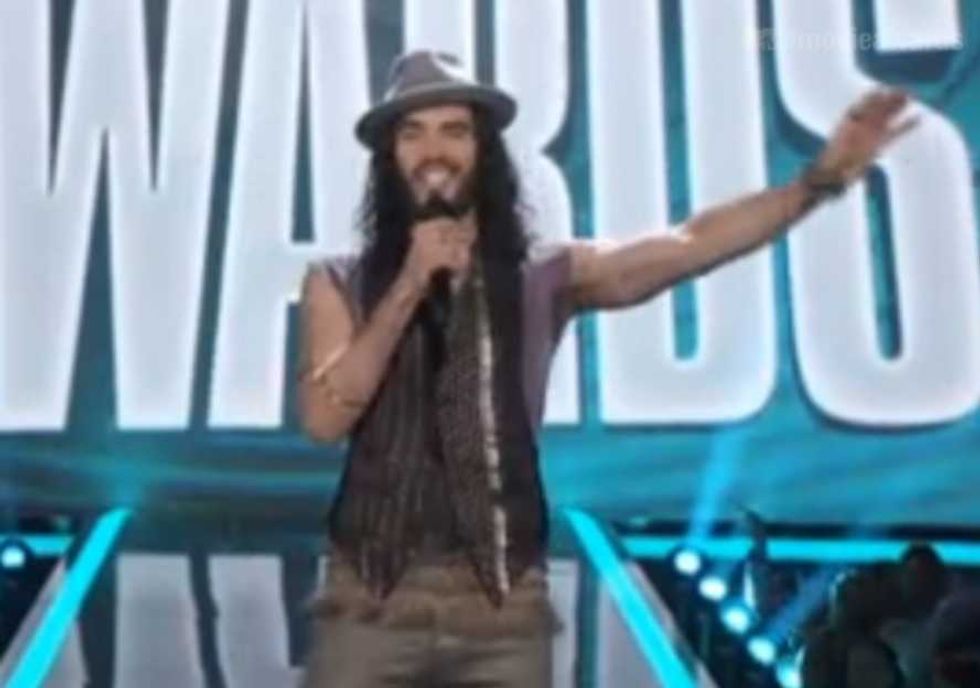 Looks like both Katy Perry and Russell Brand are making the most of their recent divorce by turning their personal pain into professional material. Perry previously told Ellen DeGeneres and fans that her one-time marriage to Brand would soon be seen in upcoming 3D film, Part of Me, and trailers have clued us into to both the sweet moments and the tears. While Perry's acknowledgment of the break-up is another step towards becoming even more "real" to her fans, Brand's complicated history and comedic style led us to believe he'd sooner or later make reference to his marriage on stage. As host of the 2012 MTV Movie Awards, the former Mr. Perry did us all a favor and got the expected divorce jokes out of the way right off the bat, without naming names: "The last time I did an MTV awards show, I did end up marrying someone that was there. So tonight I'm going to keep my eyes peeled for my next wife!" Commence writing break-up song No. 3, Katy.
It wasn't as crass as it could have been, and we'll give Brand points for reminding us how these two crazy kids first met. Rather than piss off his ex, Brand was gunning more for his own Kardashian feud, by requesting a new sex tape from Kim, comparing her work to the films of Stanley Kubrick and praising her for the quickie divorce and new relationship with Kanye West. "And Kim took a lot of pressure off me with her world record quick marriage. Cheers, Kim!" Love him or hate him, Brand's pronunciation of "Can-ye" defies everything else.
Aside from off-screen gossip and Brand's belief that Justin Bieber's manhandling of a paparazzi would probably be hot, the battle between young adult franchises took center stage, its extreme fandom living within Brand's random cheers of "Twilight! Hunger Games!" throughout the night. Fans from both camps, as well as the Potterheads, should be pleased, as each series' most recent installment (or, in THG's case, its first) received some golden popcorn. Anyone else saddened by the idea that Hermoine doesn't know where Harry and Ron are at this very moment? Kristen Stewart continued her streak of being the most awkward award show attendee of all-time, without the comfort of Robert Pattinson to stop her from talking about how people constantly ask her if she hates Twilight, while Josh Hutcherson made sure those who still haven't seen The Hunger Games will remember his name—and his hat.
But there was music to be enjoyed as well! Fun. and Janelle Monáe were in the building to plug "We Are Young" even deeper into your brain, while Wiz Khalifa served as a fill-in for Toby Keith in a red solo cup-esque performance. Johnny Depp spared us the lengthy, potentially quizzical acceptance speech for his Generation Award by performing with The Black Keys and Emma Stone revealed the ease with which she can incorporate "hard in the motherfuckin paint" and "YOLO" to her daily speech. Watch below.
FUN. FEATURING JANELLE MONAÉ, "WE ARE YOUNG"
WIZ KHALIFA, "WORK HARD PLAY HARD"
THE BLACK KEYS FEATURING JOHNNY DEPP, "GOLD ON THE CEILING"