Ryan Gosling has come to the defense of his Baby Mama Eva Mendes after she enraged the world with a joke about sweatpants.
Eva's response to a silly question that essentially asked 'How to keep a man happy' was a tongue-in-cheek admonishment against wearing sweatpants.
You can't do sweatpants. No! Ladies, No. 1 cause of divorce in America? Sweatpants. No. Can't do that.
Only an idiot would take her answer seriously, right?
Well, no. You'd think Mendes had told women to have their feet bound.
Years ago, Jerry Hall confided her secret to keeping her man happy: She always gave Mick Jagger a blowjob before he left the house. Clearly, this did not work forever, but the women I knew thought it was pretty good advice.
But that was before Twitter.
These days, you can't say a damn thing about anything. Gisele Bundchen took a beating on social media when she insisted that breastfeeding be mandatory for all mothers. Naturally, she had to apologize.
Eva has now apologized for her harmless joke with a photo of her own sweatpants and these words:
But Hey Girl, Ryan Gosling is a gentleman, and he won't just sit there while Eva is bullied on twitter and lectured on every blog and news portal except possibly Field And Stream.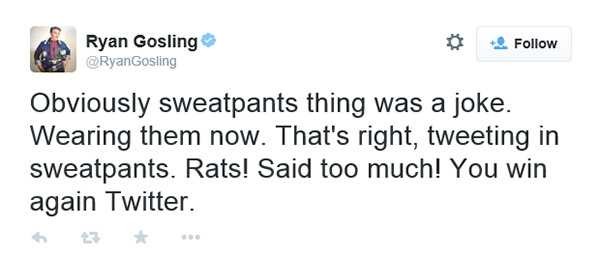 Internet People, has it occurred to you that you are bullying when you go ballistic about every personal opinion you read online? Do you really think it's an affront to female equality if an actress makes a joke about sweatpants? Or feels strongly about breastfeeding?
No wonder Ryan Gosling and Eva Mendes try to avoid the spotlight and keep their private lives on the down-low.