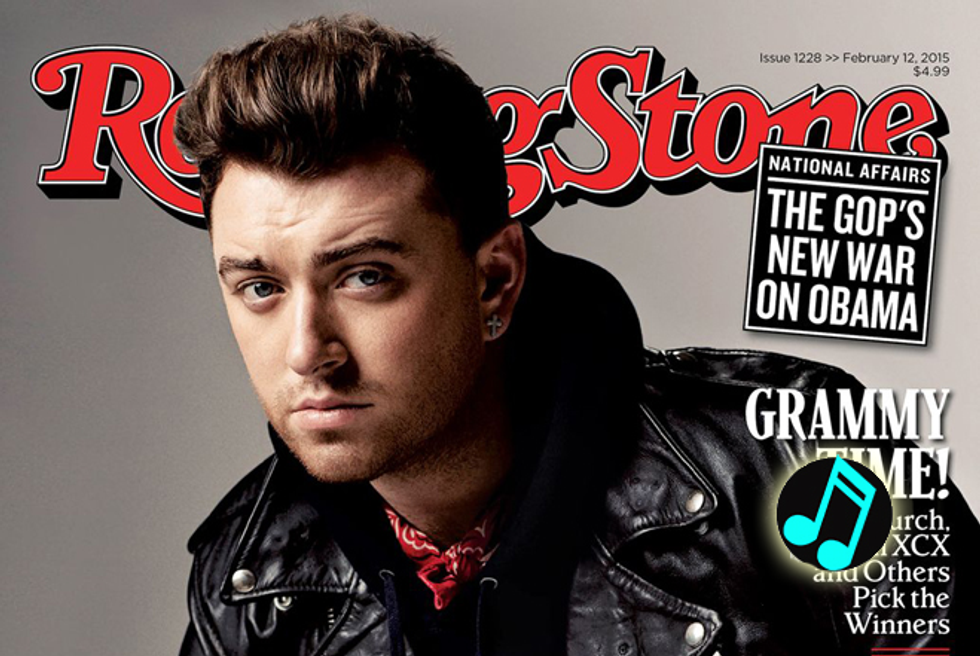 Musical comparisons in pop culture are inescapable.
Typically it's between two female divas, but for Sam Smith, the struggle is even more unnecessary. Since his blockbuster Stay with Me and follow-up I'm Not the Only One, he's been bombarded with Adele comparisons.
Sure, their music is equally as raw, emotion-revealing and ballad-leaning, but enough is enough already. The British singer tells Rolling Stone in their new cover story;
"We're very different, and I feel like the constant comparisons might piss her off.  It just annoys me that people can't digest two pop stars singing really personal songs who don't look like normal pop stars."
Going against the grain of the typical pop mold, he admits that he's still extremely insecure.
"I just want to lose weight for the Grammys, if I'm honest," he says. "I'm just very body-conscious. Sometimes I'm really proud that I don't look like other pop stars. But there's also moments where I'm like, 'Ugh, I wish I had abs like Bieber.'"
As a beacon of hope for the LGBT community, he shares what it's been like since coming out. He details one particularly difficult moment when walking with his dad through his hometown, when a passerby yelled "faggot" out of moving car. He says,
"I was just embarrassed that my dad had to see that, because I could only imagine how you feel as a parent. You just want to kill them. I was always embarrassed for the people around me. It actually never deeply affected me, you know?"
He then cites an incident in London when he was physically attacked on the street,
"I got punched in my neck, just out of nowhere," Smith says. "It wasn't the easiest."
Off the success of 2014's In the Lonely Hour, Smith garnered six Grammy nominations, including Best New Artist, Album of the Year and Song of the Year. This year's show kicks off live in less than two weeks, set for Feb. 8 at 8/7c on CBS.
Smith's Rolling Stone cover hits newsstands on Friday, January 30.
Sam Smith is over being called the "male Adele" and more revelations from our new cover story: http://t.co/maIPtobETb pic.twitter.com/o1xqKEi8ht

— Rolling Stone (@RollingStone)

January 28, 2015
Stay tuned for Sam Smith updates. Be sure to follow @Popdust and @JasonTheScott on Twitter!