"This song is a moment of finding myself again, my spirit," says the feathery-voiced singer-songwriter.
You're standing alone inside an abandoned warehouse. The lofty coolness is brittle against your skin. The darkness seeps through the cracks of the splintered wood, the moonlight tossing its fingertips along the cement. But in the far corner, there is a waxy, half-burned, charred but dazzling candle--the glow of her voice envelopes and warms you. Sara Rachele, whose timbre is equal parts Dusty Springfield, Stevie Nicks and Kate Bush, has already cemented her position on the fringes of folk, pop and rock, marrying those sensibilities into a flighty and substantial body of work.
2014's debut record, Diamond Street, set a remarkable precedent, her vocal wrapped neatly and fluidly around hearty stock standouts like "Devil That I Know," "Appalachian Rain" and the Thomas Hall-assisted number "Don't Give Me Hell." Now, with her latest entry in her flourishing catalog, "Change Your Mind (You Should Be Mine)" is pensive and intimately sweeping. "This song is one of those tunes I wrote about one situation, that actually ended up being about something else entirely," she tells Popdust, who premieres the filtered, black-and-white clip today.
"Change your mind, get your act together, come see me sometime. Change your mind," she murmurs over sparse, spacious production. Later, she wails: "So, what do we do now? What do you want from me, anyhow?"
"I'd been running around so much with work, between the East Village, Manhattan, and East Atlanta Village, my hometown, and this song just fell out of the mystic sky when I was home, finally, in my studio on Avenue A," she explains. "I'd gotten this '68 Harmony Holiday from Rivington Guitars, and the song just sort of, came altogether out of that guitar, the unknown, all at once."

On her frequent walks, which often free her mind and spirit, the song came to be "a moment of finding myself again, my spirit," she says. "I drive my mom's '55 Pontiac. I still do. I go on a lot of drives and walks, to clear my head, think about the life, and people, I've left behind at the moment. I carry them around wherever I am. I do. It's heavy, but I think that's what makes me a good folk singer. I'm still a fucking misfit stuck in love."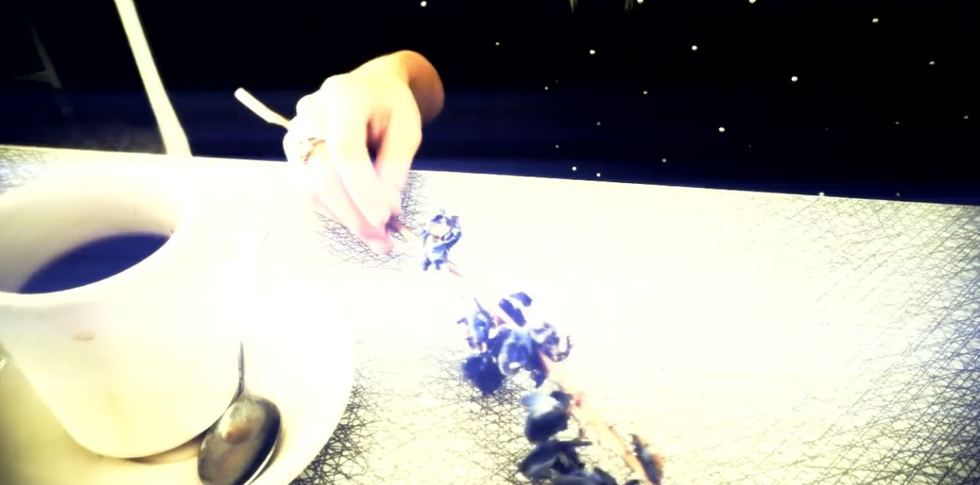 During her persistent trips back and forth from Atlanta and New York (while making her Motel Fire record with The Skintights), the song spilled from her fingertips. "Being engaged, being single, being imperfect, being alive. It just made sense to me to do the video in East Atlanta. We shot it in the family car, with a lucky necklace a loved one gave me, and my cat, Tom Selleck," she details about the visual, grainy but vibrant. "This song is about disappointment, sure, but hope, too. It's about carrying that hope. Motion. True love, ya know, I believe if it is real, if it leaves, it comes back to you just like a song, from that same dark sky."

"Change Your Mind (You Should Be Mine)" is out now on iTunes.
Watch below:
---
READ MORE ABOUT MUSIC...
PREMIERE | Fly by Midnight reinvent Bonnie & Clyde in "XL" music video
The Streamys announce The Purpose Awards
Katy Perry apologizes to Taylor Swift, vows to end bad blood
---