CULTURE
The comedian recounts she allowed C.K. to masturbate in front of her when they were "kids."
Page Six
Sarah Silverman stirred more Louis C.K. controversy when she shared that he used to masturbate in front of her after she gave permission when they were both "kids."
On Monday, Silverman gave a roundabout defense of C.K. during her appearance on Howard Stern's SiriusXM radio show. "I don't know if I'm going to regret saying this," she told Stern. "I'm not making excuses for him, so please don't take this that way. But we are peers, we're equals, so, you know — when we were kids and he asked if he could masturbate in front of me, sometimes I'd go, 'Fuck yeah, I wanna see that!'"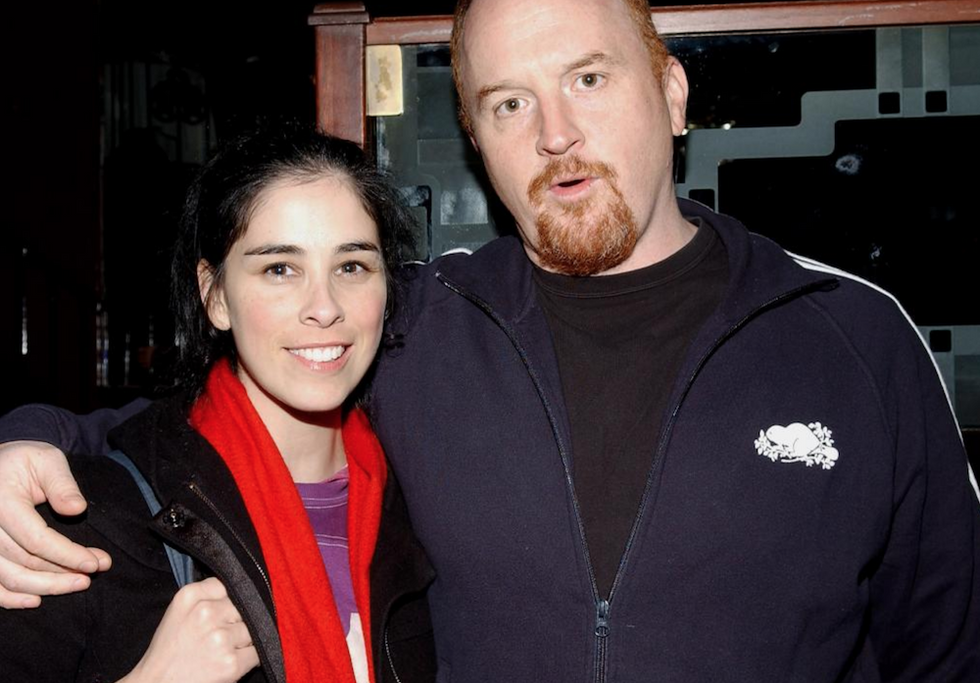 Consequence of Sound
She clearly didn't intend for her anecdote to justify or outright dismiss C.K.'s actions, as she hastened to clarify, "It's not analogous to the other women that are talking about what he did to them. He could offer me nothing. We were only just friends."

However, Silverman suggested that the childishness and naiveté that marked those encounters went on to encourage C.K.'s sexual misconduct as an industry headliner. "I'm not saying what he did was OK," she urged. "I'm just saying at a certain point when he became influential, not even famous but influential in the world of comedy, it changes. He felt like he was the same person, but the dynamic was different and it was not OK."
Rebecca Corry, one of the women who exposed C.K.'s harassment of female colleagues, took issue with Silverman's remarks on Twitter. Corry emphasized that she and C.K. were also equals when she was subjected to his unprofessionalism and harassment, and he remains "a predator who victimized women for decades and lied about it."
To be real clear, CK had "nothing to offer me" as I too was his equal on the set the day he decided to sexually har… https://t.co/GINJg7m80N

— Rebecca Corry (@Rebecca Corry)1540240472.0
Silverman apologized to Corry, lamenting, "Ugh this is why I don't like weighing in." The exchange between the two reached a cordial tone, with Corry replying, "Thank you...I'm sorry your friend created this situation. We deserve to do our art without having to deal with this shit."
@TheRebeccaCorry Rebecca I'm sorry. Ugh this is why I don't like weighing in. I can't seem to do press 4 my show w/… https://t.co/jRo5Z8Of2t

— Sarah Silverman (@Sarah Silverman)1540241670.0
Silverman has expressed her ambivalence about her friend C.K. in the past. On her Hulu show I Love You, America, she gave a brief monologue after the allegations were confirmed: "He wielded his power with women in fucked up ways, sometimes to the point where they left comedy entirely," she said. "I could couch this with heartwarming stories of our friendship and what a great dad he is, but that's totally irrelevant, isn't it? Yes, it is. It's a real mindfuck, because I love Louis. But Louis did these things. Both of those statements are true. So I just keep asking myself, 'Can you love someone who did bad things? Can you still love them?'"

Still, Silverman wasn't disguising her sympathy for C.K. on Monday, telling Stern, "I believe he has remorse. I just want him to talk about it on stage. He's going to have to find his way or not find his way."
Indeed, C.K. has been returning to the comedy club circuit lately and testing new material, including references to his admitted sexual misconduct. He's joked to audiences that in the last year he's been "to Hell and back," "met Hitler in Hell," and "lost $35 million in an hour."
---
Meg Hanson is a Brooklyn-based writer, teacher, and jaywalker. Find Meg at her website and on Twitter @megsoyung
---
POP⚡DUST | Read More…

Tracy Chapman Sues Nicki Minaj
Selena Gomez's Sweat is Worth More Than You'll Ever Be