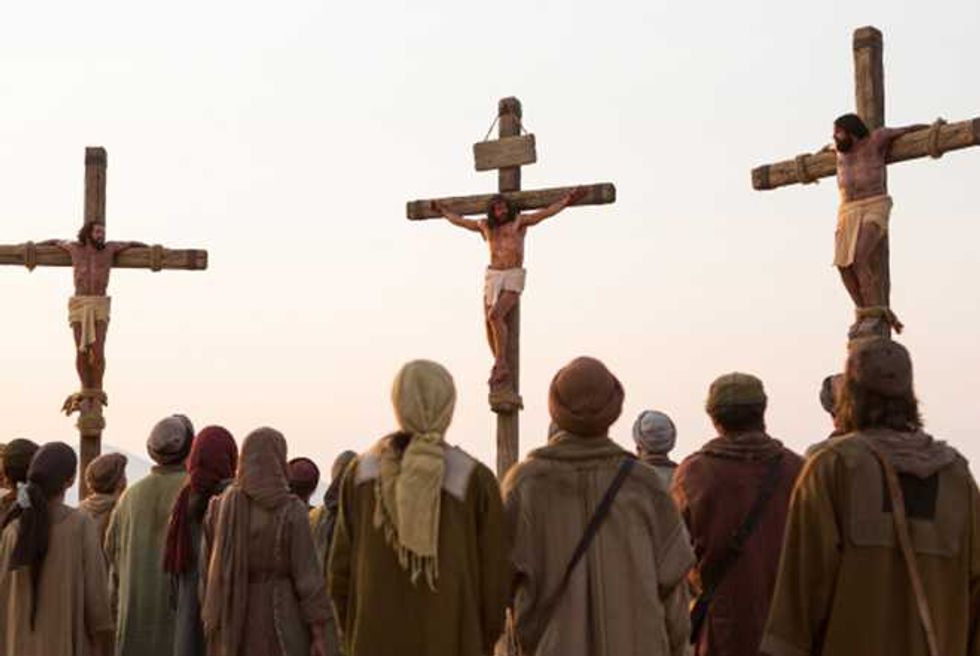 saudi arabia crucify teen protester
Saudi Arabia, the longtime trusted Middle Eastern oil supplier political ally of the Western world, is gearing up to crucify a now 21-year-old political protester, who was convicted of his supposed crimes when he was just 17.
Ali Mohammed Baqir al-Nimr has been sentenced to execution by beheading, with the added punishment of crucifixion—which means he will be led to a public square, have his head chopped off in front of a crowd of cheering onlookers, and then have his dead body hung up in public, to serve as a warning to others.
Sri Lankan President Wants Enrique Iglesias Gig Promoters To Be Savagely Beaten
So what was the unspeakable crime that the teen committed, leading to the decision that just beheading him alone wasn't punishment enough?
Well, apparently, al-Nimr, who is the nephew of the outspoken Saudi state executed shiite cleric, Sheikh Nimr al-Nimr, was found guilty shortly after the Arab Spring uprisings, of "encouraging pro-democracy protests using a Blackberry."
Croatian Human Rights Dude's Pants Fall Down As He Accepts Award From President
A Blackberry?!! A Blackberry?!!!!!!! Off with this kid's head!
The extent of al-Nimr's purported crimes is unknown—as is whether he is in fact guilty of anything at all—because, in true Saudi fashion, the student was convicted and sentenced without any form of due process whatsoever.
You Won't Believe Some Of The Insane Restrictions Saudi Women Are Forced To Abide By
In fact, according to the United Nations Commissioner for Human Rights, al-Nimr was never even afforded the services of an attorney, was tortured into giving a false confession, and had a supposed appeal against his sentence conducted in secret, without his knowledge, or without anybody there to actually represent his interests.
"Saudi Arabia may so far this year have executed at least 134 people, which already represents 44 more than the total for the whole of last year," United Nations Human Rights experts wrote in a press release.
Horror Of Brazil's Jails—Inside The Dangerous, Squalid Human Rights Disaster
"Such a surge in executions in the country makes Saudi Arabia a sad exception in a world where states are increasingly moving away from the death penalty."
The situation is made all the more insane—and the United Nations' statement all the more ridiculous and pointless than even the usual run-of-the-mill United Nations' inane bullshit—by the fact that Saudi Arabia was recently elected chair of the UN's Human Rights Council.
We shit you not.
Two Iranian Poets Sentenced To 99 Lashes For Shaking Hands With Opposite Sex
Adding yet further to the farce, Western heads of parliament occasionally pretend to give a shit about Saudi Arabia's disgusting and deplorable disregard for even the most basic of human rights, when forced to—all while continuing to toady up to the barbarians on a daily basis.
The death of King Abdullah back in January prompted an absolutely sickening slew of condolence messages from European and U.S. politicians and dignitaries, from both sides of the political spectrum.
Good Morning Pyongyang! Video Offers Eery Glimpse At Everyday Life Inside North Korea
Including:
John Kerry:
King Abdullah was a man of wisdom & vision. US has lost a friend & Kingdom of #SaudiArabia, Middle East, and world has lost a revered leader
John McCain:
I extend my deepest condolences to ppl of #SaudiArabia on passing of King Abdullah. My stmt: http://t.co/gcbHX4NJAO #KSA
Tony Blair:
He was loved by his people and will be deeply missed.
President Obama:
It is with deep respect that I express my personal condolences and the sympathies of the American people to the family of King Abdullah bin Abdulaziz and to the people of Saudi Arabia. King Abdullah's life spanned from before the birth of modern Saudi Arabia through its emergence as a critical force within the global economy and a leader among Arab and Islamic nations. He took bold steps in advancing the Arab Peace Initiative, an endeavor that will outlive him as an enduring contribution to the search for peace in the region. At home, King Abdullah's vision was dedicated to the education of his people and to greater engagement with the world.
As our countries worked together to confront many challenges, I always valued King Abdullah's perspective and appreciated our genuine and warm friendship. As a leader, he was always candid and had the courage of his convictions. One of those convictions was his steadfast and passionate belief in the importance of the U.S.-Saudi relationship as a force for stability and security in the Middle East and beyond. The closeness and strength of the partnership between our two countries is part of King Abdullah's legacy.
May God grant him peace.

Save The Date—Noah's Ark Theme Park Opening In Kentucky July 2016!
Indeed, may God grant peace to the tyrant who oversaw a murderous, repressive regime where public beheadings, executions by hanging, flogging and torture are carried out routinely.
Where all and any forms of social dissent are brutally suppressed by arrests, prosecutions, prison and death sentences.
This Ben Carson Rap Ad Is Some Of The Craziest Shit You'll Ever Hear
Where chopping off hands and feet for theft, public floggings for "socially unacceptable behavior", stoning people to death for adultery, beheading drug users and executing women for "witchcraft" are commonplace.
Where women have zero rights, are forbidden from mixing with men that are not their immediate relatives and can be stoned to death for doing so—on charges of prostitution and adultery, are forbidden to go out in public without a male guardian (father, brother, husband or adult age son), are forbidden from traveling, marrying, working, undergoing medical procedures, or being educated without the permission of their male guardian, forbidden from driving, forbidden from participating in and watching sports in public, forbidden from trying on clothes in changing rooms.
Heartbreaking Story Behind That Photo Of A Dead Syrian Boy On A Turkish Beach
Where 16 people were beheaded in the month of January 2015 alone, 83 people in the 12 months of 2014.
Where a blogger, Raif Badawi, has been sentenced to 10 years in jail and 1,000 lashes, purely for posting comments online that were deemed to be anti-monarchy.
Death Row Inmate's Final Letter—Prison Is Modern Day Slavery, Justice System Broken Beyond Repair
May God grant him peace indeed.
Meanwhile, not surprisingly, al-Nimr's family members and friends are beside themselves with worry, as his execution could occur at any moment, with zero notice or warning—they are also concerned for the boy's mental state as he remains in solitary confinement awaiting his death.
Jared Fogle Child Sex Abuse Scandal Is Even More Disgusting Than You Imagined
To read more about Saudi Arabia's nauseating human right's abuses, and to find out how to petition on behalf of Ali Mohammed Baqir al-Nimr and Raif Badawi, go to Amnesty International's website.
For more entertainment, world, music and pop culture updates and news, follow Max Page on Twitter