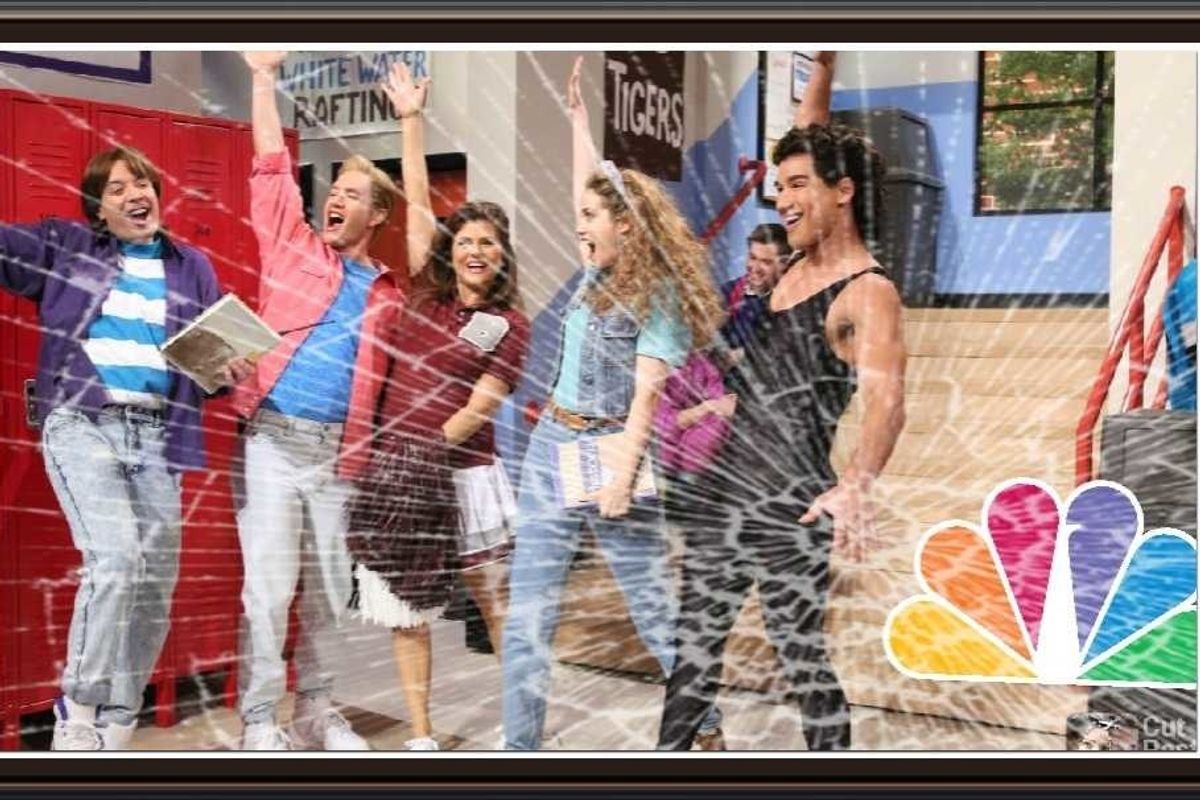 NBCUniversal is launching its own streaming service called "Peacock" (seriously), for which the network has recruited talented 30 Rock writer and Great News creator, Tracey Wigfield, to give toxic masculinity a reboot with a new Saved by the Bell series exclusively available on Peacock.
If you weren't raised by cable television like a normal '90s kid (or if you were one of those sheltered homeschooled kids who has a mortgage by now), the original show ran from 1989 to 1992. It was about a teen sociopath named Zack Morris (played by Mark-Paul Gosselaar) who drugged, prostituted, and sexually harassed his friends and who once put a baby in a gym bag (before losing said bag). Morris was inappropriately friendly with his school principal, Mr. Belding (played by Dennis Haskins, who, according to his popular Twitter account, is "still chasing the dream!"), and his ability to freeze time and break the fourth wall was either a blatant rip-off of Ferris Bueller's Day Off (1986) or a manifestation of his schizophrenic mental disorder.
The Time Zack Morris Sold Swimsuit Photos Of Underage Girls www.youtube.com
The good news is that in April 2020, you can revisit the chaotic evil of Bayside High—maybe? Actually, not many details are known about the reboot other than the fact that NBCUniversal is launching its own streaming service to rival Disney+ and Apple TV, and they really, really want you to know about it as soon as possible. The cost has yet to be announced, but Peacock (Jesus Christ, we really have to call it that) will boast 15,000 hours of content, including original titles from NBCUniversal production. That means Peacock will be the only streaming service to offer The Office and Parks and Recreation, with other hit shows also available, from classics like Cheers, Frazier, Everybody Loves Raymond, and Will and Grace to 30 Rock and Brooklyn Nine-Nine.

But 2020 will bring more problems than deciding which streaming service to subscribe to and ever worsening climate crisis. Peacock's plans to revive Punky Brewster, Battlestar Galactica, and Saved by the Bell mean that NBCUniversal is going to attempt the cringey tactic of aging its teen stars to suddenly become modern adults—and that never goes well. Whether it's Boy Meets World's bizarre, infantilized revival of Cory Matthews and Topanga Lawrence as terrible parents in Disney's spinoff series, Girl Meets World, Netflix's creepy (and critically panned) revival Fuller House, or the epidemic of Soap Opera Rapid Aging syndrome (SORAS): Stop it.
The Time Zack Morris Got Jessie Hooked On Caffeine Pills youtu.be
So far, only two original characters are confirmed to return for Saved by the Bell 2.0. Elizabeth Berkeley and Mario Lopez are expected to return as Jessie Spano and A.C. Slater. Mark-Paul Gosselaar isn't attached to the project as of yet, due to complications with his contract with ABC's Mixed-ish and the fact that 30 years after Saved by the Bell first aired signs still point to Gosselaar being not a terrible guy. (Luckily, the same can't be said of Mario Lopez and definitely not of Dustin Diamond, who played Screech and is human trash). The series' original producers Peter Engel and Franco Bario have both signed on as executive producers. Here's their stupid premise for the revival:

"The new, straight-to-series comedy explores what happens when California Gov. Zack Morris gets into hot water for closing too many low-income high schools, he proposes they send the affected students to the highest-performing schools in the state — including Bayside High. The influx of new students gives the over-privileged Bayside kids a much-needed and hilarious dose of reality."
So, at best, a sexist teenage soap opera with a laugh track is going to tackle classism, income inequality, and America's failing school system in a world in which an egomaniacal sociopath has ascended to a position of power through his fast-talking manipulations and grandiose narcissism. At worst, it's going to depict Jessie Spano and A.C. Slater as quirky, eccentric parents who are so excited to welcome poor, disadvantaged kids to their neighborhood in an outdated and out-of-touch after-school special format.
Still, we bet you a baby in a gym bag that the revival won't be as cringey as the Saved by the Bell reunion sketch Jimmy Fallon hosted in 2015. That revival managed to capture all the creepy-next-door-neighbor energy of Mr. Belding and the homophobic overtones of A.C. Slater's entire character arc. It ended with the tasteless climax of Kelly Kapowski revealing she's pregnant with Zack Morris' baby, prompting him to wink at the camera.
Jimmy Fallon Went to Bayside High with "Saved By The Bell" Cast youtu.be