Top Stories
Brian and Olya Viglione stop by the Popdust office to perform their new single.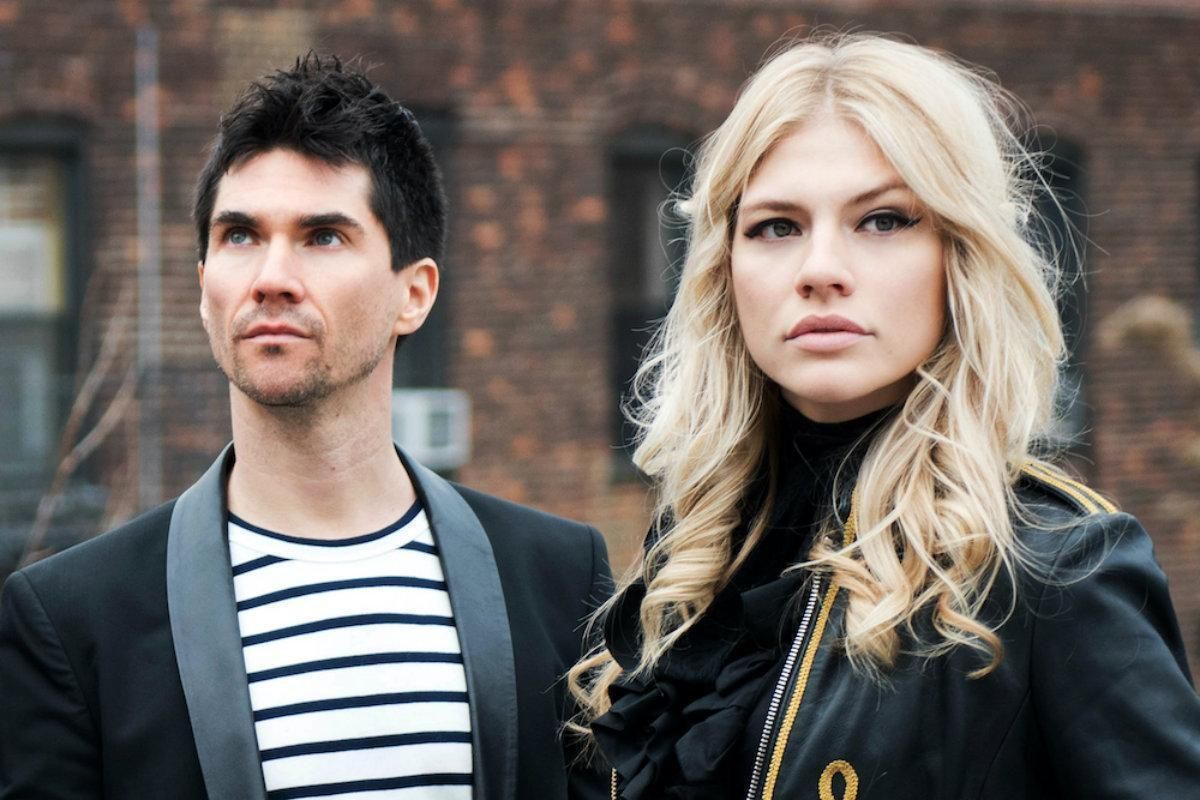 Scarlet Sails are readying the release of their debut full-length, the aptly titled Future from the Past, which is "ultimately about embracing the present," says bandmate Brian Viglione, formerly the drummer of Dresden Dolls and Violent Femmes. "It's about overcoming fear and doubt by making manifest your dreams into the life you want to create now. They're stories about having the guts to risk everything, as well as see the value of staying true to yourself. That kind of inner strength and resolve can be infectious to those around you and help forge that reality. We can reflect on and learn from the past, cast our dreams into the future, but all we're really given is this moment to live, so accept that invitation."

Lead singer Olya Viglione decorates the swampy, grunge-rock with rasp and swagger, especially on album standouts such as "I Found a Boat," "One, Two (Fear)," and the haunting "Alive," which somehow lingers well after being played. Future from the Past, the core of which is in "finding the courage to believe in yourself," notes Brian, arrives April 3.
Popdust connected with the duo recently for an in-office performance. Check that out, as well as an exclusive Q&A session, below:
How does the album title correlate to the music itself and your own journey in creating it?

BV: There's a direct connection in that Olya had to fight against the people around her growing up in Russia who told her that her dreams of playing music were a foolish waste of time. I, too, fought against the complacency of small town life in New Hampshire where people often chose getting wasted to doing something creative or productive. So, you learn that no one is going to believe in it as much as yourself, and you learn to trust your intuition and have the discipline to make things move forward.
Why is "Boy You're Wrong" the lead single?
OV: Right before we embarked on our first tour, this song came to me and wouldn't leave my head for days. My mind was busy as I was getting the rest of the arrangements ready for the tour, so I refused to write new ones for a while. But this one wouldn't leave. So, I had to write it and throw a new tune on the band a few days before we went on the road. It felt very powerful and everyone really enjoyed playing it, so it really came and claimed to be the first single on its own.
How did this album begin?

OV: We went on tour in the summer of 2016, and after we came back home, we had a feeling that the album was already in the making. In September, I started working on finalizing the track list and writing a couple of more songs to make the album whole.
You two have very different musical backgrounds. What is the push and pull, creatively, and how do you balance what each of you need to explore in your music?
OV: We have the perfect chemistry. I am the creator, and Brian is the enabler. I come with ideas, music and lyrics, and Brian makes it all click. Sometimes, I dare him to take a step in an unfamiliar direction, but so does he for me, and that's how we develop and grow musically and as a partnership.
The album feels old school and modern at the same time. How did you approach the sonic elements and production?
BV: When I wrote to Diko Shoturma (the engineer) to explain, I was trying to find the words to describe our vision, and I said, "The concept is 'what if Queen and Alice Cooper remade 'Ok Computer'?" and the three elements we wanted to bring out of the music were: The power and grandiosity of Queen, the dark and raw maniacal twist of Bob Ezrin-era Alice, and the spacious sonic pallet of Radiohead." Later, a bit of Funkadelic crept in! From there, we expanded with strings, horns, and vintage keyboards to flesh it all out, keeping tracking short and impulsive to capture spontaneity in the performances.
You've previously spoken about how dark life experiences and having relationships with the wrong people informed your music. Can you expand on that?

OV: Music was my light through the darkest times. When it seemed that the world was over, the only cure I could find was my piano and the melodies that were running through my head. So, I turned to them and started writing songs. That's what I wish our music will do to our listeners--be the guiding light and a safe harbor.
What have been the toughest challenges with creating this record?
BV: Fighting the tendency to put too much pressure on yourself that you lose site of the fun of creating. You, as the artist, always want the best result, and it can feel elusive finding the right path, especially when you're doing it for the first time.
What have you learned about yourself and each other through writing and recording this album?
OV: To be humble, to listen more attentively, to be less attached to the ideas and to be more spontaneous. Ultimately, I learned how amazingly lucky I am to work with all of the incredible musicians, including my band, that worked on this record.
There is a strong use of horns throughout the album, like on the standout "I Found a Boat." What went into that decision to include such unconventional instruments in rock music?

OV: I hear a lot of different sounds in my head and horns were one of them. A lot of times I think in colors when it comes to music, and I really felt that horns would add that warm vibrant texture, that color of sunlight that I felt had to be in our songs.
The album's highlight is probably "One, Two (FEAR)," which has such an eery soul, funk groove to it. How did that one come together?

OV: "One, Two (Fear)" was my soul-scream when I wrote it. It was very cathartic to me, like Walt Whitman's "Barbaric Yawp." It's about dealing with fears, and I had many. At the time, it was a slow dark number, but going back to it, I thought to myself, "What is the best way of dealing with fear? You gotta be able to laugh in its face." So, that's how the idea of a funk groove came about. It's all a part of life, and funk just puts the right grind to it. "Don't wait for the storm to pass, dance in the rain," so to speak.
Olya, it is also one of your most raw, intense vocal performances. Was it pretty easy to tap into what you wanted that song to feel like for the listener?
OV: It really saved me and saw me through some of the most difficult times in my life when I was lost, felt stuck, and unable to move forward. I'd come home and just jam on the chords and freestyle with my voice on top of it, that's how that raw ending part of the song came about. Looking back, this song helps me appreciate where I came from and what I was able to overcome.
"Alive" is another song which just sticks on the brain. What inspired that one?
OV: A breakup. Not knowing how to deal with the situation when you can't breathe without someone and then at the same time they make you suffocate when you're near them. You want to get back to that place in time when they made you feel alive. Ultimately, it's when things go awry due to miscommunication and you gasp for a breakthrough.
How did the recent show at The Cutting Room go?
BV: Quite the party! It was very special to have everyone who played on the album join us and make a ruckus on stage. It made a big impact on the sound, so it gives us something to shoot for in having a larger touring party someday. We premiered the new video, played through the album and kicked it long after the show with our friends and venue staff.
Seven years ago, Olya, you were a language student coming to New York City. Reflecting back on your move, what goes through your mind now?
OV: "How the fuck did I survive that move?!" But really this was the craziest thing I did on a whim, the most dangerous and the coolest. I went through hell and turned my life around. I began to do things that I loved and I became who I wanted to become. What can be better than that? Making a work of art out of it! That's what [this album] is about.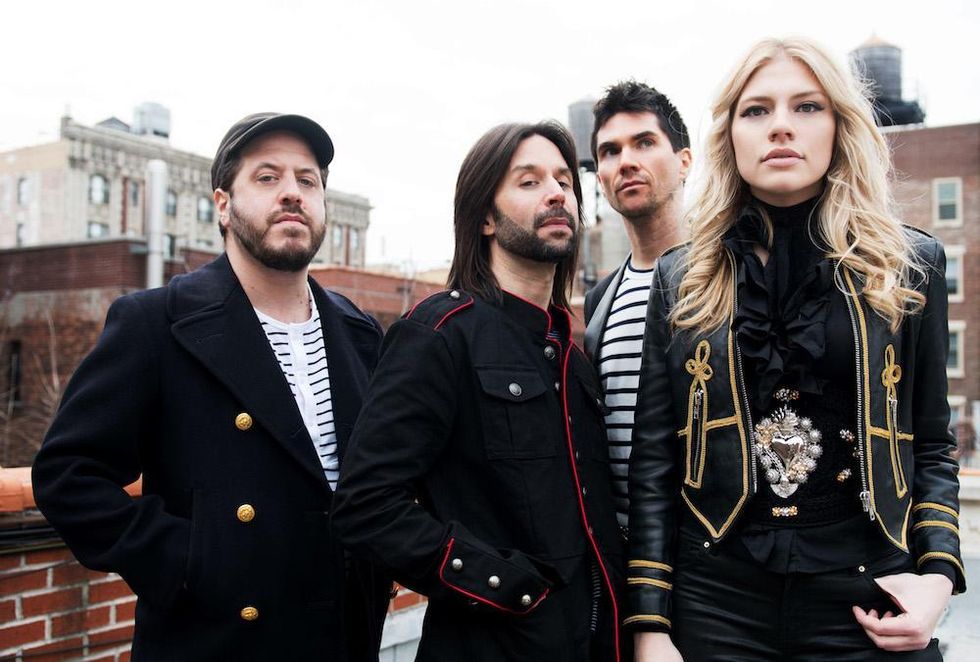 ---
READ MORE ABOUT MUSIC...
Premiere: Lady & Jones share moving "Our Story of Beauty" video
Premiere: Handsome Ghost dreams of "indian summer"
Premiere: DYLYN shares a "Secret," talks reinvention & new album
---