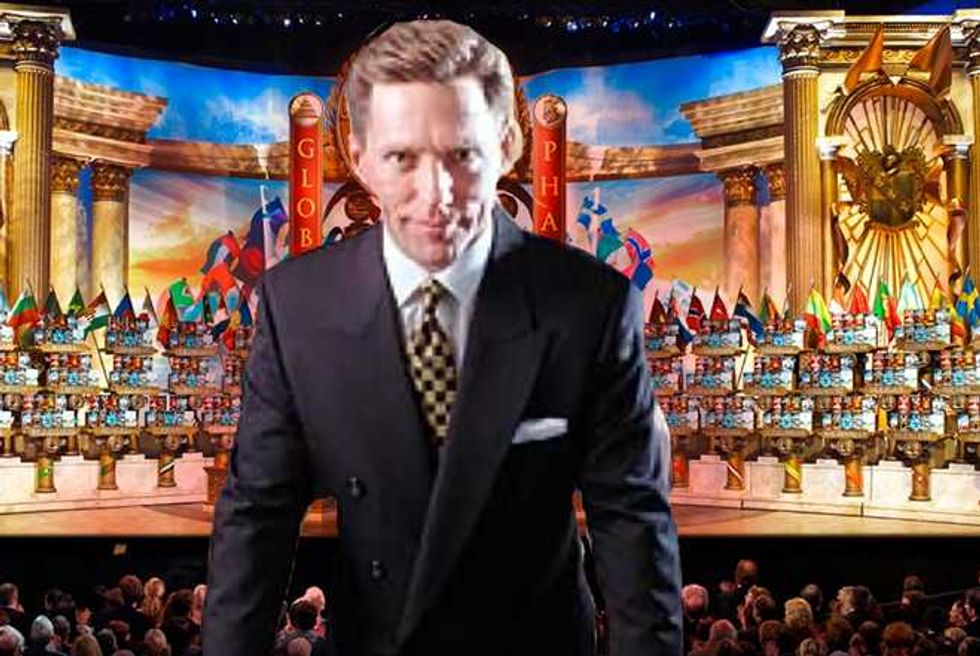 Another day, another allegation against the Church of Scientology.
This time the organization is accused of bullying a Clearwater, Florida movie theater out of playing Alex Gibney's church expose, Going Clear: Scientology and the Prison of Belief.
According to the Hollywood Reporter, the cinema was forced to drop plans to screen the documentary after pressure from the organization:
Cobb Countryside 12, which had planned to play the movie, informed HBO Documentary Films in recent days that it wouldn't play Going Clear after allegedly receiving threats from the church, according to sources. It's unclear what those threats were and to whom they were directed.
As Popdust previously reported, the documentary examines the many questionable methods employed by the organization, and features former Scientologists' accounts of the chilling abuse, blackmail and threats they allegedly endured while they were members.
The tried and tested usual old celebrity church members were quick to speak out against the film—with John Travolta telling the Tampa Bay Times:
I've been so happy with my [Scientology] experience in the last 40 years that I really don't have anything to say that would shed light on [a documentary] so decidedly negative, I've been brought through storms that were insurmountable, and [Scientology has] been so beautiful for me, that I can't even imagine attacking it.
Meanwhile, former Scientologists praised it, claiming the allegations of abusive treatment and practices by church elders and leader, David Miscavige, were 100 percent true and accurate.
Leah Remini, the organization's most recent high profile detractor, praised the film, calling it "brave" and detailing her own nightmarish experience, from when she joined the church age 9 up to, and after, she left two years ago at age 43.
Remini claims everything started turning sour for her following Tom Cruise and Nicole Kidman's wedding—after she dared to inquire as to the whereabouts of Miscavige's wife Shelly, who has not been seen in public since June 2006.
Shortly afterwards, the actress filed a "knowledge report" which included criticism of Miscavige, Cruise, and other high level Scientologists, detailing behavior by them that she believed to be inconsistent with Church rules. Remini claims she was subsequently blacklisted within the church, that Scientologist friends of hers wrote damning internal reports about her that lead to an investigation into her family by the church, and that she was "subjected to years of 'interrogations' and 'thought modification.'"
She talked about the difficulties she encountered when she left Scientology, during an episode of her reality show, Leah Remini, It's all Relative.
When you leave, you can leave quietly. But If you make a stink in the public world, they call you a Suppressive Person, which means the church has put a stamp on you that says you are bad. They then go to all your family and friends and say you have to disconnect from this Suppressive Person. I decided I didn't want to raise my daughter in the church because from what I've experienced and what I saw, the church becomes your everything. It becomes your mother, your father, your everything. You are dependent on the church.

Not surprisingly, given their tried and tested well worn modem operandi, the church slammed the documentary, calling it a "bigoted propaganda piece" with "at least one major error every two minutes."
They also took a moment to lash out spitefully at Remini:
It comes as no surprise that someone as self-absorbed as Leah Remini with an insatiable craving for attention would exploit her former religion as a publicity stunt in a pathetic attempt to get ratings for her cable show and seem relevant again. She is rewriting history and omits that she was participating in a program to remain a Scientologist by her own choice, as she was on the verge of being expelled for her and her husband's ethical lapses.

Now, here's the thing….the organization releases similarly themed and worded denials, and engages in vicious take downs of detractors each and every time anyone makes allegations, or dares to speak out against them.
Scientology Acting Like Whiny Butt Sore Little Bitch Over Leah Remini
Are we really supposed to believe that every single one of the ever growing legion of Scientology dissenters are phonies? Making up totally baseless and unfounded lies and claims? Speaking out in order to get publicity for themselves? Inventing stories for absolutely no good reason?
I mean, for a supposed religious organization they sure rack up a shit ton of "unfounded" negative stories and allegations—ranging from waging hate campaigns against former members and those who dare to displease them in some way, shape or form; imprisoning people against their will; forcibly isolating mentally ill church members and preventing them from getting psychological treatment and medications; manipulation and brain washing; forcing church members to sever all contact with any family or friends who criticize the faith; misappropriating church member's donations by using the money to provide special facilities and services to high profile celebrities; forcing low level church members to engage in physically taxing manual labour for ridiculously long hours with no financial compensation; using sensitive personal information gathered during "auditing" sessions to blackmail members who try to leave the church; medical neglect leading to the death of at least three patients in their Narcanon rehab centers; internet censorship and fraud; harassment, bullying and intimidation; sending anonymous smear letters to the families, friends and neighbors of journalists who write disparaging articles on Scientology; psychological manipulation of church members; phone tapping and spying; making false accusations to the FBI of criminal acts supposedly committed by church detractors; stealing medical records; plotting to get Scientology dissenters sectioned in mental hospitals or incarcerated in jail; wire tapping, infiltration and theft of government documents and filing multitudes of spurious lawsuits against detractors with the aim of financially ruining and wearing them down.
As the adage goes, there's no smoke without fire—Although, a more suitable one might be—eat shit, five billion flies can't be wrong.