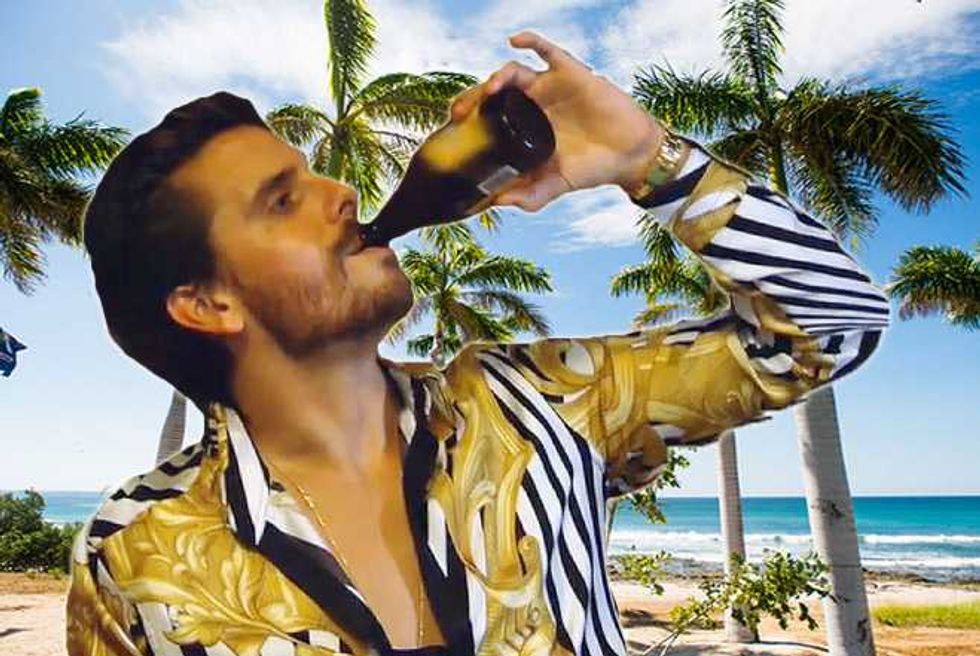 Scott Disick has checked into rehab after going off the rails this past weekend in Atlantic City.
But not just any old rehab would do for the 31-year-old rent-a-Knight. Oh no, according to TMZ, Lord Disick checked into top-dollar luxury spa Rythmia Life Advancement Center in Costa Rica, where they specialize in Iboga treatment, which involves roots from a small African tree that allegedly helps people overcome addiction.
"I realize my issues are bigger than me and I'm ready to truly remedy this struggle I continue to battle," Disick declared.
Just prior to rehab, Kourtney Kardashian's hard partying douchebag baby daddy was pounding back tequila shots, before channeling brother-in-law Kanye West—storming a stage and slurring some nonsensical rant into a mic.
As you well know, after the party comes the after party, and after the after party comes the hotel lobby, and that's where Scott was spotted stumbling around barefoot at 8 AM.
At 5 PM a rescue mission of hipsters knocked on his door, and found Scott having a come-to-Jesus moment.
According to reports, Kourtney has issued several ultimatums to LD regarding his drinking and carousing, and he has taken vow upon vow to stop, only to break them days, or even just hours, later.
This time however, he promises he's going to change for good.
Or at least until St. Patrick's Day...more likely.