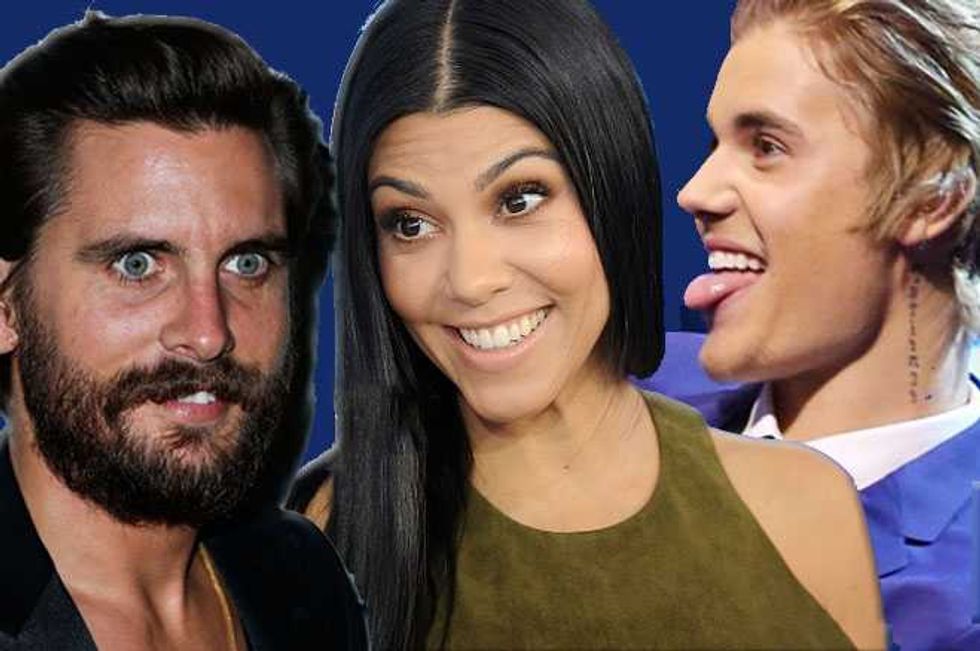 Scott Disick Kourtney Kardashian Justin Bieber
Justin Bieber and Kourtney Kardashian's May/December romance seems to have cooled down a bit since pictures of him locking lips with Hailey Baldwin surfaced earlier this week.
Kourtney Kardashian And Justin Bieber Hooking Up Is Downright Ick
So how does Scott Disick feel, now that his 36-year-old baby mama is no longer being boned by a 21-year-old tween heartthrob?
"Well obviously he's relieved," a source close the Kardashian klan tells Popdust exclusively. "But part of him is actually a little disappointed! He was kind of looking forward to having a face to face with Justin just so he could haze him like a freshman! He thinks that Justin is such a cocky little punk that he sort of relished the idea of saying the most uncomfortable things to him just to watch him squirm."
And while the Biebs has moved onto 19-year-old model Hailey Baldwin for friends-with-benefits type fun, 32-year-old Lord Disick has taken up with Swedish model Lina Sandberg for similar friendly benefits.
Are Justin Bieber And Hailey Baldwin The Hottest New Year Couple?
Still, Disick is smarting from his near decade-long girlfriend's shocking affair with the post adolescent pop star. Our source continues;
"Deep down, the thought of Kourtney being with another man, especially Justin Bieber, drove Scott crazy.
So Scott is happy they're not seeing each other anymore, but the arrogant, smart-ass Scott was planning a battle of wits type show down. I mean, he wasn't planning on being nasty to Justin or anything—he just wanted to bust his chops a little! Scott is very sharp and very witty,so he wanted to flex his muscle and see if Justin could hit back."
Kim And Khloe Kardashian Plot To Snag Kourtney Some Hot Revenge Tail 
In a Dec. 17 interview on radio program The Bert Show, airing on Wednesday, Biebs alluded to the fact that he and Kourtney were having some hot, sexy time. "I'm being used, man. What can I say?"
But what about Kourtney while Biebs is living it up in St Barts and Scott is enjoying his Swedish meatball? Is she home licking her wounds? "Not at all," the source says. "She is loving playing the field."
Scott Disick Kourtney Kardashian Justin Bieber
The Lord is born... "I don't mind being portrayed as the villain on TV, but nobody knows the real me. I'm a great guy … I'm young, handsome, successful, wealthy. You could say I'm a role model. I'm the American dream!" Says Disick
Scott carrying off the pink look... "My hair is flowing in the wind like flocks of Capistrano [swallows]," says Disick
Scott's style... "I can't wait to unleash my fall trend to the world: the walking stick," says Disick
Scott speaks the truth. "I don't mind being portrayed as the villain on TV, but nobody knows the real me. I'm a great guy … I'm young, handsome, successful, wealthy. You could say I'm a role model. I'm the American dream!" Says Disick
Scott likes to party... "When you think of the debonair, ridiculously good-looking guy, you think of me," says Disick
MAJOR douchery... "Like I don't need to be walking around like I'm some peasant. I need to be walking around like I'm royalty," says Disick

Scott Disick Kourtney Kardashian Justin Bieber