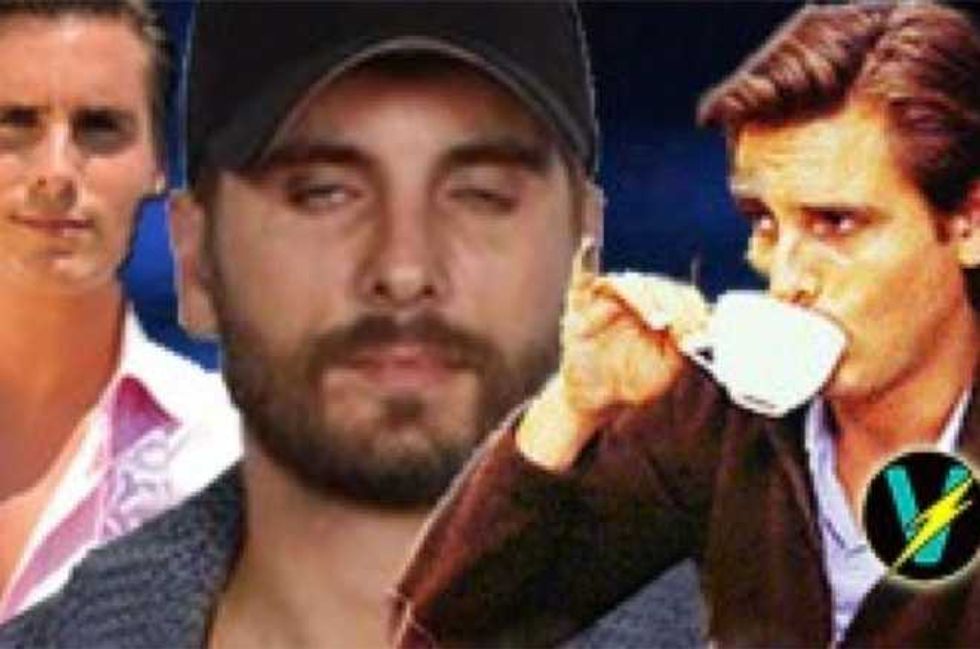 scott disick douche
Scott Disick is a narcissistic-elitist-wannabe-socialite-booze-bag-star-fucking-mooch who honestly believes that he and his Jägerbombs are better than you—even though he dresses like he's on a gay porn parody of Mad Men.
BUT, the guy says some funny shit, and brings an almost cartoonish Douchebag villainy to the tired and repetitive Keeping Up With the Who Gives a Fuck franchise.
Scott Disick's Tearful Apology To The Kardashians Is Pretty Damn Heartbreaking
Popdust has curated some of this post-millennial American Psycho's best and most barf-worthy moments for your enjoyment. Or to help you along if you forgot to take your appetite suppressant.
On Family:
"You just keep suckering me in to all these kids. I just can't handle all this responsibility."
On baby momma KourtneyKardashian's Weight:
"If I would have fallen in love with you a couple pounds overweight, this would be my ideal weight. But I fell in love with you when you were super skinny, so..."
"I feel like 93 [pounds] is the dream."
Scott Disick Rumored To Appear On UK Celebrity Big Brother!
"Last time around you definitely tried to watch what you were eating, after you had Mason."
Kourtney: "Yeah, last time around I went overboard."
Scott: "But at least you were losing weight."
On Himself:
"I don't mind being portrayed as the villain on TV, but nobody knows the real me. I'm a great guy … I'm young, handsome, successful, wealthy. You could say I'm a role model. I'm the American dream!"
Scott Disick Checks Into 'Rehab'—READ: Five Star Spa In Costa Rica
"When you think of the debonair, ridiculously good-looking guy, you think of me."
"My great-granddaddy was a pimp."
"I'm kind of a big deal."
On Fashion and Style:
"People who say real men don't wear pink obviously don't know any real men!"
"My hair is flowing in the wind like flocks of Capistrano [swallows]."
Kourtney Kardashian And Justin Bieber Hooking Up Is Downright Ick
"I can't wait to unleash my fall trend to the world: the walking stick"
On Money and Career:
"Like I don't need to be walking around like I'm some peasant. I need to be walking around like I'm royalty.
"I like to work as little as possible to make the most money."
Miscellaneous Douchebaggery:
"[Kris Jenner has] definitely threatened to kill me, but who hasn't?"
Scott Disick Calls Kourtney Kardashian's Vagina 'Offensive'
"I should make bracelets that say … What Would Scott Disick do."
On Home Decorating:
"You think I wanna walk home to Smokey the Bear every night? So I took it and I threw it over the fence!"
On Fighting For His Right To Party:
On Suicidal Ideation:
On Elders Relations:
Seriously bro.....
The Lord is born... "I don't mind being portrayed as the villain on TV, but nobody knows the real me. I'm a great guy … I'm young, handsome, successful, wealthy. You could say I'm a role model. I'm the American dream!" Says Disick
Scott carrying off the pink look... "My hair is flowing in the wind like flocks of Capistrano [swallows]," says Disick
Scott's style... "I can't wait to unleash my fall trend to the world: the walking stick," says Disick
Scott speaks the truth. "I don't mind being portrayed as the villain on TV, but nobody knows the real me. I'm a great guy … I'm young, handsome, successful, wealthy. You could say I'm a role model. I'm the American dream!" Says Disick
Scott likes to party... "When you think of the debonair, ridiculously good-looking guy, you think of me," says Disick
MAJOR douchery... "Like I don't need to be walking around like I'm some peasant. I need to be walking around like I'm royalty," says Disick