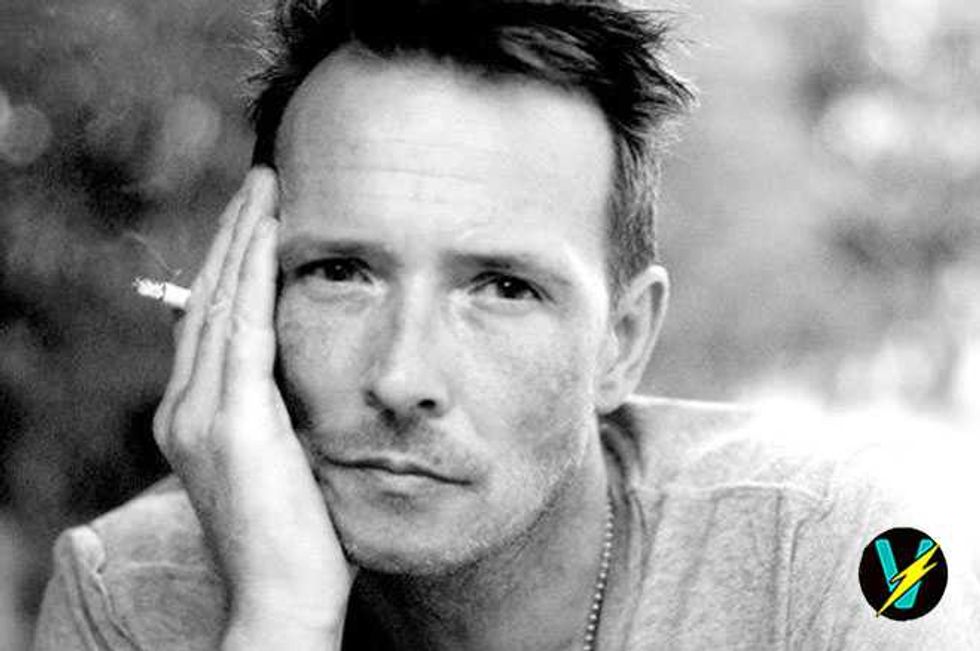 Scott Weiland Found Dead
Scott Weiland, legendary singer of Stone Temple Pilots and Velvet Revolver fame was found dead last night on his tour bus in Minnesota.
Weiland, who was only 48, and his band, Scott Weiland & The Wildabouts were due to play at the Medina Ballroom in Medina on Thursday night.  At around 9pm his tour manager, found him dead on the tour bus.
Scroll down for classic Stone Temple Pilots video
The rocker's manager, Tom Vitorino confirmed the death with a statement on Weiland's Facebook page, saying he had died in his sleep.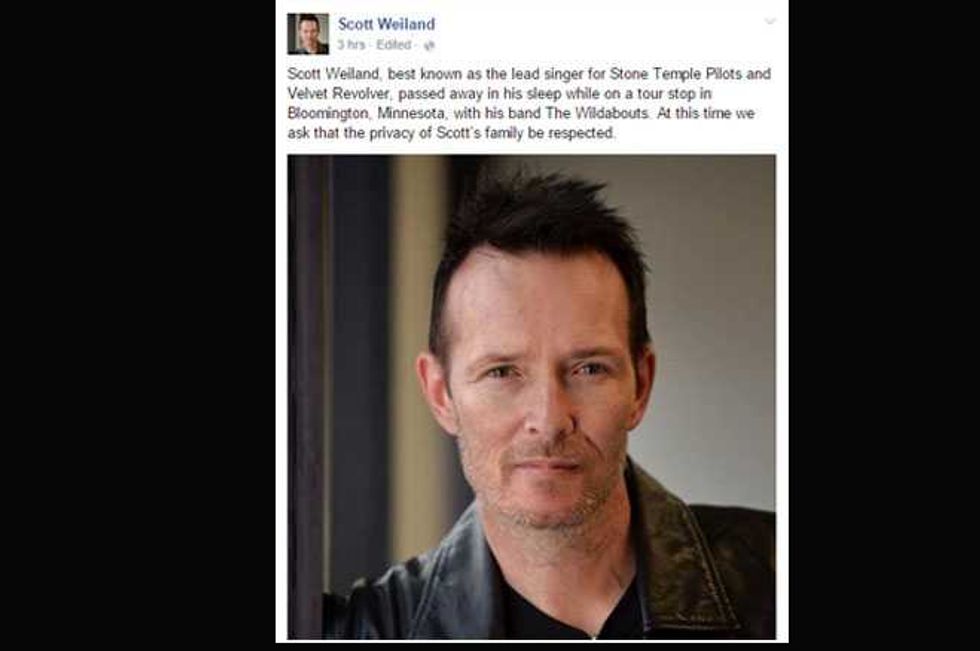 Scott Weiland's Facebook status announced his death.
Gone But Not Forgotten—Celebrities That Died Too Young
Weiland's sobbing wife, Jamie also confirmed his death to the Los Angeles Tribune;
"I can't deal with this right now.  It's true."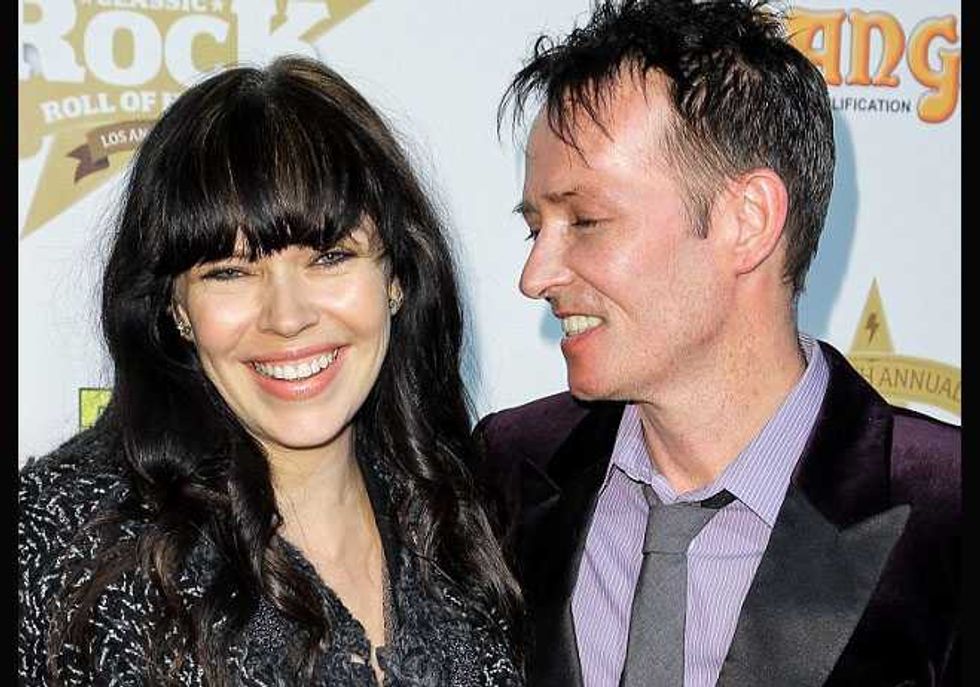 Scott and his wife Jamie pictured in 2014.
Weiland had a long history of substance abuse and had spent time in jail and rehab because of it.  He had put his body through an inordinate amount of punishment and found it a constant struggle to stay clean, telling USA Today in 2011;
"I'm still on the verge all the time.  I swore, of course, never to go back to heroin, but I never through that alcohol would be the real nightmare that it actually is.  And it's legal."
Wallpaper. Fills Us in on the Seven Habits of Highly Effective Party Rockers
Scott started the Stone Temple Pilots in the late 1980's and the band went on to become a huge name on the rock scene in the 1990's.
Lemmy From Motorhead Dies After Short Battle With Cancer
When the band split temporarily in 2003 Scott created the supergroup Velvet Revolver with Slash, Duff McKagan, Matt Sorum and Dave Kushner.  He later reunited with Stone Temple Pilots from 2008 to 2013 and since they broke up, has been performing with The Wildabouts.
When the news of his death spread, fellow rocker, guitarist Dave Navarro tweeted his condolences to Scott's family saying;
"Just learned our friend Scott Weiland has died.  So gutted, I am thinking of his family tonight."
Other celebs soon stepped up to tweet their sadness...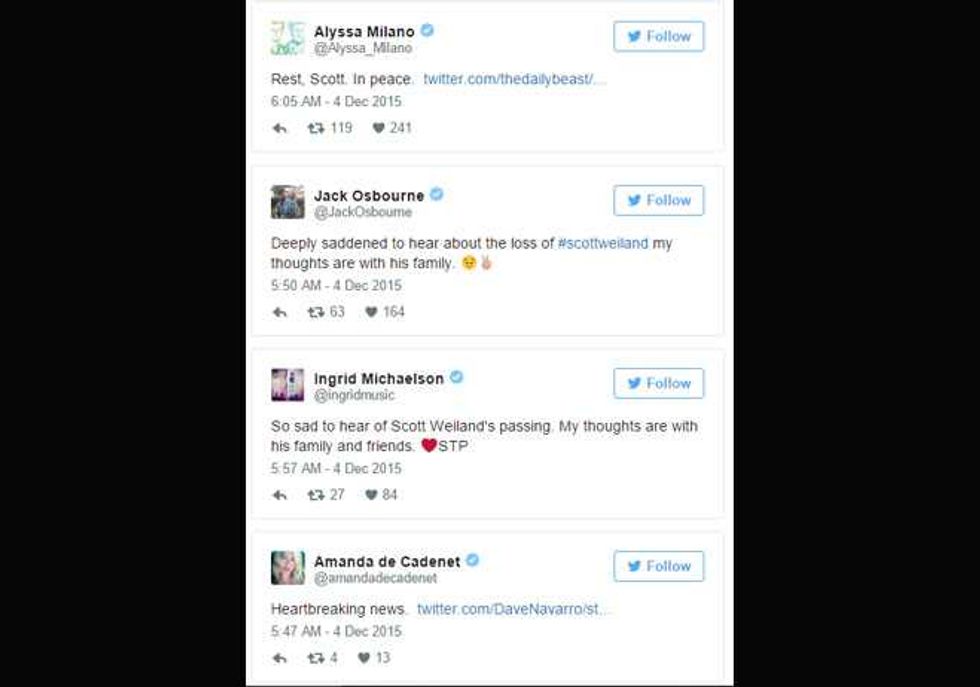 A police statement issued on Thursday night read: 'On Dec. 3rd at 8:22 p.m., officers responded to a report of an unresponsive adult male in a recreational motor vehicle located in the 2200 block of Killebrew Drive. Officers arrived and determined the adult male was deceased.'
Scott Weiland Found Dead
Scott Weiland Found Dead