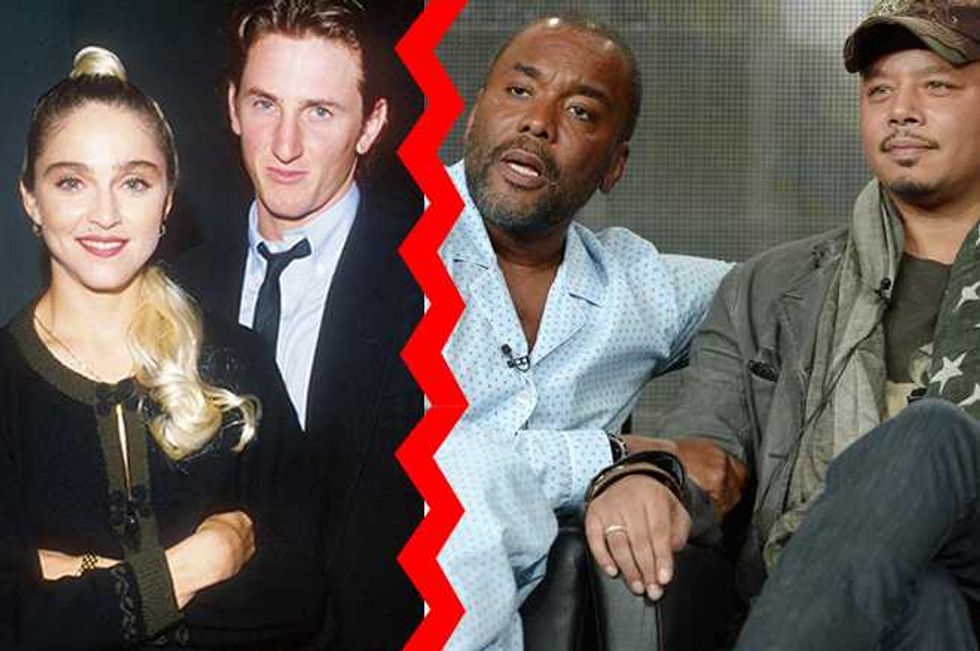 sean penn empire lawsuit
Sean Penn has filed a $10 million defamation lawsuit against Empire co-creator Lee Daniels. complaining that in a new interview, Daniels accused him of hitting women.
In his interview with the Hollywood Reporter, Daniels discusses Empire's Terrence Howard and his current legal problems.
Sean Penn El Chapo Interview—Best Literary Laughs
The quote at issue in Penn's lawsuit is as follows:
[Terrence] ain't done nothing different than Marlon Brando or Sean Penn, and all of a sudden he's some f—in' demon. That's a sign of the time, of race, of where we are right now in America
Oh no he didn't just call Penn a wife-beater who gets away with it because he's Caucasian!
Robin Wright Has More Orgasms Without Sean Penn—Good To know!
Actually he did, and Sean isn't having it.
Penn's complaint filed in New York by his attorney, states his position:
As a result of Penn's status as a public figure, he has for years been the subject of scandalous, scurrilous, and baseless attacks. But Penn, like any citizen, has a right to defend himself and will no longer tolerate the reckless and malicious behavior of others, who seek to aggrandize themselves or their projects at his expense. Accordingly, and because of Daniels' defamatory statements, Penn brings this action for monetary relief, and to deter Daniels and others from their defamatory actions.
Watch Out Charlize Theron! Sean Penn Is 'Starting To Show His True Colors'
Uh-oh.
Specifically, in purporting to defend the ongoing legal and related troubles of actor Terrence Howard, the star of Daniels' television show Empire who has reportedly, and publicly, admitted to physically abusing at least one woman and reportedly been arrested approximately five times for violent acts against women, Daniels has falsely asserted and/or implied that Penn is guilty of ongoing, continuous violence against women.
Penn has a point, clearly. Who wants to be lumped in with the notoriously troubled Terrence Howard?
TIL—Kurt Russell's Face Is Made Of Old Denim, Steven Tyler's A Giant Ballsack
Now, here comes the best (i.e., juiciest) part of the complaint:
Daniels falsely equates Penn with Howard, even though, while he has certainly had several brushes with the law, Penn (unlike Howard) has never been arrested, much less convicted, for domestic violence, as his ex-wives (including Madonna) would confirm and attest. Nor has Penn admitted to slapping a woman or abusing others (as Howard has also reportedly admitted, reportedly asserting that he was acting in self-defense).
There we have it. 'INCLUDING MADONNA' means we will get to hear Madge speak out in Sean's defense, and as luck would have it, Sean recently attended his ex-wife's concert and she was delighted enough to mention this during a subsequent show.
P. Diddy's Irrelevant Ass Is Reportedly Planning To Sue The Creators of 'Empire'
I know I would pay $10 million to get Sean and Madonna together again! Can Lee Daniels arrange this somehow? They're just so right together!
And like Madonna,  Sean Penn is an icon, as he states in item 10 in his complaint:
10. Sean Penn is an American icon.