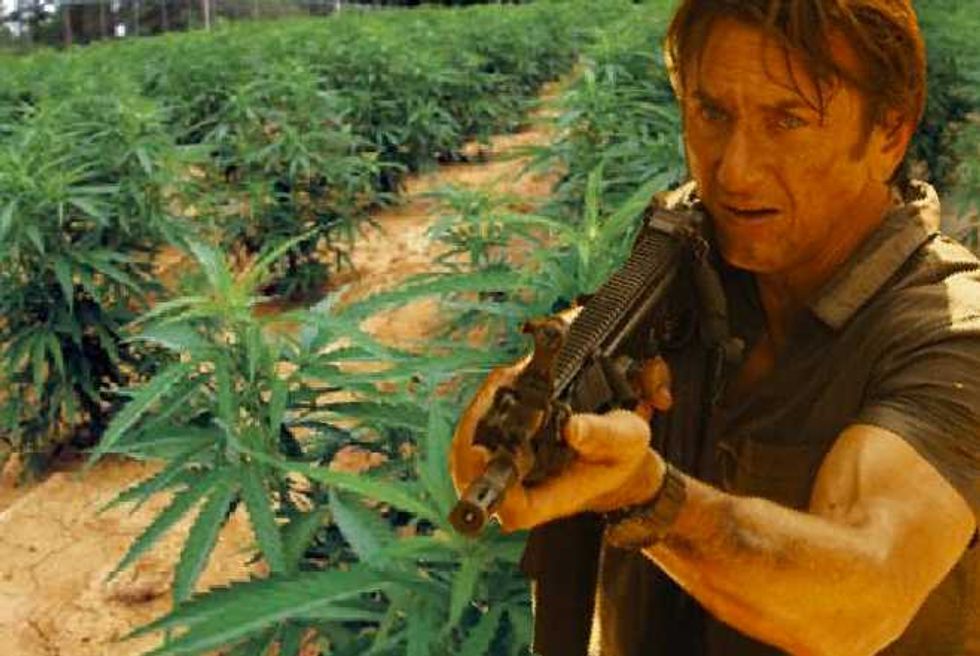 The Sean Penn drugs war effect unquestionable—because Sean Penn says so, OK?
There is absolutely "no question" that Sean Penn has had an effect on the so-called War on Drugs.
How do we know this?
Well, because Sean Penn says so.
And, it's not as if Sean Penn is just some insufferable "worthy" Hollywood star with an over-bloated ego and inflated sense of self importance.
So, yeah, if Sean Penn says it's without question—then, it's without question, OK?!!!!
As Popdust previously reported, the former Mr. Madonna jetted south of the border last October, for an interview with Joaquin 'El Chapo' Guzman.
The ever-intrepid Penn hiked deep into the Mexican jungle to meet with the infamous drug lord.
Penn's trip resulted in a momentous eleven-thousand word masterpiece of gloriously over-written prose, published by Rolling Stone in January.
In addition to the Rolling Stone article, Penn was credited with helping bring about the capture, and re-incarceration of El Chapo on January 7.
Although, it turns out, that wasn't the case at all.
According to the NY Times, Mexican authorities had been tracking and monitoring Guzman for some time, and were planning to recapture him back in October.
However they had to delay the mission after Penn rolled into the jungle— amid fears the actor would be harmed during the capture.
The painfully serious Penn was scathingly mocked for his Rolling Stone ramblings, and criticized for giving a murderous sociopath the publicity he so clearly craved.
Shortly after the interview was published, Penn sat down with Charlie Rose to discuss the Chapo fiasco.
During the sit down, Penn admitted to regretting the way things turned out:
I have terrible regrets.

I have a regret that the entire discussion about this article ignores its purpose, which was to try to contribute to this discussion about the policy in the War on Drugs.

Let's go to the big picture of what we all want. We all want this drug problem to stop.

We all want them—the killings in Chicago to stop. We are the consumer.

Whether you agree with Sean Penn or not, there is a complicity there. And if you are in the moral right, or on the far left, just as many of your children are doing these drugs ...

And how much time have they spent in the last week since this article come [sic] out, talking about that?

One percent? I think that'd be generous.

My article failed.

Let me be clear. My article has failed.
Wait…. WHAAAT?!!!
Major props to Penn for referring to himself in the third person….but, failed?
Sean Penn admitting to have failed at something?!!
This isn't the Sean Penn we all know and love to hate so well!
But, never fear!
After a brief period of self-reflection, the old Sean is back!
And now, there's not a failure in sight!
In fact, Penn boasts to the Financial Times about how SUCCESSFUL his article was:
When I said it failed, that turned out not to be the case.

There's no question there's ultimately been more conversation about the drug war.

I can't prove [it's because of my article].

But I've noticed that there's been more debate.
For Sean Penn spoke, and it came to be; Sean Penn commanded, and it stood firm.
For more entertainment, world, music and pop culture updates and news, follow Max Page on Twitter
El Chapo Had 'Never Heard' Of Sean Penn—Was Eager To Meet That Hot Actress Though
Sean Penn El Chapo Interview—Best Literary Laughs
Sean Penn Files $10 Million Lawsuit Against Empire Creator Lee Daniels
Sean Penn drugs war effect unquestionable—because Sean says so
Robin Wright Has More Orgasms Without Sean Penn—Good To know!
TIL Sean Penn Has A Penis Nose, A Scrotum Face And An Anus Mouth
How LA's Fashion District Became A Mexican Drug Cartel Money Laundering Hub
Mexican Cannibal Drug Cartel Forces Members To Eat Victims' Hearts
Sean Penn drugs war effect unquestionable—because Sean says so
World Cup Fatal Fanaticism—Tragic Tale Of Colombian Footballer Andres Escobar
Pablo Escobar's Hippos Wreaking Havoc In Colombian Countryside
The Kim Kardashian Lookalike 'Leading Mexican Drug Cartel Hit Squad'
Sean Penn drugs war effect unquestionable—because Sean says so