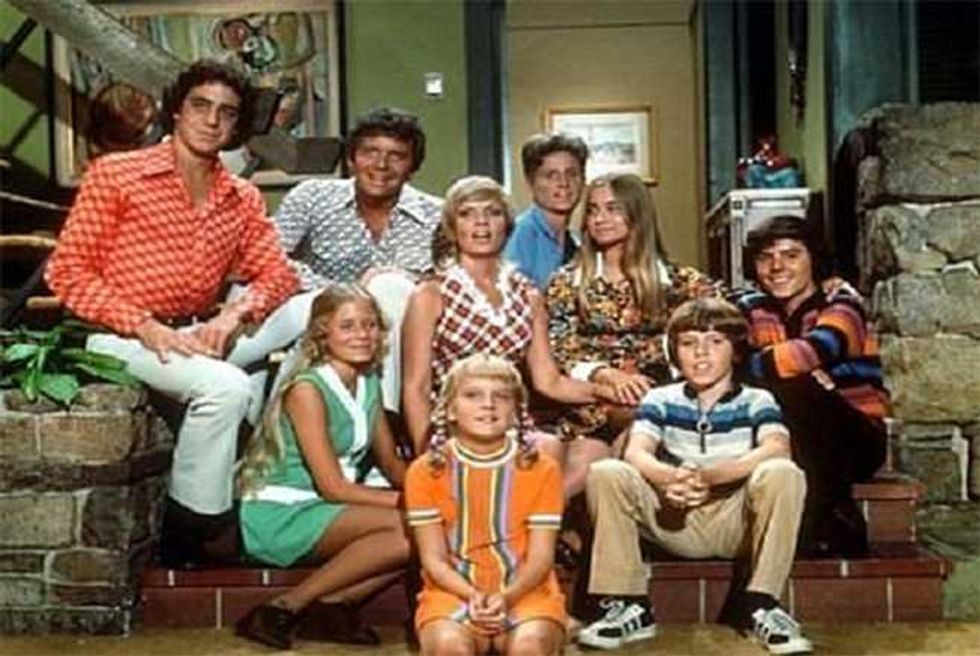 Susan Olsen is spilling some behind the scene secrets about The Brady Bunch.
The 53-year-old, who played Cindy on the1970s' show, sat down with news.com.au to dish the dirt—ahead of her appearance at the Supanova pop culture expo this weekend.
What will probably come as no great shock to fans of the sitcom, is that pretty much all of the actors ended hooking up with one another at some point during the show's four-and-a-half-year tenure.
Olsen admits that she used to make out with Mike Lookinland—who played Bobby—in the doghouse when they were nine.
She goes on to claim that Eve Plumb, who played Jan, hooked-up with Christopher Knight, who played Peter—and that Barry Williams, who played Greg, tried, unsuccessfully, for years to hook up with Florence Henderson, who played Carol, despite being involved in a sporadic longterm relationship with Maureen McCormick, who played Marcia.
What's slightly more surprising, is Olsen's claim that the cast made next to no money for their work throughout the five seasons of the show.
"We even had to pay for our own parking in the first season," she says. "They wouldn't let us drive onto the lot. We earned very, very little."
Then, there's Olsen's allegation that McCormick used to go shoplifting with her pal, Susan, a member of the family band The Cowsills, whom the Partridge Family was based on.
"They used to go shoplifting just as a sport and one day they got caught and Maureen bolted and hid in a car for hours and let Susan take the rap for it," she claims.
Finally, Olsen cops to (kinda, sorta) being a drug dealer in real life!
"I guess technically [I was a dealer], but I was really a [marijuana] grower," she says. "My husband at the time and I grew it hydroponically.
"I have never really enjoyed smoking it, it makes me very paranoid. But it was my husband's idea.
"It was really fascinating and I've always been into 'gardening' and it's such a complicated, wonderfully fascinating plant. But that was one of the reasons why I did leave my husband, because it just bothered me too much that we were doing something so illegal."