FILM & TV
Selena Gomez and two of the show's stars showed off their matching semicolon tattoos last night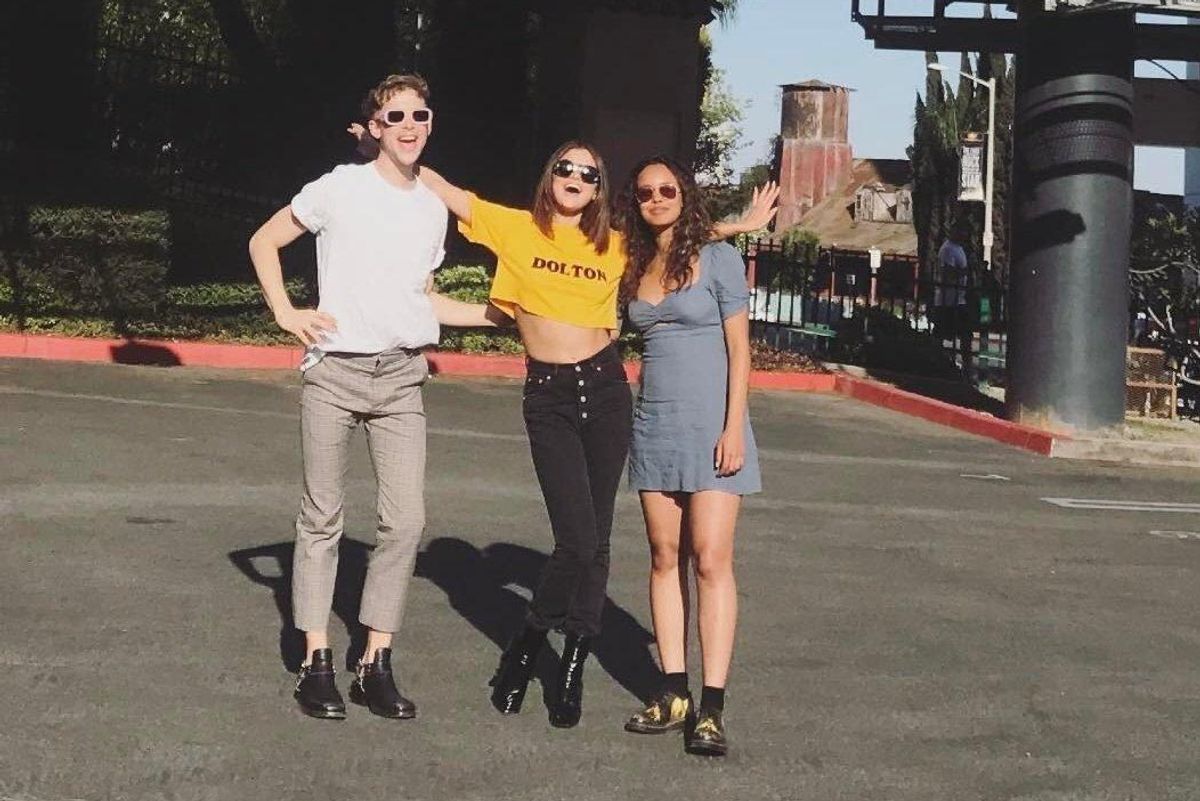 If you're like us, you're already missing the characters of the new Netflix series 13 Reasons Why. But fans got excited last night when Selena Gomez, executive producer of the show (and originally billed to play Hannah Baker), posted a picture of her new tattoo. Gomez and friends Alisha Boe and Tommy Dorfman showed off their new matching tattoos: a semicolon inked on each of their arms.
Gomez shared a photo on her IG story last night and Dorfman posted his own Instagram photo that shows the three actors (Dorfman played Ryan and Boe played Jessica on the show) in the tattoo shop with semicolons on their forearms. Boe posted a closeup later that shows a better view of the ink:
The tiny semicolons were a mystery to some but Boe's caption explains their inspiration. Project Semicolon is an awareness and fundraising campaign started in 2013 by Amy Bleuel as a tribute to her father, whose suicide inspired her to try to inspire others. The project aims to give hope to people suffering from depression, addiction and suicidal thoughts. The semicolon has become a symbol that declares a new beginning rather than an end.
The background of the Project Semicolon website is full of pictures of people who have tattooed the semicolon on their arms as messages of support to themselves and to others. The 13 Reasons Why cast members' decision to get their own tattoos has another reason: their tattoos are tributes to Bleuel, who died by suicide last month but whose project continues its mission of awareness and support.
The series is a personal mission for Gomez, too, after she entered rehab last year for depression stemming from her battle with lupus. Gomez said that her Disney fame amplified her own high school experiences, helping her emphasize with Hannah Baker's story. She spent ninety days receiving professional help for her depression and talks about it in the short documentary, "Beyond the Reasons," on Netflix. In it, the cast also discusses the most important and difficult issues addressed in the show.
Just a few weeks after its release, 13 Reasons Why has definitely begun important discussions about suicide, mental health and bullying. Its thirteen episodes graphically and honestly illustrate the struggles of a person suffering from depression, a victim of bullying who struggles with loneliness. The show, based on Jay Asher's bestselling novel, deserves praise for its dedication to the goal of showing what it's like to feel depressed, to have suicidal thoughts and to search for help.
Now Asher has hinted at the possibility of a second season—or, at least, said he'd be happy to see one. "I'd just like a continuation of all those characters," he said in an interview. He said he'd gotten as far as brainstorming a sequel book at one point but decided against writing it. But with all the bonus material added for the Netflix series and the many loose ends left after the last episode fades out, he's not the only one hoping for more (Warning: spoilers below).
The show only reveals a few clips from the depositions, where some characters finally decide to tell the truth and others continue to hold up their lies. Tyler spills the secret about the tapes but some of the others still aren't willing to admit that they know anything about them. Even Mrs. Baker remains silent during the depositions as she holds the USB drive in her hands. What happens when the lawyers finally play the tapes?
And then there's the terrifying glimpse into an ambulance rushing to the hospital with a seventeen-year-old boy who suffered a gunshot wound to the head, and the principal's devastating words in the last episode: "Alex Standall shot himself in the head last night." Does he survive? Does Bryce receive the punishment he deserves and where does Justin go with the liquor and the gun? Tyler looks like he's putting his own stockpile of weapons away for good, but is he (don't forget the ominous shot of Alex seeming to organize his revenge targets in the darkroom, only removing Alex after Alex stand up to a bully for him)? And what happens to Clay, the only name on the tapes whom Hannah didn't blame directly but who nevertheless failed her? Clay and Tony will still be involved in the lawsuit when (if) the tapes are revealed.
These are major plot points that the show intentionally (and wisely) leaves unanswered in its finale. 13 Reasons Why is a series about Hannah Baker and the months leading up to her suicide. Now that her tapes have ended and her story—the story she wanted to tell and the very reason she made the tapes—is finished, the show should be, too. Hannah's story is the reason for and the driving force behind the novel/series. The finale, with all of its unaddressed questions, is more satisfying than a second season of explaining would be.
Nothing is certain in the characters' futures but the show uses this uncertainty to continue the many dialogues started by the show's difficult subject material. Talking about Bryce's actions and the potential punishments mean having conversations about rape. Wondering if Tyler is going to shoot people at school means talking about gun violence. These are necessary conversations and the show's finale helps to start them.
The author clearly made a decision not to write a sequel novel, even after brainstorming it. Though he sounds open to the idea, that doesn't make it a good one. As much as we would all love to see what happens to each of the characters after a finale full of cliffhangers, the show, as it stands, deserves to remain its own work of art without the pressure of a second season having to live up to the first. Selena Gomez has called it her "passion project," and hopefully her influence will be enough to keep it out of the hands of greedy studio execs.
Do you want a second season of 13 Reasons Why? Let us know why in the comments and share your opinion with your friends.
If you or someone you know is suffering from depression or having suicidal thoughts, call the National Suicide Prevention Lifeline at 1-800-273-8255.
---
READ MORE ABOUT FILM/TV
Must-watch: '13 Reasons Why' is an extraordinary series about young adult life, consequences and tragedy
Watch: the new 'Justice League' trailer and how it makes the Avengers feel
Can La La Land be both an homage film and Best Picture?
---