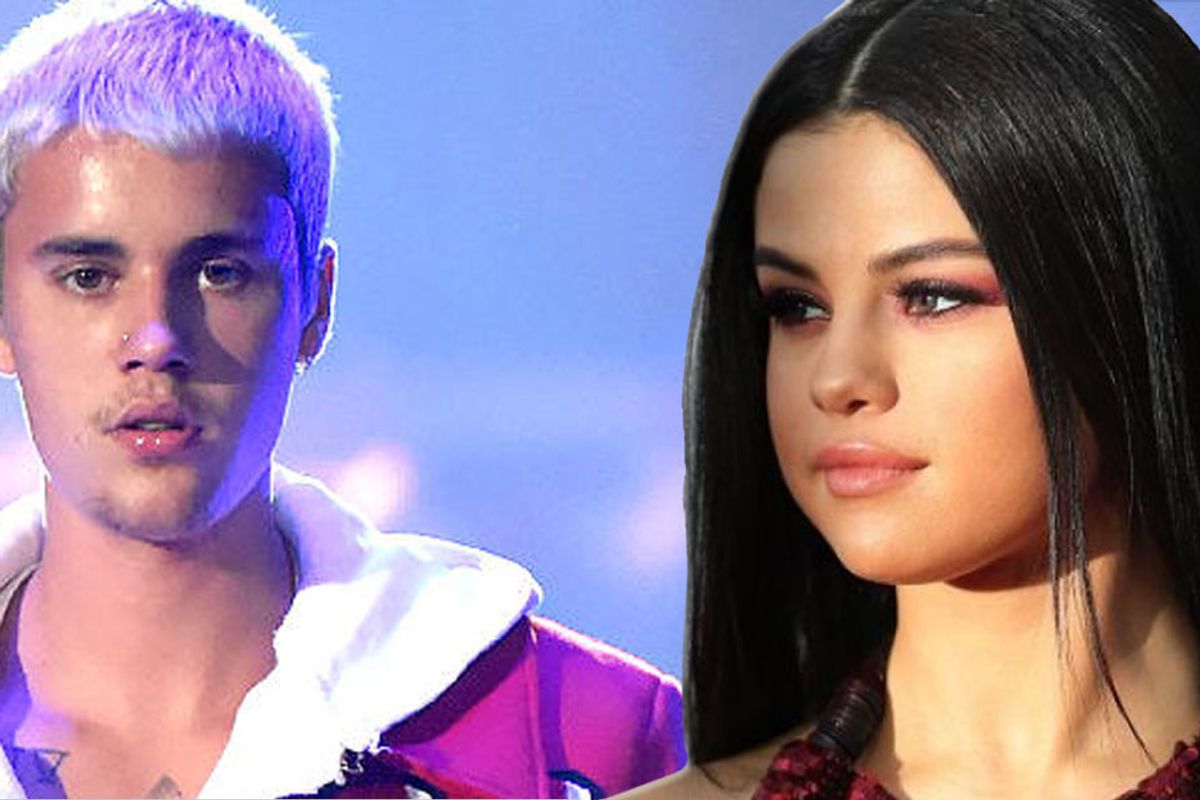 Justin Bieber appears to hate on his fans more and more with each passing day.
He seems to have lost sight of the fact that the blind devotion of the Beliebers has got him to where he is today. He's lives his life in a bubble of fawning yes-men, and whilst he has long believed he shits roses, his self-love swagger has tipped him over the edge and he is now drowning in a sea of sycophants. He is on a misssion to alienate the very fan-base that gave him his career—and he's doing a great job.
He started off by cancelling the meet and greets of the screaming girls willing to part with extortionate amounts of money to stand next to him and have him toss a little "wassup" in their direction. As all devoted fangirls do, they lived in hope that he would notice them and recognize that they were "the one" for him. They would mount the Bieber unicorn and fly off into a happy ever after.
Well all that was too much for Justin. He didn't want that physical contact and there are zillion babes willing to keep him warm in between Kardashian hookups, so he decided he didn't need to talk to the real people any longer and cancelled the meet and greets.
---
READ MORE...
Watch Justin Bieber Fall Onstage AGAIN— Is This His Thing Now?
Justin Bieber Debuts Dreads And Nobody's Happy
Kourtney Kardashian And Justin Bieber Hooking Up Is Downright Ick
---
Yet still they hounded poor Justin. His fans just didn't get it, so he decided to take it a step further and ban any selfies with him at all. It's just too tiresome to look interested in the little people. Justin is happy to sing for them occasionally, treat them to pictures of his fabulous life on his Instagram and have their money pay for his $10k a night rental—but interacting with his fans is O.V.E.R. Take note Beliebers.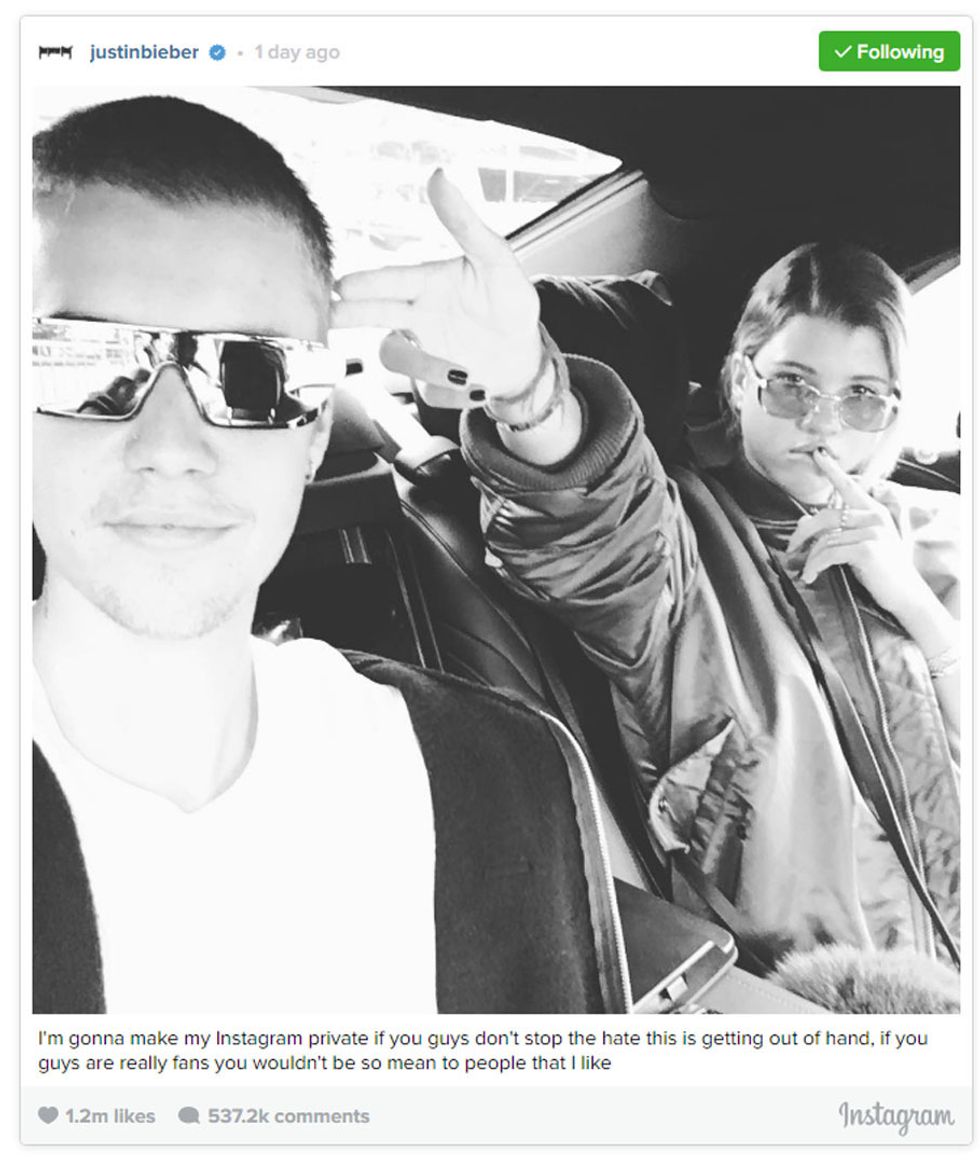 Justin has just got on with leading his awesome life, and doing what all good fame-whores do—document everything on Instagram and then bitch and moan when things don't go his way.

Hot on the heels from flashing his dick to the world ( but mainly to Orlando Bloom) whilst on vacay with Sahara Ray, he has swiftly transferred the Bieber love to 17 year old Sofia Richie.
They've been inseparable, spending five days straight together and she has been photographed leaving his house very early in the morning (despite them just being "friends", kinda the same way Kylie and Tyga were just "friends" before she turned 18). Now young Sofia, who is Nicole Richie's younger sister, has joined him in Japan on his Purpose world tour.
On Sunday morning, Biebs shared several photos of himself in a car with Sofia and captioned the one with her holding her gun fingers to his head;
"I'm gonna make my Instagram private if you guys don't stop the hate this is getting out of hand. if you guys are really fans you wouldn't be so mean to people."
Dear oh dear Justin! Talk about throwing your toys out of the pram.

When you are a teen idol you've gotta expect the cray cray fans—it goes with the territory. Beliebers may be obsessed and upset by his latest hookup, but hey, they're no Directioners, so he could have ridden it out.
Naturally there has been a backlash among his fans with #RIPBeliebers trending on Twitter. Some of them are in tears of disbelief and have even <gasp>, unfollowed him.
Now there has been a timely interjection from Selena Gomez. In a swiftly deleted post (which is super annoying—ffs, if they write it they should own it and leave it up) she wrote;
"If you can't handle the hate then stop posting pictures of your girlfriend lol-it should be special between you two only. Don't be mad at your fans. They love you. They were there for you before anyone."
Yay! Well done Selena!
I mean seriously—it beggars belief that some of these celebrities, whining about their life not being their own and the intrusion of the public don't realize that they are the ones inviting the intrusion by sharing every aspect of their life! It's not rocket science, but they just don't seem to get it.
It's like Selena said, if you don't want people to comment on your girlfriend—here's an idea Justin, DON'T POST PICTURES OF HER!
The Biebs wasn't happy with Selena's comment and a few minutes later he couldn't resist biting back, implying that she used him for fame;
"It's funny to see people that used me for attention and still try to point the finger this way. Sad. All love.

I'm not one for receiving hate. Hope u call can be kind to my friends and eachother. And yes I love my beliebers."
Selena wasn't having any of it and hit straight back;
"Funny how the ones that cheated multiple times, are pointing the finger at the ones that were forgiving and supportive, no wonder fans are mad. Sad. All love.
Boom!
I guess we know why they split up now!
A new hashtag was trending #SelenaEndedJustinParty.
We can only live in hope.