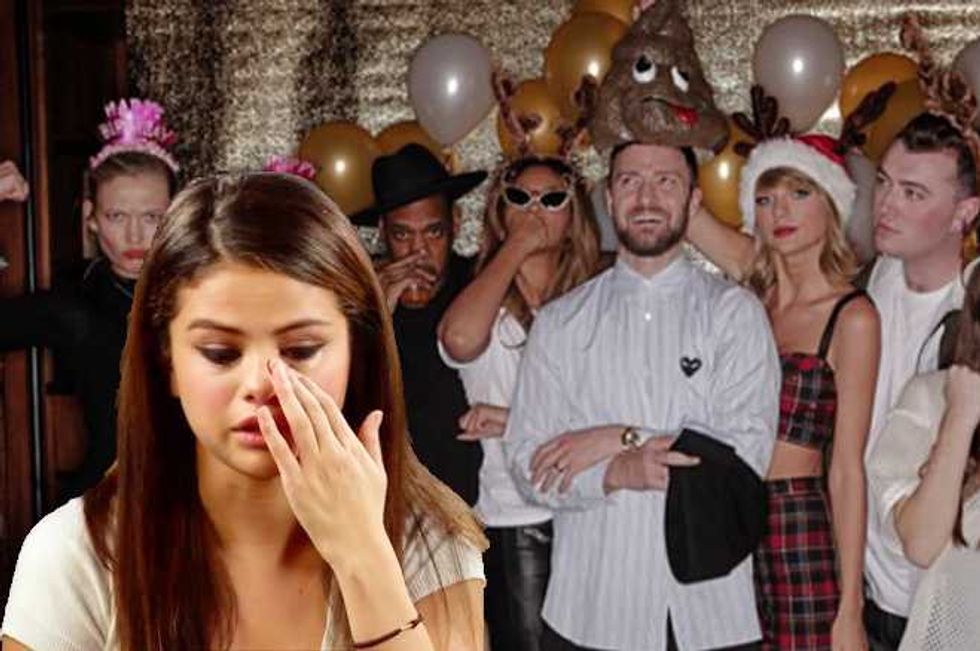 Selena Gomez had a full-on emotional meltdown over Justin Bieber at Taylor Swift's 25th birthday party.
Yep, Selena was THAT girl - the one who makes every single occasion all about her, just because she happens to be dating the biggest douchelord in the western hemisphere.
Excuse me, I digress.
Taylor held the party at her swanky Tribeca apartment on Friday, Dec. 12, and guests such as Beyonce and Jay Z, and Justin Timberlake were all theres, according to Us.
The only person apparently NOT having fun was Selena, who decided to have a melodramatic moment and make it all about her.
"She shouted, 'No one understands me! My boyfriend doesn't even understand me," an insider revealed, adding that bystanders ( including guest Sam Smith!!!) "just stared [at her]."
URRRRRRGHHHHHH REALLY SELENA???
Other guests at the party included Karlie Kloss (of course), Kelly Osbourne, 5 Seconds of Summer, HAIM, Nick Jonas and Olivia Culpo, Charli XCX, Chrissy Teigen, Shawn Mendes, Ansel Elgort, Jaime King, etc etc etc.
It's safe to say none of THEM decided to hijack a party and make it all about JUSTIN FUCKING BIEBER.
Get your shit together, Gomez!