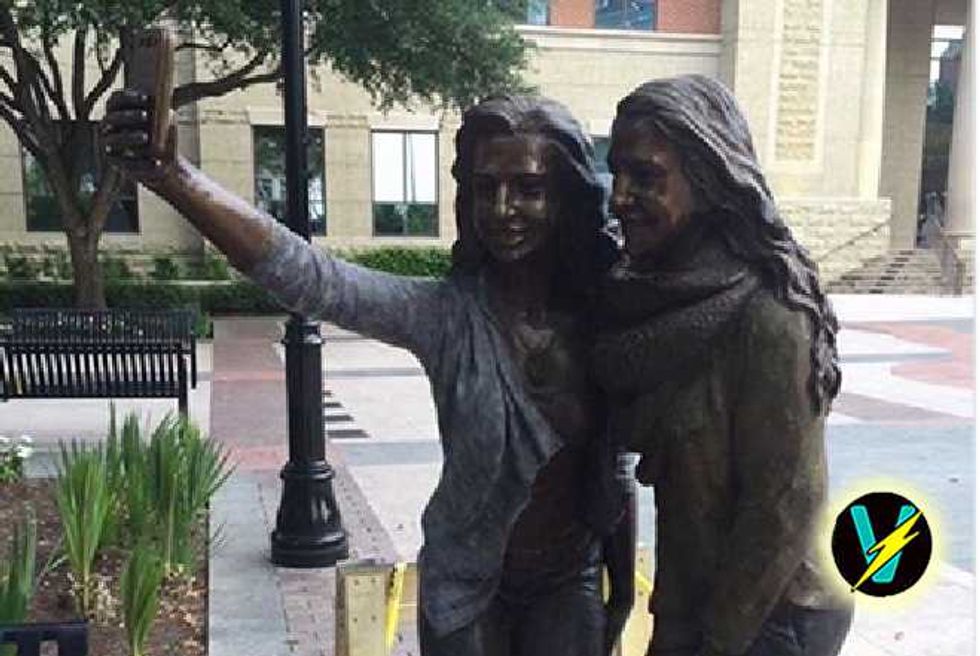 selfie statue sugar land texas—some genius thought it would be a great idea to memorialize their small town with a bronze statue of two chicks taking a selfie
Yeah, it really has come to this.
Some genius—actually three geniuses—thought it would be a brilliant idea to honor their home town with a bronze selfie statue.
The statue sits in the plaza in front of the Sugar Land Town Hall—and depicts two women taking a selfie.
Not surprisingly, residents of the small Texan town seem to be pretty divided over the artistic atrocity—falling into two camps—amused and pissed.
Although, many have jumped at the chance of taking a selfie with the selfie statue—because, OF COURSE!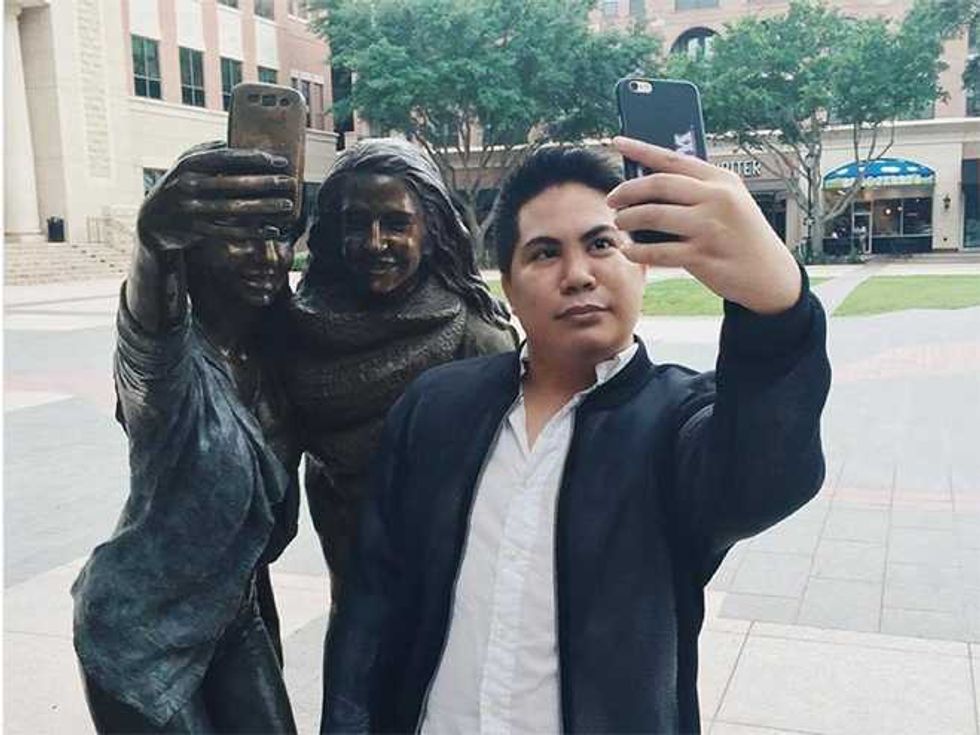 behold the great selfie statue Sugar Land Texas
According to a City of Sugar Land press release, the selfie masterpiece is one of ten statues donated to the city by local resident, Sandy Levin:
Other statues are located at Sugar Land Memorial Park, Oyster Creek Park and Fire Station 4 in First Colony.

A future installation is planned for Highlands Park.

The first bronze sculpture depicts a guitar player sitting on the ledge of a fountain facing City Walk.

The second represents two girls taking a "selfie" near a bench with City Hall in the background.

Both show activities common in the plaza.

The inclusion of sculpture in the Town Square plaza aligns with the continued vision of the City and the Legacy Foundation's commitment to establish cultural arts amenities that "provide and/or support activities and facilities that enrich the artistic, cultural, educational, and historical character of Sugar Land."
Ah yes!
Because, nothing enriches culture, history and education like a good old fashioned selfie.
It's the end of the world as we know it.
Scroll down for video of the selfie statue Sugar Land Texas
Iran Calls Kim Kardashian A Secret Agent And Arrests Selfie Girls!
Usher Nude Selfie Snafu Proves Size Really Does Matter
Cara Delevingne Posts Selfies With Mona Lisa Because What Else Is It For?
Dad Accidentally Films Entire 'Dream Of A Lifetime' Vegas Vacation In Selfie Mode
The Vag Selfie—Definitive Guide To Securing The Sexiest Snatch Shots
Watch video of the selfie statue Sugar Land Texas
selfie statue sugar land texas
Introducing The Dildo Selfie Stick!
More People Have Died Taking Selfies Than In Shark Attacks This Year
Dude Accidentally Sexts Naked Selfies To HR Manager Who Just Offered Him A Job
selfie statue sugar land texas
Kim Kardashian Feeds Selfie Obsession With Quickie Airplane Toilet Photo Shoot
Serena Williams Grand Slams Body Shamers With Sexy Selfies
Oops! Marc Jacobs Accidentally Instagrams Naked Selfie
Florida Teen Took Selfies While Having Ruff Sex With Her Pit Bull
selfie statue sugar land texas