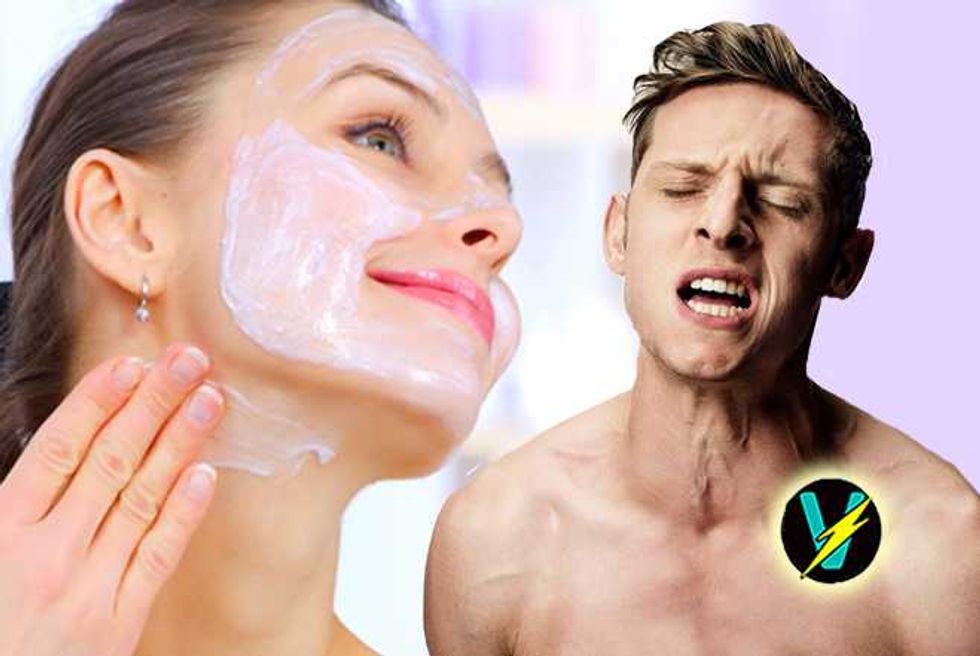 semen facials real lie
Pretty much like the "scientific research" that surfaced a few years back, claiming swallowing your partner's semen helps prevent morning sickness during pregnancy, most women suspect the whole "semen is good for your face" thing, to be nothing more than a lie, concocted by some sketchy dude, for their own self-serving purposes.
I mean, let's face it, semen facials would likely be one women's beauty regime that men would be very willing to get behind, and even lend a helping hand to, whenever possible.
When Life Gave One Woman Thrush, She Made Sourdough With The Yeast
However, apparently semen facials are a real thing though, with one woman positively raving about the "soothing and cooling" effects of "man moisturizer."
Don't believe us?
Model Posts 'Real Life' Photos On Instagram, Loses Thousands Of Followers
Well, some beauty blogger chick called Tracy Kiss, posted a YouTube video on the subject, last week—and, not surprisingly, it's already racked up over 1.1 million views, hundreds of comments, and sparked debate among beauty industry insiders.
As we all know only too well, the concept of jizzing all over a woman's face, purely for aesthetic purposes, is not a new one—there's a whole porn category out there that lays testament to that.
Nicki Minaj's 'Only' Lyrics Analysis Uncovers Surprising, Deep, Hidden Meaning
And, it turns out, the concept of jizzing all over a woman's face, genuinely and solely for skin care purposes, also isn't a new one.
As Refinery29 points out, Cosmopolitan was broaching the subject as far back as 2000:
Spread semen over your face. [It's] probably full of protein, as sperm can eventually become babies. Makes a fine mask — and he'll be pleased.
Yeah, because it all comes down to pleasing your man, doesn't it?
Amber Rose Is A Bad Bitch Feminist—Wants Y'All To Stop Slut Shaming
Thanks for that, Cosmo, self professed bastion of feminism and supposed champion of fearless women's sexuality.
But then, that's Cosmo for you. Tracy Kiss, however, doesn't make any snide references to pleasing your man, during her YouTube video—instead, she focuses solely on the skin care results she claims to have achieved—and, in fact, she explains that she gets her semen delivered each morning, in a clean Chinese takeaway pot, fresh from the source, who is a purely platonic friend.
Phuc Dat Bich Back On Facebook After Proving Name Is Real, Not A Hoax
Kiss claims sperm facials have helped to vastly reduce the red, irritated, blotchy skin effects of rosacea, which she has suffered from for years, she alleges that they work as an alternative to facial peels—and insists that semen is an excellent "cooling, natural skin treatment to soothe sensitive skin" and, the secret to soft, clear, skin.
Massage Client Denied Happy Ending Took Matter Into His Own Hands
"I use semen to look after my skin, to rejuvenate it, to give it some freshness," the 28-year-old says in the video, which also includes a sperm facial tutorial.
"I think people are concerned with the thought of putting semen on their face but actually it's a very natural and healthy thing to do," she claims.
NYPD Cop Allegedly Showered Subject Of His Affection With His Semen
"You know, semen builds babies, they come out very soft and they have beautiful skin."
Ermmm….. OK…..?!!!
Kiss explains that she rubs the sperm onto her face, and then leaves it for around 20 minutes, to allow it to absorb fully into the skin, then washes it off while she's taking her morning shower.
At Last! Those Vagina Emojis We've All Been Waiting For Are Here!
Now, it doesn't take a genius to work out that there could be a few potential dangers when it comes to slathering your face in some dude's cum—but, that's something Kiss has taken into great consideration, explaining that she ensures her donor doesn't do drugs, doesn't drink, and is in "good sexual health."
"I would never condone using anonymous semen," she says, very wisely it turns out.
Did a Wendy's Worker Use Her Vagina Discharge As Mayo For Her Enemy's Burger?
A dermatologist, appropriately named, Dr. Grossman, talked to Refinery 29 about the possible risks associated with rubbing a complete strangers' (and, in fact, even a partner's) load all over your face:
Just from a physician's point of view, there are medical health issues around being exposed to other people's body fluids. Body fluids are capable of transmitting STIs, and even if you're with your husband or boyfriend, and could potentially have these diseases anyway, there are potential issues that could be different [on the face].
One of those potential issues? Eye herpes….. yep, that's right…. eye herpes…..which can cause scarring on the eye and lead to vision problems.
Texas Cops Discover Loaded Gun In Woman's Vagina During Drugs Bust
Aside from those potential medical risks though, Grossman says there's nothing bad in sperm, but, in her opinion, it will do jack shit to improve your skin.
Sorry guys...
Don't shoot (all over the face of) the messenger....
Kids Forced To Eat Semen Cookies By Teacher Win $140 Million Settlement
For more entertainment, world, music and pop culture updates and news, follow Max Page on Twitter