For those of you who haven't been following along at home: somewhere out there, half an onion in a plastic bag (@HalfOnionInABag) is trying to get more Twitter followers than Donald Trump. After accumulating close to 300,000 followers yesterday, the onion (again, not to be confused with satire site The Onion) is on pace to break a million by the end of the week, only 34 million short of Trump's total follower count across his @realDonaldTrump and @POTUS accounts.
Now, the half-onion is cooking up a new troll for the Donald.
What if every follower of half an onion in a bag sent Donald Trump half an onion in a bag? Not only would that be meta, but Trump would end up with a quarter of a million onions (halved, in plastic bags)! What would he do with all those onions?
Now, thanks to halfonioninabag.org, you can send Donald Trump half an onion. The site knows that sending Trump onions "would be really stupid, but it's exactly the kind of thing that would get under his skin."
Not to mention, with a desk covered in onions, Trump might be forced to take a break from signing executive actions at an 'unpresidented' rate.
You can send Donald Trump half an onion in a plastic bag TODAY for the low price of $1.99!
All proceeds from onion sales will go to a charity TBA – the half-onion told us exclusively that it is leaning towards Planned Parenthood.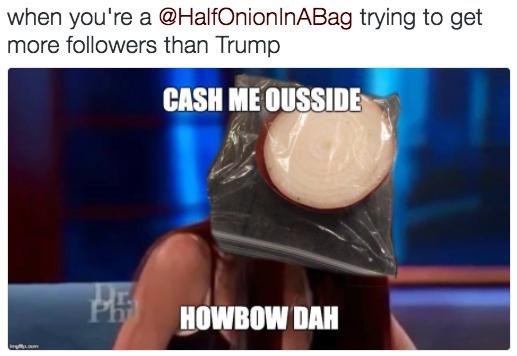 #SendTrumpOnions #Onions4Trump