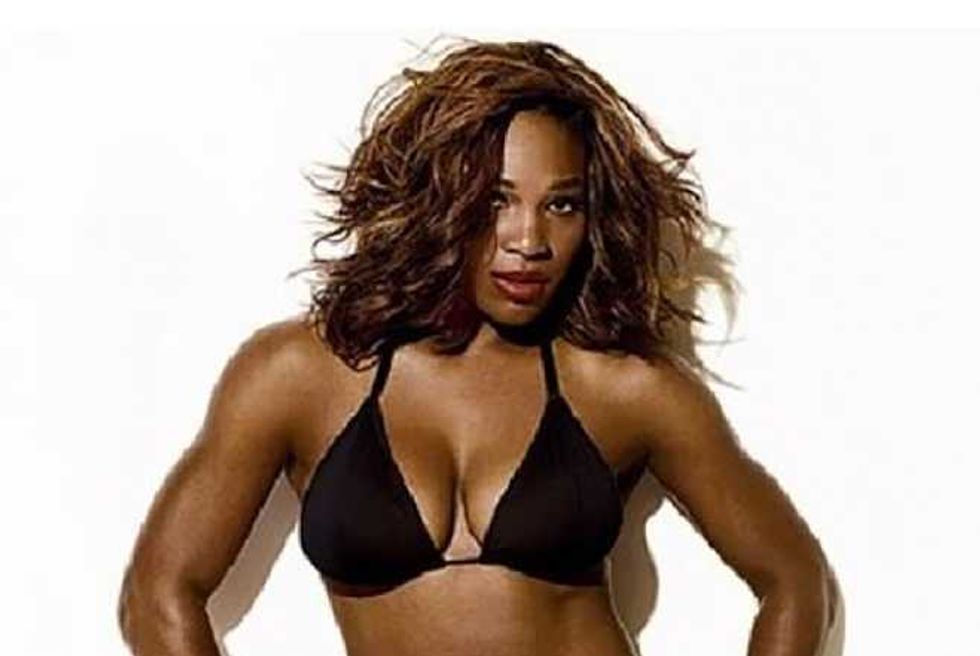 Serena Williams, how do we love thee? Let us count the ways…..
Well, there's the fact that you are arguably one of the best athletes of all time; a veritable living legend; seemingly so damn nice; self deprecating with a great sense of humor; and just a general all round kick ass woman….
Serena Williams Takes You There With Madonna Karaoke Performance
And yet, there's a whole bunch of assholes and internet trolls out there who persist in trying to "body shame" the 33-year-old—mocking her for looking, what they deem to be, too "manly" or calling her fat.
Twitter, the premiere playground for trolls, was on fire Saturday following Serena's awe inspiring 6-4, 6-4, win against Garbine Maguruza, bagging her her sixth Wimbledon title, and her 28th consecutive Grand Slam victory—but, for many it wasn't her athletic prowess they deemed worthy of comment, rather her body, her build, her eyebrows....
What Is Beautiful? Photo Project Shows Women Confronting Body Insecurities
The New York Times even got in on the act, commenting on how Williams' rivals could attempt to emulate her "large biceps and mold-breaking muscular frame" but choose not to, because of "body image issues" and in case that wasn't clear enough—went on to quote Agnieszka Radwanska's coach Tomasz Wiktorowski, who said, "It's our decision to keep her as the smallest player in the top 10. Because, first of all she's a woman, and she wants to be a woman."
Seriously? Because, what, Serena isn't a woman, because she's a powerful, amazing athlete?
Ugh.
Giuliana Rancic Responds To Body Shamers
For her part, Serena shrugs off the criticism—she previously told the Times, "I realized that you really have to learn to accept who you are and love who you are. I'm really happy with my body type, and I'm really proud of it."
And, Goddamn if she didn't slam it to the body shaming assholes Sunday night, looking jaw droppingly beautiful in a shimmering ivory full length clingy dress, as she danced at the Wimbledon Winners Ball with the men's champion, Novak Djokovic.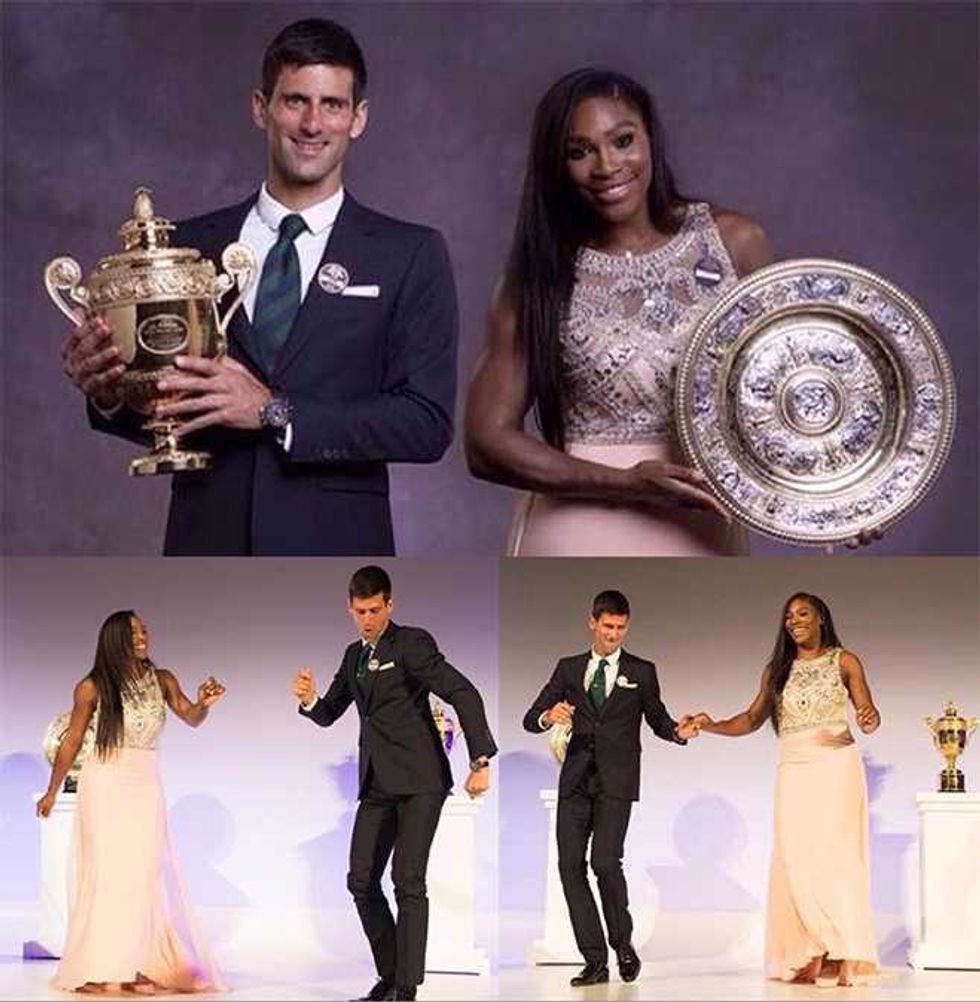 Can anyone say gorgeous....
In true Serena style, she didn't let it rest there, on Tuesday she lobbed another ace over the social media net, posting some super cute and sexy photos of herself on vacation in Sweden—clad in a cleavage bearing bikini top, denims and Nike cap.
As Most Women Know, Often The Body Shaming Starts With Good Old Dad
"Beach day in Sweden #SerenaSlam #renasarmy," she captioned the pic.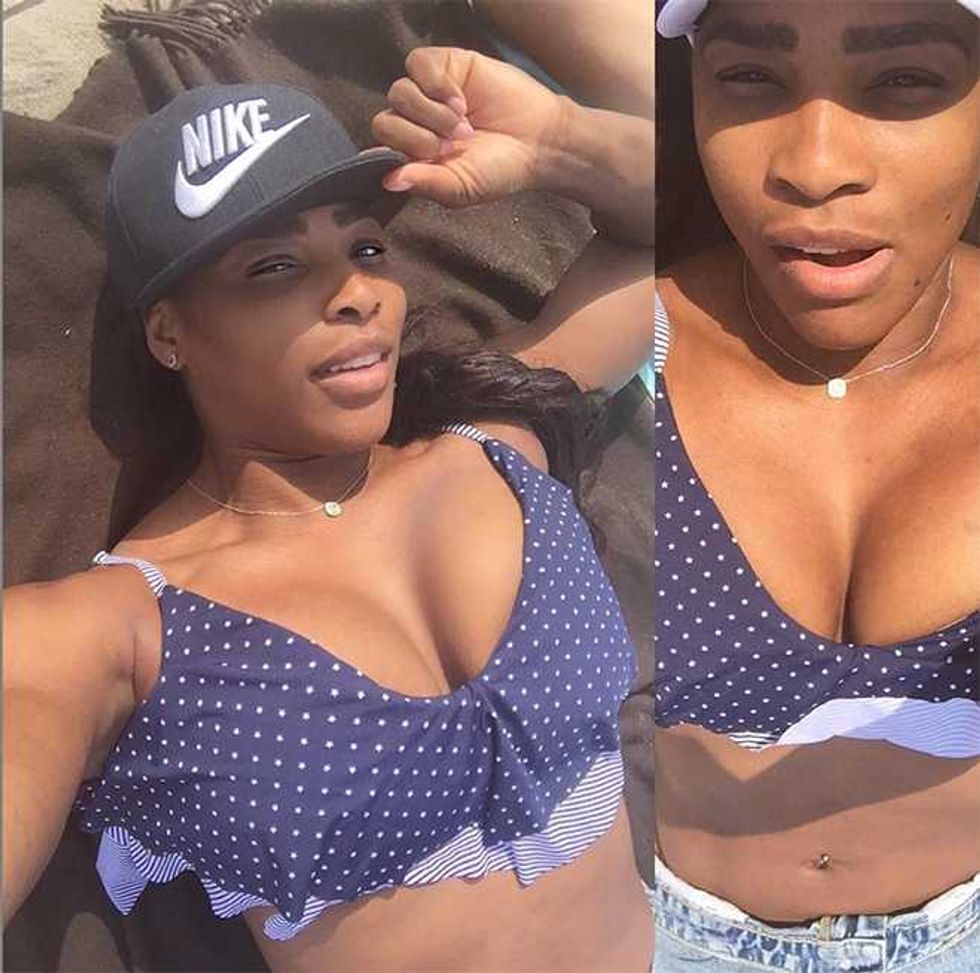 Sadly, Serena did cave in to pressure when it came to her eyebrows however—posting video of her getting her shapely brows trimmed, captioned, "Lol finally getting them shaped! Hahahha #haters I love you!!! Hahah but I still like them all natural! But for now you win lol."
One fan put it best, commenting next to the video, "When you are the best you can wear your eyebrows shaved like the middle finger if you want."
Damn straight.