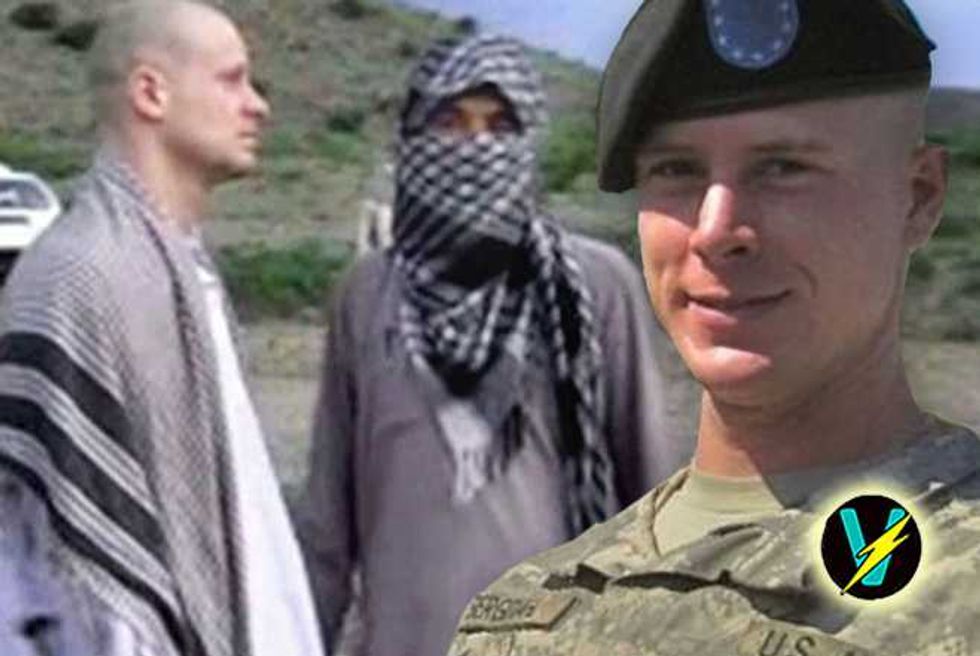 serial bowe bergdahl taliban capture
Serial is back, focusing on a whole new subject matter—which, if the first episode is anything to go by, is like Adnan Syed's story......on steroids.
For the second season of the hugely successful podcast, investigative journalist, Sarah Koenig is focusing on the mysterious disappearance of U.S. Army Sgt. Bowe Bergdahl in Afghanistan, and his subsequent capture by the Taliban.
Serial—Bowe Bergdahl, Cowardly Deserter Or Brave Whistleblower?
Bergdahl spent five long years being held hostage—and, initially, when he was brought home to Hailey, Idaho, he was greeted with fanfare—but, his homecoming was soon tarnished, and Bergdahl was turned into a traitorous deserter by the media, as the supposed "true" story, and the purported details surrounding his disappearance, came to light.
But, if there's one lesson to be learned from the first season of Serial, it's that the details of real life events and people's actions—and the results that stem from them, are rarely black and white, right and wrong—and, the story of Bowe Bergdahl proves to be no exception.
Undisclosed: State Vs Adnan Syed—Murder Case Fabrication, Baltimore Style
Bergdahl's release back in May 2014, was controversial from the get go, with the Obama administration coming under fire from the GOP after details of the deal that secured his freedom came to light—five Guantanamo Bay prisoners were let go in exchange for Bergdahl.
Criticism grew yet further however, after it came to light that Bergdahl had purposely deserted his post, and seemingly willingly walked into the arms of the Taliban.
Adnan Syed Case Dissected—What ACTUALLY Happened The Day Hae Lee Was Murdered?
Back in March, the 29-year-old was charged with desertion and misbehavior before the enemy, he remains on active duty while awaiting trial, and if convicted he faces a court martial and the possibility of life in prison.
Bergdahl has not spoken to the media since his release, but has been in close contact with filmmaker Mark Boal, who wrote and produced The Hurt Locker and Zero Dark Thirty.
Undisclosed—So THIS Is Why Jay Kept Lying His Ass Off About That Day With Adnan
Boal recorded their conversations, and it's through these tapes that we are able to hear Bergdahl tell his story, in his own words, for the first time.
The first episode of Serial's second season, titled DUSTWUN—or duty status, whereabouts unknown—details the events surrounding Bergdahl's decision to leave his base, taking just a compass and a bottle of water with him.
Undisclosed Addendum 2—Could Hae's Secret Diary Hold The Key To Adnan's Innocence?
According to Bergdahl, the accusations that he was a deserter are unfounded—he claims that he's actually a whistleblower, and that he chose to abandon his post, and wander into enemy grounds, in hopes of sparking a massive manhunt, with the belief that would provide him with the media spotlight he required to go public with concerns he claims he had about his unit's leadership.
It's a truly bizarre story, to say the least—and, Bergdahl admits that he quickly came to realize the gravity of the situation within pretty much minutes of leaving base and wandering into Afghanistan, back in June 2009.
Undisclosed Breaks Down Hae's Last Day, Casts More Doubt On Adnan Syed's Guilt
"I'm going, 'Good grief, I'm in over my head,'" Bergdahl recalls thinking at the time.
"Suddenly, it really starts to sink in that I really did something bad. Or, not bad, but I really did something serious."
Adnan Syed— Legal Victory As He Wins Chance To Call Alibi Witness
Indeed.
Episode two delves deeper into Bergdahl's purported motives for walking away, and, just like Adnan Syed's story before him, one thing is for sure—keep an open mind, because, often, the truth is way way stranger than fiction.
Adnan Syed Attorney Says New Phone Evidence Should Overturn Murder Conviction
For more entertainment, world, music and pop culture updates and news, follow Max Page on Twitter