You don't know why it has to end. You were happy with the way things were. You're not ready to be alone.
Your brain is reacting like you're going through a break-up. In reality, your favorite show just ended, whether it was the latest season or the entire series just came to a close. April and May is the time for season finales, from CW's niche favorite, Supernatural, wrapping up its 14th season to Game of Thrones breaking up with America with the equivalent of a text message. But it seems that audiences are increasingly dissatisfied with endings.
With directors and showrunners now live-streaming Q&As with fans and more TV shows prioritizing fan service over quality story-telling to boost ratings, the entangled relationships between creators and cult followings challenge how we view art and whether a franchise ever truly ends. After all, the lively world of online fandom never ends, so how are fans expected to accept a show's finality? In the age of on-demand streaming, actors sharing behind-the-scenes glimpses on social media, and immersive fan experiences (have you visited your local Game of Thrones pop-up bar yet?), there's no such thing as closure.
Full Joe Russo Avengers Q&A From Duello www.youtube.com
Creators like J.K. Rowling clearly don't believe so, as the author uses her social media presence to controversially add details and socially woke spins to her Fantastic Beasts and Harry Potter series ad finitum. Similarly, when a fan favorite show is finally put to rest, few writers and producers are able to rise to the challenge and kill their darlings with grace. More often than not, season finales—especially series finales— stutter to a grinding stop with dissatisfying or bizarre endings. With outspoken online fan communities (not to mention fan entitlement) at an extreme these days, bad finales go down in Internet infamy.

But viewers' responses can turn surprisingly emotional when it's time to say goodbye to their favorite series. Part of that is due to the strange body chemistry involved in emotions. The human brain can't differentiate between bonds with real people and fictional characters. Danielle Forshee, psychologist, and LLC says, "When there's a character that you feel emotionally connected to...your brain recognizes the human emotion they are portraying and starts to feel connected to those characters." Since we're wired to feel empathy, "a bond begins to form."
With Game of Thrones unfolding its final season and CW's teen hits Arrow and Supernatural slated to end next year, TV history has illustrated a pattern of highs and lows when it comes to finales. From the convoluted ending of Lost to The Sopranos slamming a door in the viewer's face, endings are nearly impossible to ace. Here's a look at the most successful, most devastating, and most chaotic series finales that fans have healed from after their favorite shows broke up with them.
How I Met Your Mother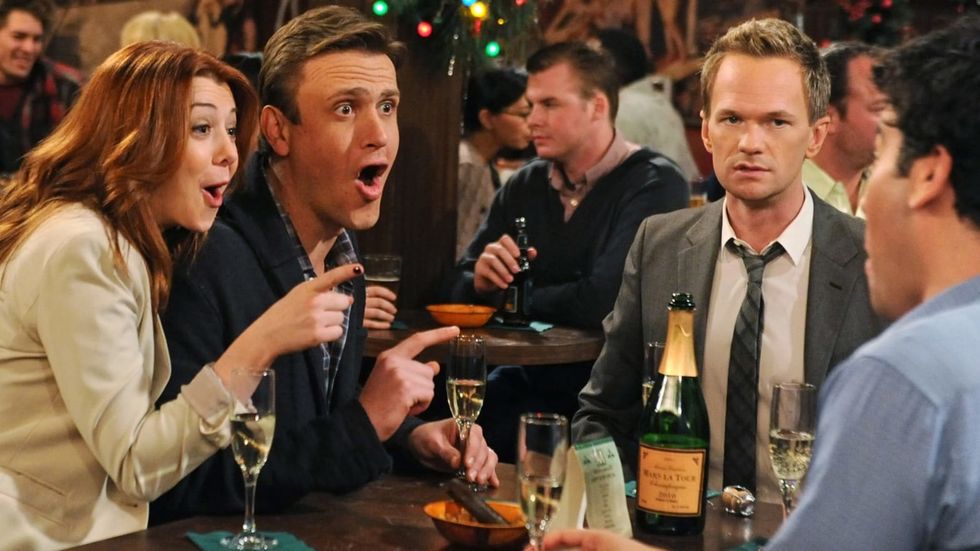 Daily Beast
The eight agonizing seasons of How I Met Your Mother culminated in the most predictable ending possible, yet it still managed to shock and disappoint. We jump forward in time and see that the protagonist, Ted, does indeed meet and build a life with his children's mother. Then in the final minutes, it's revealed that she's already died of cancer, Ted is telling this incredibly long and boring story to his teenage children, and now they end up encouraging him to date "Aunt Robin," his best friend with whom a relationship had been teased since season 1.
GRADE: F
Lost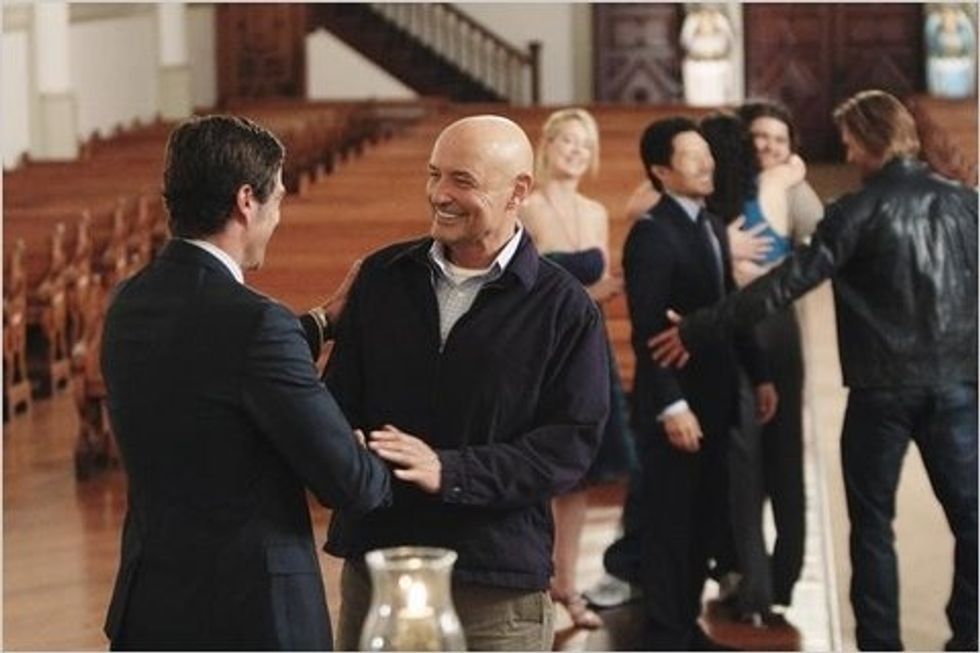 NYTimes
ABC's Lost disappointed and confused fans with a two-episode finale that questioned whether or not the entirety of the series took place in purgatory and the stranded were dead all along. Co-creator and showrunner, Damon Lindelof, has since panned that theory, saying, "No, no, no. They were not dead the whole time." Still, fans mourned the promising show's demise, with outcry on Twitter even driving Lindelof to delete his Twitter account. His final Tweet riffed on the cut off ending of Sopranos, posting, "After much thought and deliberation, I've decided t-."
Grade: D

Breaking Bad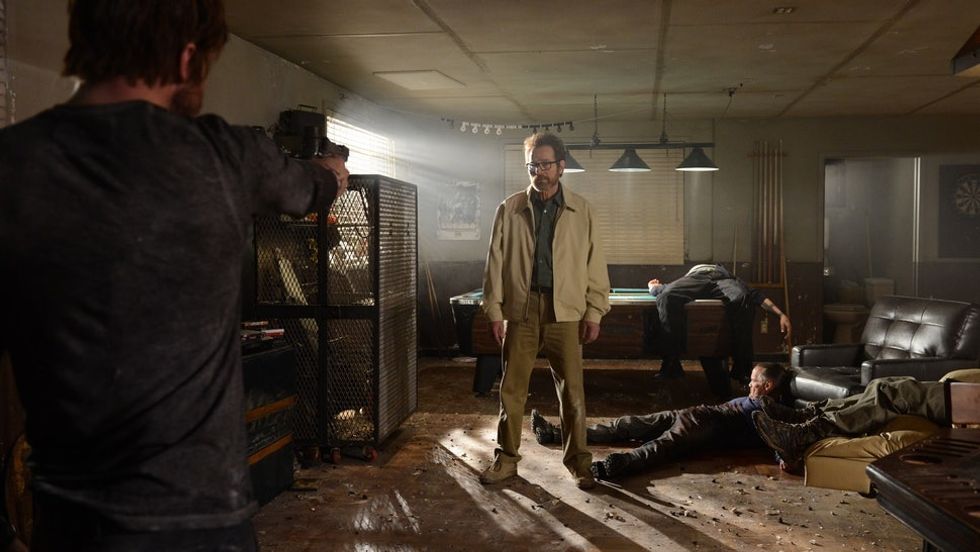 Bustle
Breaking Bad is arguably the best series finale to date (although the end of Game of Thrones may dethrone it soon). Season 5's final episode ranked as the third best-rated finale in cable TV history. Walter White's demise ends a victorious character arc, as he admits to his wife, "I did it for me. I liked it. I was good at it. And I was really...I was alive."
GRADE: A

The Sopranos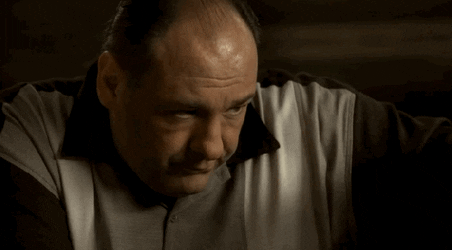 The Sopranos' infamous series finale left the viewer to decide whether or not Tony was dead. Ultimately, the finale's sudden cut to black was a divisive move that invited audience's interpretation into the series' canon. Earlier this year, in honor of the show's 20th anniversary, reporter T.J. Quinn posted a radical theory that there was a death in the final scene: ours. At the very least, the end of the show signified that the exchange between creators and fans was over. The Sopranos broke up with us.
GRADE: INCOMPLETE
---
Meg Hanson is a Brooklyn-based writer, teacher, and jaywalker. Find Meg at her website and on Twitter @megsoyung.

---
POP⚡DUST | Read More...
Rami Malek Creepily Confirms That He's The Next Bond Villain
Morgana Takes Human Form In Persona 5 The Royal
Sorrow-Scopes: Viktor Winetrout and His Cohort Are Laughing Into the Void