Photos by Russ Rowland
In an unnamed Latin-American country torn apart by civil war, morality, faith, love, and duty are all held closely to the flame. As peace is celebrated, we hear the residents of a small village tell, in their own words, the stories of war. Of a husband who joined up to buy a washing machine for his wife. Of a doctor who saw his wife killed for helping a wounded insurgent. Of the priest who could have helped hide her but didn't. In the aftermath of war, the doctor is called upon to heal again, but finds that he is doing it in a way he never thought possible. With an unprecedented power to save at his fingertips, his past comes to visit, and he faces an impossible choice.
Martin Zimmerman's text is fast-paced, and riddled with the wounds of humanity
Seven Spots on the Sun is a ferocious play. Martin Zimmerman's text is fast-paced, and riddled with the wounds of humanity. There is dark lyricality to the way he writes that echoes the work of Marquez. You wouldn't call this magical realism, but you might say that it feels like a modern myth or fable. The action is divorced from any real time or place. This allows Seven Spots to be free of any political questions, and so the audience focuses on the human story unfolding before them.
Director Weyni Mengesha and the assembled cast have interpreted the work in blistering fashion. There are limited set pieces beyond Arnulfo Maldonado's evocative omnistructure, which serves as whatever locale it needs to. As lit by Amith Chandrashaker, this gives it great versatility. This still leaves a sizable burden of work on the actors. Nevertheless, they bare that burden beautifully.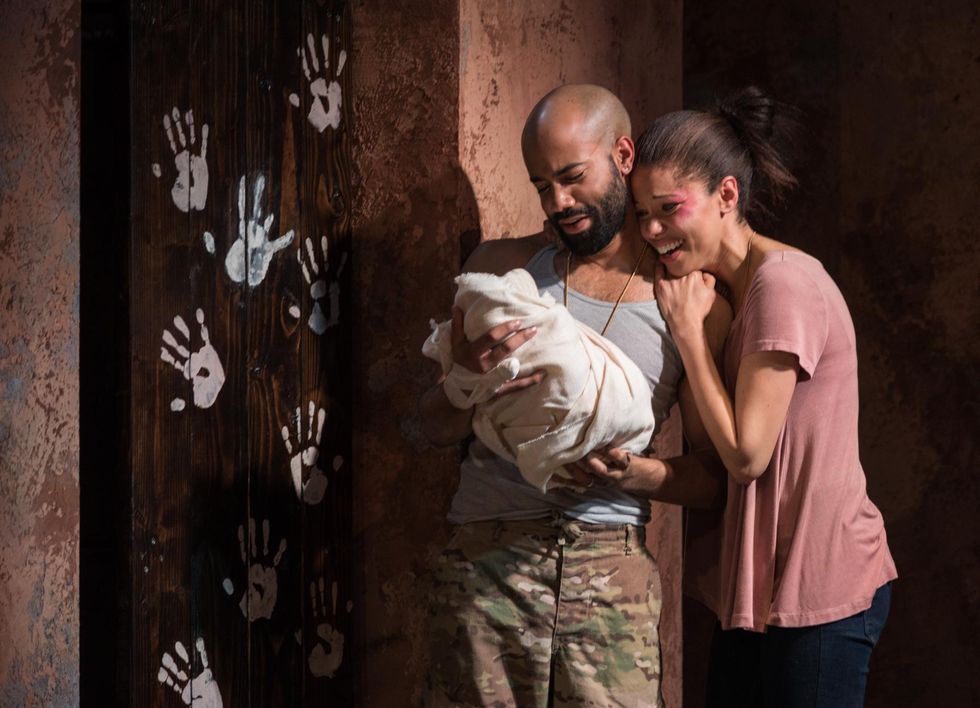 Photos by Russ Rowland
Rey Lucas as the broken doctor Moisés gives a harrowing performance that is at once painful to watch and impossible to look away from. Sean Carvajal as the broken toy soldier Luis is similarly devastating. His transition from lovable puppy-dog, to brutish authoritarian, to PTSD riddled victim is a rollercoaster. Flor De Liz Perez, as his wife Monica, is similarly heart-wrenching. Peter Jay Fernandez as the town priest is a paragon of wavering virtue. Flora Diaz as Moisés' wife Belén is a terrifying sight to watch as she fights the fate the play has in store for her. They are all ably aided and abetted by Claudia Acosta, Cesar J. Rosado, and Socorro Santiago playing various roles within the village. All in all, an enviable staff, both onstage and off.
These elements come together into a play that is nothing short of harrowing. It runs a brisk eighty-five minutes, and manages to feel both longer and shorter than its runtime. Longer, in that it is so densely packed with plot and emotion that it feels biblical. Shorter, in that the production is so tightly staged and performed that there isn't a second of dead air. Seven Spots on the Sun is a wicked account of war and its consequences, full of raw emotion, and blessedly free of cliche and melodrama. Ideal for the socially minded theatre-goer. A feast for the heart and mind. Recommended to anyone who likes a good play.