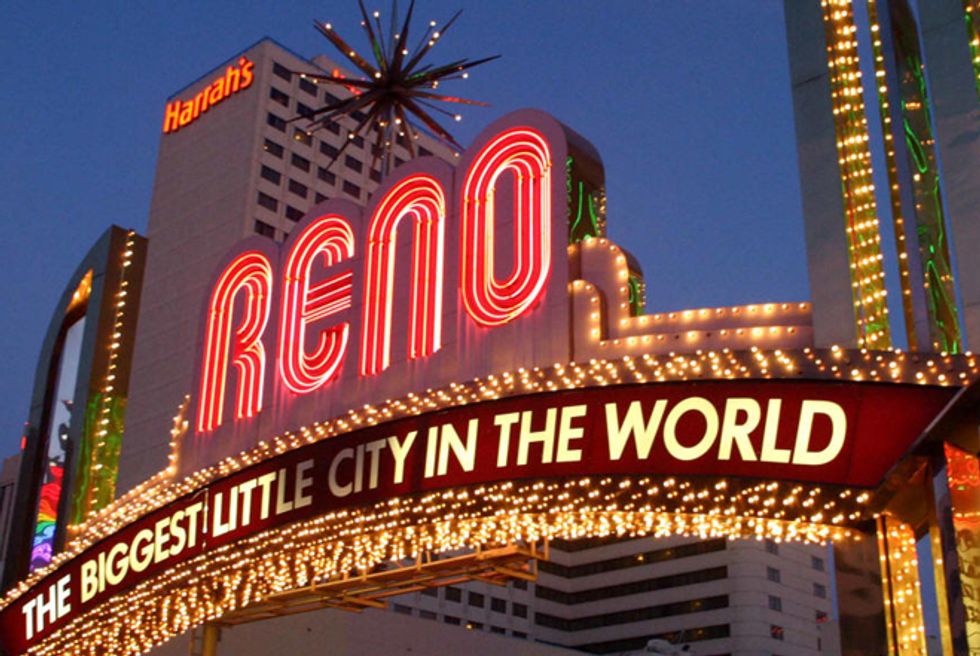 Every year, thousands of optimistic vacationers suffer the crushing disappointment of Spring Break letdown. Many of us don't find out that "all inclusive" means food, drink, and profound regret until it's much too late. Usually the problem is other revelers; when Sartre concluded that hell was other people, he had probably come directly from the buffet at Sandals Jamaica where they were out of poppers, again.
In fact, the biggest problem with popular spring break destinations is that they're popular at all. Much like the people who wouldn't sleep with me in high school.
So next year, why not mix it up and try one of these off-the-beaten path destinations for your spring break? Sure, you won't necessarily find bikini-clad babes, hot lifeguards or strings-free bonfire handjobs at any of them, but really, sexy spring break fun can be found any place you can be drunk enough to think you're on a beach.
MORE CRUCIAL SPRING BREAK WEEK COVERAGE!
Colonial Williamsburg
Why to Visit: Twenty years ago, Colonial Williamsburg was a theme park for the children of parents who didn't believe in perpetuating patriarchal heteronormative princess narratives or spending $36 on a turkey leg. It's basically the same thing, only now with roller coasters and disaffected adults who go on vacations solely because it's funny to do so. Oh, also, grown people pretending to be blacksmiths.
Don't Miss: One time when I was in Colonial Williamsburg I saw a seagull steal a man's hot dog right out of his hand. I'm not saying that's going to happen again, but that's probably the one thing I wouldn't miss.
Reno, Nevada
Why to Visit: A lot of people think that Las Vegas is the place to go in Nevada if you're looking to gamble and party, but also want to grab a fantastic meal and enjoy world-class entertainment. Those people would be right. Reno is another place in Nevada with gambling, but made specifically for addicts, road comics and the grandma who the kids don't like because she's not as nice as the other grandma because she's mean and smokes and thinks hotel soap is a present. That said, there's something really uplifting about being the youngest, fittest, and least spiritually depleted person in a given room, and Reno is full of such rooms.
Don't Miss: The shuttle to the airport.
The Great Lakes
Why to Visit: Huron, Ontario, Michigan, Erie, Superior. Easy to name with a mnemonic device, and all technically beach attractions. Here, you won't have to fight for towel space with some guy in swim trunks emblazoned with a rhinestone tiger who's just relaxing in between his long days of playing lacrosse and contributing to rape culture. No, here it's just you and the sun and the sand and the variety of edible freshwater fish. Well, some sun, maybe. Sometimes it stays cold in the midwest and parts of the mid atlantic until early, maybe mid, August. But more monster curls for you to boogie board.
Don't Miss: The natural beauty.
Baltimore
Why to Visit: Okay, I admit I haven't been to Baltimore much outside of layovers, and being metaphorically transported there in the works of Pulitzer Prize winning novelist Anne Tyler. But I like The Wire, crab cakes, and Cal Ripken. So I would probably like Baltimore, right? I mean, if worse comes to worst you could always just stay in your hotel and watch a John Waters movie. Then at least you've left the house, right? Baltimore.
Don't Miss: The Great Blacks in Wax Museum. I've never been, but if it's half as fun to visit as it is to say, it should be a pretty good time.
Aspen
Why to Visit: I said Aspen, but I meant pretty much any ski town. Why? Skiing is horrible. It is literally the worst thing I can imagine spending money to do that isn't a painful medical procedure. Hey, would you like to be cold and wet while doing something that killed the guy who sang "I Got You Babe?" Try skiing! Anyhow, the good thing about ski towns is that people have deluded themselves into thinking its a sport that you should reward yourself for participating in with massages, jacuzzi soaks, and pots full of melted cheese mixed with hot alcohol called "fondue." Enjoy all of these things without doing any actual skiing.
Don't Miss: At least one person you see will be wearing a sweater with a deer on it. He may even look like a guy who wouldn't go out with you in high school, and now there he is, wearing a turtleneck with a elk stitched on it. Don't forget to stop and feel wildly intellectually superior.
South Dakota
Why to Visit: I have never met anybody from South Dakota! Have you? And if so, have you actually seen his or her drivers' license? I'm fairly confident that this is actually a real state and not a Bradburian conceptual void alluded to vaguely in early Greek mythology and some Jewish mystical texts. Anyhow, seems like it should be fairly uncrowded.
Don't Miss: Mount Rushmore.
Star's Hollow
Why to Visit: Okay, so Star's Hollow isn't a real place. It's the fictional Connecticut town from The Gilmore Girls and if you're just finding this out for the first time, I'm sorry. You must be very upset and you're welcome to email me to talk it out. That said, "Going to Stars Hollow for Spring Break" is what I call it when instead of leaving the house for a week, I just keep mixing grape flavored vodka into whatever I have in my fridge while watching all seven seasons of The Gilmore Girls. That works out to a season a day!
Don't Miss: The Spring Break episode. Because, meta, right?
Meet … the biggest bros in music!
Get inspired by … life-changing lines from Spring Breakers!