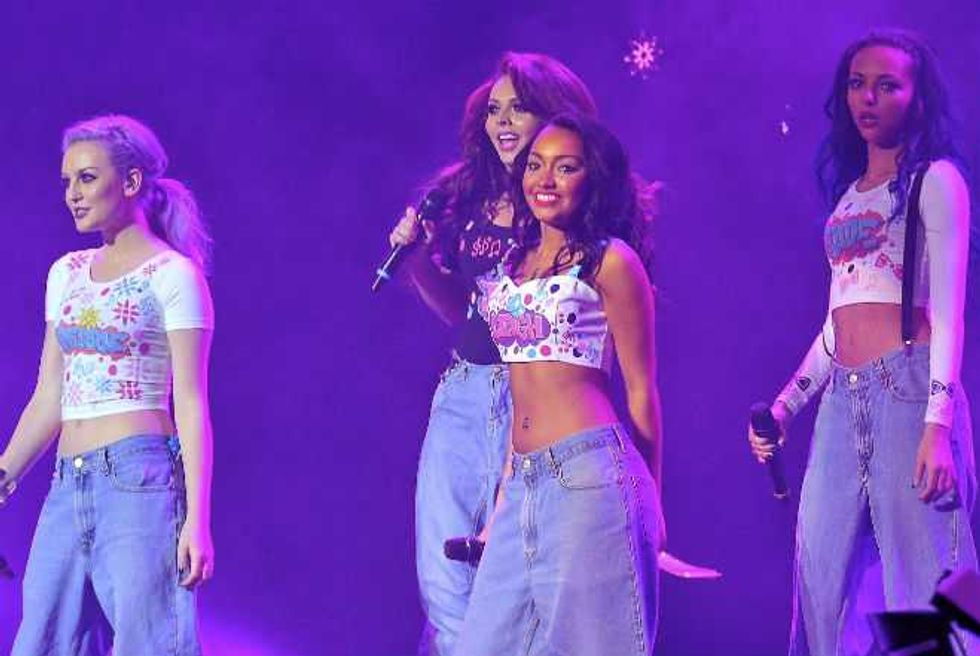 X Factor vets and members of British sensation Little Mix seem hell-bent on bringing back all the best (and some of the worst) trends of the nineties. And just like they won us over with their incredible voices, we're starting to come around to their out-of-left-field style moves that, undoubtably, were inspired by some of the biggest talents of their childhood years.
You see, the nineties were a heydey of boy and girl bands, and they were also a major time for fashion. It was the decade that brought us B*witched out of Ireland, R&B artists Xscape, UK's All Saints and The Spice Girls—not to mention Destiny's Child and the rise of queen Beyoncé. Tops were cropped, jeans were ripped, overalls were sexy.
Right now, we're experiencing a resurgence of '90s gear and despite any reservations you may have, there's nothing left to do but embrace it. Take a trip down memory lane with the girls' top nineties fashion homages.
OVERALLS
Photo credit: Splash News
Overalls were the jam in the nineties. To make them look feminine, groups like Destiny's Child and TLC wore theirs over fitted tops that showed a bit of skin or even better, with tube tops.
Destiny's Child. Photo credit: Star Millennial
TLC. Photo credit: Radio UTD
Brandy. Photo credit: MSN
CROP TOPS
Photo credit: Splash News
Gwen Stefani wasn't the only lady showing off her stomach in the nineties. Everyone from Sporty and Scary Spice to short-lived group B*witched was wearing short shirts and, we're sure, doing tons of crunches.
The Spice Girls. Photo credit: Girl Gang London
B*witched. Photo via Virgin Media
Liv Tyler in Aerosmith's "Crazy." Photo credit: Knuckle Skin
MESH
Leigh-Anne Pinnock leaves a club in London with her boyfriend. Photo credit: Splash news
Unlike overalls, mesh was always a super-sexy choice. Witness Christina Aguilera in her "Genie in a Bottle" days looking like a Disney princess that's about to go very, very off the rails.
Christina Aguilera. Photo credit: Nearly Vintage
Gwen Stefani. Photo credit: Nearly Vintage
OVERSIZED WORK PANTS
Performing on their debut UK tour in Manchester. Photo credit: Craig Norwood
What's the perfect match for your tight crop top? Incredibly baggy pants that won't give you a muffin. This was a classic look, worn by everyone from All Saints to Janet Jackson to Aaliyah to Alicia Keys.
All Saints. Photo credit: MSN
Janet Jackson. Photo credit: Mocha Makeup
MANIC PANIC HAIR
Perrie Edwards. Photo credit: Splash News
Pop stars have been trying out rainbow hair for the past year or so. These days the colors are less grungy and severe than they were 20 years ago, and more pretty and pastel.
Lil Kim. Photo credit: Buzznet
Gwen Stefani. Photo credit: Urban Outfitters
RIPPED JEANS
The band poses at the Free Radio Live concert last year. Photo credit: DFL/Corbis/Splash News
Ripped denim joins ultra-baggy pants as another nineties trend we can't believe is back. Still, if you dig this look it's refreshingly easy to achieve. All you need is a box cutter, a washing machine, jeans and time.
Salt-n-Pepa. Photo credit: Dr. Jays
Kurt Cobain and Courtney Love. Photo credit: Posh24
VELVET
Leigh-Anne Pinnock rocks a velvet shorts-legwarmers combo. Photo credit: Splash News
Crushed velvet was everywhere in the '90s: on floppy, Blossom-esque hats, on skintight spaghetti strap dresses, on pants, on baby tees. Didn't matter if it was summer or winter, velvet was in.
Courtney Love of Hole. Photo credit: NY Daily News
The Spice Girls wear velvet head-to-toe. Photo credit: Tumblr