Top Stories
ALBUM | The electro-pop trio performed before a packed house at New York City's Music Hall of Williamsburg.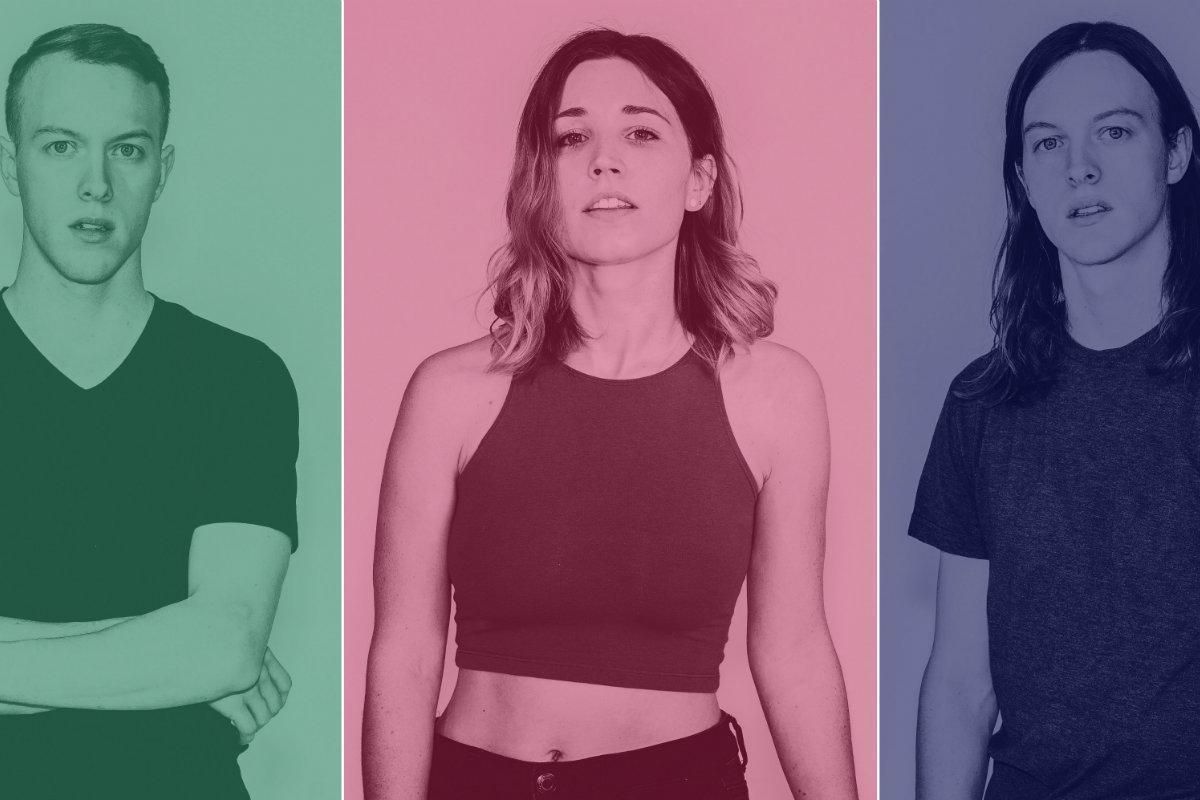 Stunt Company
Let's cut to the chase: SHAED's lead Chelsea Lee is a rock singer. Underneath the plastic, synthesized moodiness and body-dragging percussion, she possesses a voice as cutting as Amy Lee's and as earth-shattering as Lzzy Hale's. Pronounced "shade," the band performed before a raucous crowd at the Music Hall of Williamsburg on Wednesday evening (May 10), presenting their slick and sick blend of alt-pop heft and jaunty beats. It was evident within the first few bars of show primer "Thunder" that Lee wasn't there to play games; her voice is reedy and flies through the air like half a dozen lawn darts zeroed-in on their target. The group, also comprised of twin brothers Max and Spencer Ernst, might only have one extended play under their belt but it's one of great escape: from the syrup-soaked "Perfume" to the soft pitter-patter of "The News."
"We've never been to this venue," Lee told the crowd, "but we're so fucking happy to be in Brooklyn." The front-woman was soft-spoken, gliding from one track to the next with little-to-no chit-chatter. The trio towered over the crowd and decorated their senses with evocative and earnest stories about heartache, physical detachments and lust. "Just Wanna See" carried the slink of The Weeknd with an uncompromising grit, which is wielded sharply and judiciously by the Ernst Brothers thick production style. "Perfume" flickered between youthful angst and ripened longing. "Baby I choose you like new perfume. Not gonna lose you. Never gonna wash you off," Lee bellowed over kaleidoscopic tears sending shockwaves through the melody.
But it was "Name on It" that framed Lee's potent and wide-ranging vocal as a modern rocker, storming her way through frayed EDM and a hook as disastrous and exhilarating as Mount Everest. Leading into the power notes, the singer ebbed and flowed with the song's innate water-like texture: her versatility is a marvel, really. Lee can bite her teeth into searing, blood-thirsty rock while sampling her ability to craft a satisfying Top 40-baked hook. Even more bewitching is her ability to morph her vocal for the intimate, gut-punching moments, even "Running Through Fields" gave her permission to become more vulnerable and pensive--the dance-fever notwithstanding. Of all the other up and coming performers vying for attention, Lee is in a masterclass of her own.
With two full-lengths and an EP, opener Manatee Commune was charming and odd and quirky and reckless. As he unleashed experimental and psychedelic auras up and over the crowd, the creative danced like no one was watching, his limbs flipping and flopping in every direction. It was empowering to see someone so fearless and uninhibited. The backdrop billowed with splashes of rainbow paint or snapshots of nature. It was as if he were giving a powerpoint presentation on the randomness and intricacies of the human mind: sometimes haunting, sometimes vibrant, sometimes legendary. While the audience remained sparse throughout his set, they were enraptured by his craft. Among his first shows ever in Brooklyn, the Seattle-bred performer proved his worth.
Both acts served as primers for Bishop Briggs.
---
READ MORE ABOUT MUSIC...
Premiere | COMMON KINGS scale the world in "Mary Wanna" music video
Premiere | Trevor James Tillery hypnotizes with "Immortalize"
Premiere | MAON makes bold debut with "Don't Judge Me"
---