Arts
REVIEW | New York Shakespeare Exchange return with their ridiculously fun boozy, bardy pub crawl series: ShakesBEER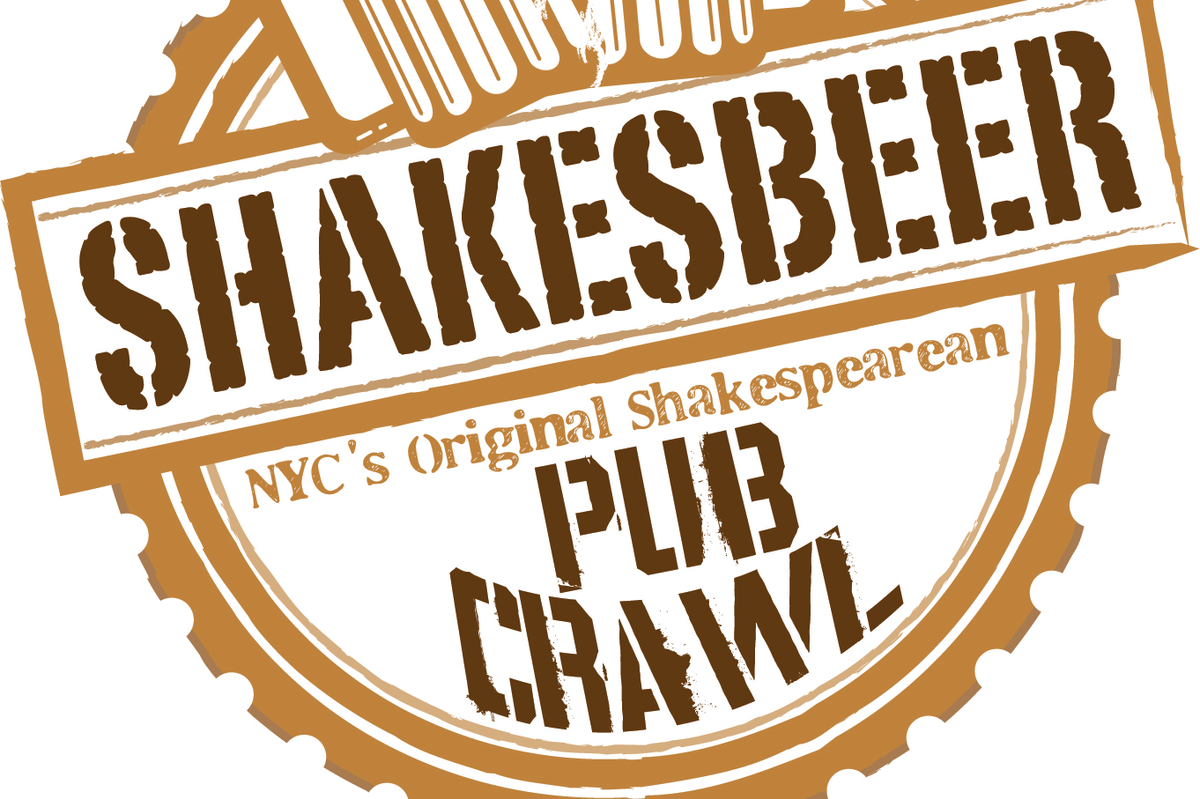 When people start talking Shakespeare its easy to conjure up the image of a boring evening. Dry, desiccated actors, performing dry, desiccated words in a dry desiccated room. Or worse still, reluctant schoolchildren murdering their way through verse that they won't understand properly for another ten years. But it's easy to forget that Shakespeare, in his era, was considered to be a pretty good time. Seventeenth century theatres were boozy, smelly places constantly being threatened with closure for being too degenerate. The saintly reverence we now have for Shakespeare is a relatively new construct. It's unlikely we'll ever be able to completely recapture what it was to see a Shakespeare play in his day, but New York Shakespeare Exchange might come closer than most with their ShakesBeer Pub Crawl.
The premise of ShakesBeer is simple. Four bars. Four drinks. Four Shakespeare scenes. You arrive at the first venue, you are given a map and four drink tokens. Company director Ross Williams makes a quick speech, and you are encouraged to drink. You begin drinking. Suddenly, a gong sounds, and a Shakespeare scene begins. It is performed in and among the crowd, or on top of the bar, using the space to its fullest. The scene ends, everyone cheers "Huzzah!", and you finish your drinks before following the map to the next bar. You order another drink, there is another Shakespeare scene, it finishes, huzzahs, finish drinks, next bar. Repeat this process until you have seen four scenes.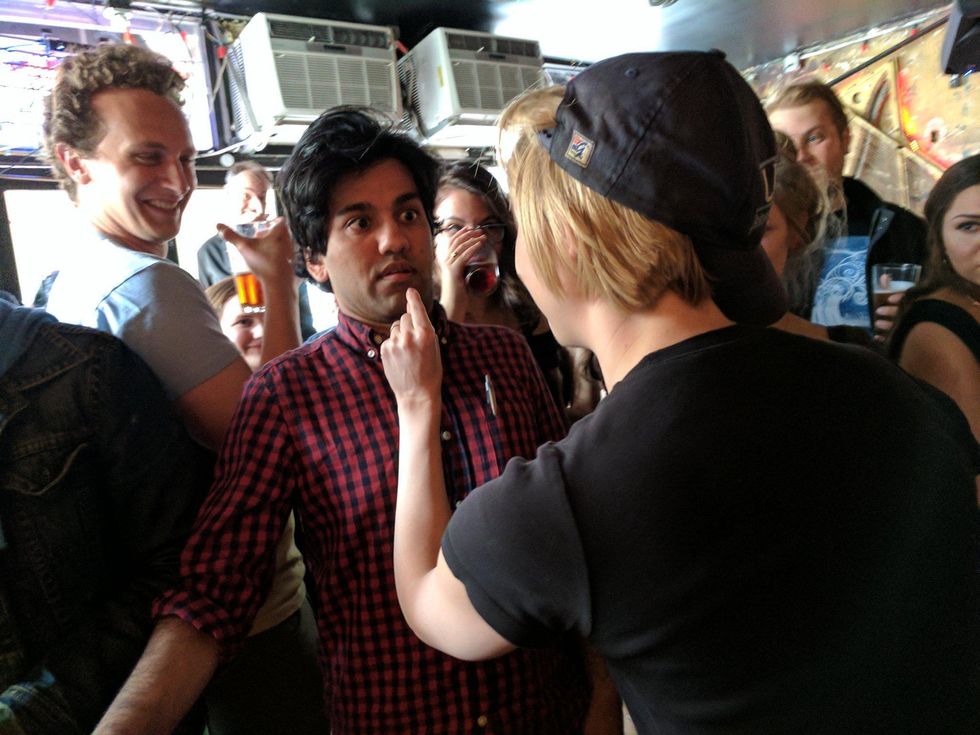 Guerilla photos of the event
It really is a fantastic day out. The whole process takes about three hours, which is about the pace most people can consume four drinks. The experience has a wonderfully Bohemian feel to it. Decadent, yet classy. The bars range from classic dives to more upscale joints, but the quality of experience is universal throughout. Performed on this occasion were scenes from Measure for Measure, As You Like It, Twelfth Night, and a scene titled ShakesBeer Mash-up: The Art of the Pickup, featuring characters and lines from a few different plays. Each scene ran ten - fifteen minutes or so, leaving plenty of room to socialize and drink, before and after.
"William Shakespeare would most definitely approve"
Starring in Measure for Measure (Directed by Cristina Lundy at Parkside Lounge) were Benjamin DeCamp Cole, Jay Ben Markson, and Kathryn Metzger. In true Shakesperean fashion we were dealing with lewd accusations of philandery brought by the nebbish against the hedonish. Much fun was had with constables barking at members of the audience. At Mama's Bar we saw Rosalind (Melissa Carlile-Price) and Orlando (Imran Sheikh) performing their gender confused flirtation from As You lIke It, standing atop table and chairs. Directed by Corey Atkins, the pair's chemistry was quirky and undeniable, as was their capacity for light improv.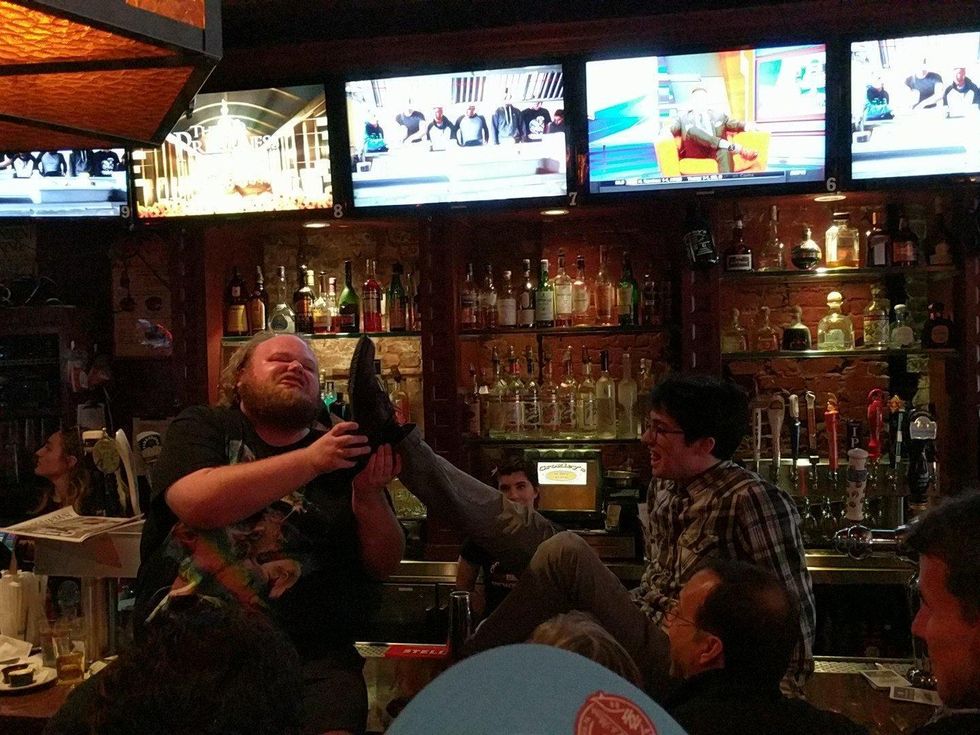 Guerilla photos of the event
Moving to Croxley's Ale House, we saw Sir Toby, Maria and Sir Andrew (Of Twelfth Night Fame) discussing the process of love. Benjamin DeCamp Cole, and Jay Ben Markson returned (to thrilled applause), joined by Sarah Kinsey (to further applause). Under Liz Thaler's direction they capered, caroused, and set the room to revels. Finally, at the Donnybrook, The Art of the Pickup played out featuring Benjamin DeCamp Cole, Kathryn Metzger, Melissa Carlile-Price, Imran Sheikh, and Sarah Kinsey. Directed by Nathaniel P Claridad, this scene featured several of Shakespeare's lovers tindering and flirting their way amusingly through the bar, and each other.
If you are in need of a beer and play, then this is an event that is most certainly for you. The acting is excellent, on par with NYSX's MainStage productions. The atmosphere is fun as all hell. The locales are well chosen and welcoming establishments (and able to deal with fifty people ordering drinks all at once with remarkable patience). All in all, this is just a great, boozy, old time, which mixes the best of drunken squalor with the highest of art. William Shakespeare would most definitely approve.