Top Stories
THEATRE | The Public Theater lost two major sponsors because of their production of Julius Caesar
Timothy A. Clary-Getty Images
One of New York's most storied artistic institutions is under attack due to a Trump-inspired production of Julius Caesar
As this Sunday's Tony Awards were celebrating a season of innovative and daring new works, a beloved New York theater institution was under attack. Yesterday saw controversy bombard The Public Theater over their new production of Julius Caesar as part of the company's famous Shakespeare in the Park program. The impetus of the controversy is the decision to offer a contemporary vision of the play, including Trump-ian version of the title character. And while seeking modern relevance from Shakespeare's texts is far from unusual, many on the Internet are expressing outrage at the production's staging of the play's famous assassination scene, interpreting it as a threat against the President. And while this may have started out as the latest tantrum from the right, the consequences have been severe as Public sponsors Delta Airlines and Bank of America pulled its support from the company Sunday night.
While many hold The Public as something of a juggernaut in the New York theater world, having developed and debuted major shows including A Chorus Line, Fun Home, and Hamilton, losing these sponsors is a bigger deal than you may think. The not-for-profit theater company relies on donors to support its productions, especially the Shakespeare in the Park offerings, which offers free admission to every performance. Without this type of financial support, New York City risks losing a beloved institution designed to offer world-class productions to citizens who might not be able to afford Broadway prices. While Delta and Bank of America may think they are punishing The Public, it's New Yorkers who are put at risk because of their fear.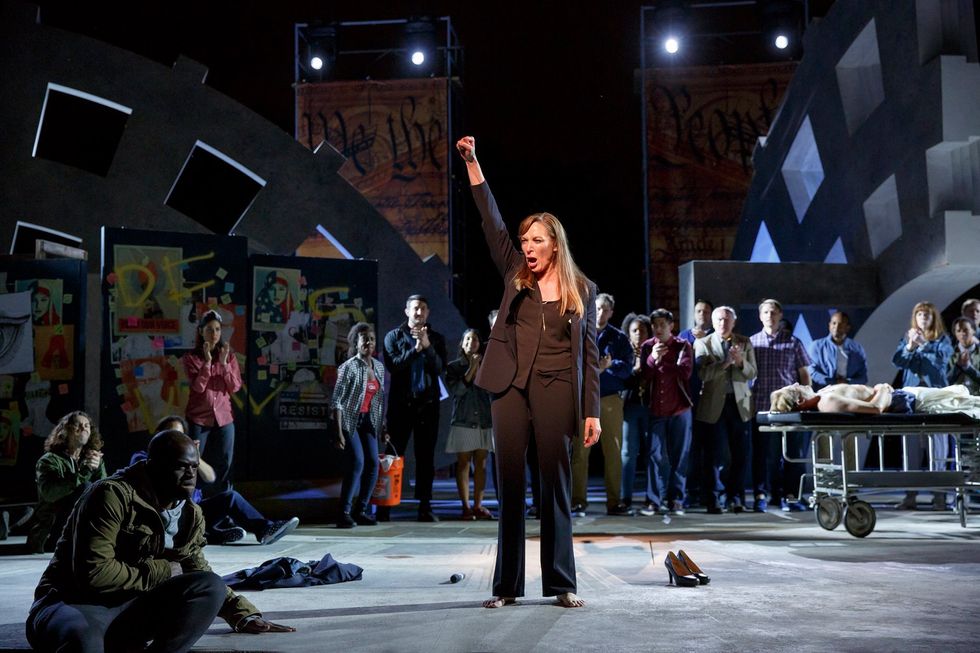 The Public Theater Official Facebook Page
This is all ignoring the grand irony that no one seems to be taking into consideration the context from which this controversy started. Anyone with the faintest familiarity to Julius Caesar should know the title character is not a villain whose slaying is a triumph, but one that has tragic consequences, and ultimately proposes violence cannot solve democratic issues (Delta themselves should know this having reportedly sponsored a 2012 production of the play featuring an Obama-modeled Caesar, with zero qualms). And having seen this production in previews I can confirm that the production does grapple with these issues in challenging and thought provoking ways. Even if the production imperfectly translates the Roman tragedy to our modern political climate, it's doing what theater is supposed to by asking questions of its audience. How do we feel watching this leader face horrific violence? What happens when we examine the images of our culture's heroes and villains against icons of history? And how will history look at this tumultuous moment when all is said and done?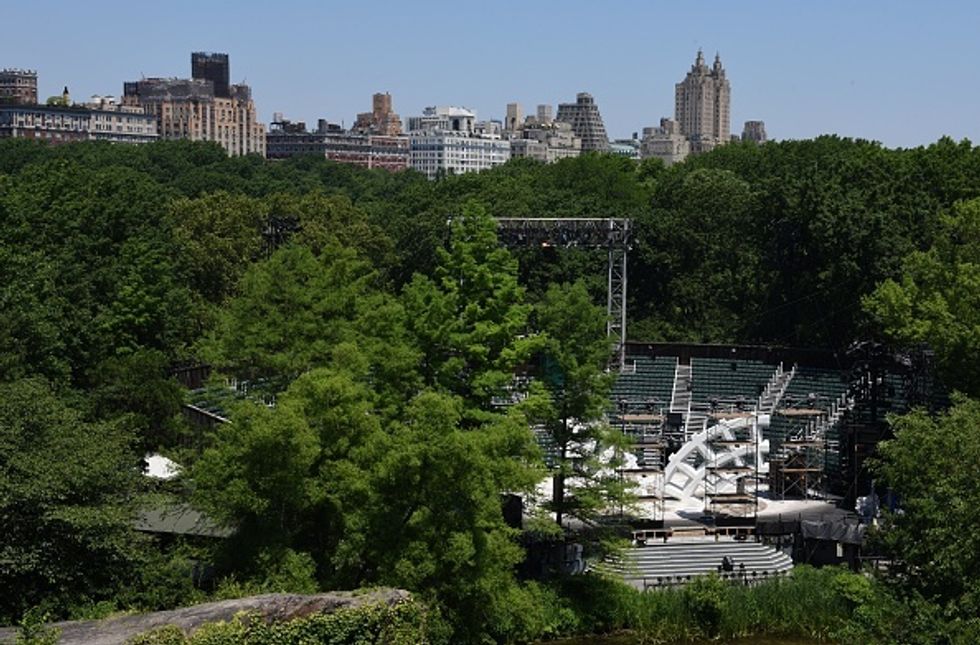 Timothy A. Clary- Getty Images
Now more than ever we need theaters like The Public to take creative risks and continue its inclusive mission to bring art to the masses. We don't yet know what impact Delta and Bank of America's withdrawal will have on The Public or its upcoming Shakespeare in the park productions of A Midsummer Night's Dream and a musical version of As You Like It, but thankfully The Public is refusing to shy away from it's artistic mission as a result of the controversy. Without this freedom to explore meaning in our culture, we're dooming an entire future generation of artists. For those wondering how that might play out, well you might want to get a ticket to Broadway's new production of 1984 to see exactly what's at risk.
---
More from the Arts

The Spongebob Musical is confirmed, but is Broadway becoming too safe?
Alanis Morissette's "Jagged Little Pill" is becoming a musical, but should we get excited?